Talysh (tolışə zıvon / толышә зывон / تالشی زَوُن)
Talysh is a Northwestern Iranian language with about 500,000 to 1 million speakers in Gilan and Ardabil provinces in Iran, and in southern parts of Azerbaijan. It has three main clusters of dialects: Northern, Central and Southern, with the Northern dialect spoken in Azerbaijan and Iran, and the others in Iran. There is some mutual intelligibilty between Talysh and Persian.
Talysh is currently written with the Perso-Arabic script in Iran, and with a version of the Latin alphabet in Azerbaijan. In 1929 a Latin-based orthography was devised for Talysh in the Soviet Union, which was replaced by a Cyrillic-based one in 1938, although the latter was not widely used.
Talysh alphabets and pronunciation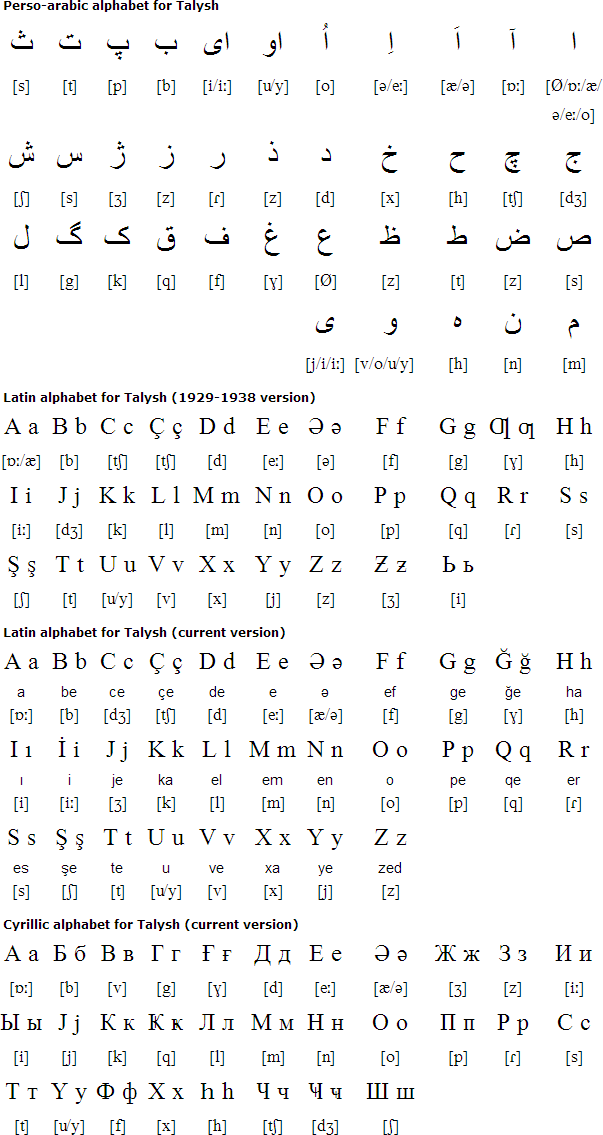 Note
The letters و, u and у are only pronounced [y] in northern and central dialects of Talysh.
Sample text (The Lord's Prayer)
Latin alphabet
Çəmə Pə. Ya osmoni Pə bıdə Iştı nomi mığəddəs bığəton bıdə Iştı podşoəti bo bənə osmoni dınyo dimisən ıştı extiyor bıbu. Çəmə ha rujnə nuni bəmə bıdə. Çəmə qınon bəmə bıbaxş, çoknə ki əmə ıştə ğarzxon bağıştəmiş kardəmon iyən əməni bə imtıhan məkəş, əncəx bevəciətiku bıroxon. Amin.
Cyriliic alphabet
Чәмә Пә. Жа осмони Пә быдә Ышти номи мығәддәс бығәтон быдә Ышты подшоәти бо бәнә осмони дынjо димисән ышты ехтиjор быбj. Чәмә һа рjжнә нjни бәмә быдә. Чәмә qынон бәмә быбахш, чокнә ки әмә ыштә ғарзхон бағыштәмиш кардәмон иjән әмәни бә имтыһан мәкәш, әнҹәх бевәҹиәтикj бырохон. Амин.
Perso-Arabic alphabet
چمه په. ىا اسمنى په بیده ایشتی نامی میغددس بیغتون بیده ایشتی پودشاتی بو بنه اسمنی دینیو دیمیسن ایشتی اختییور بیبو. چمه ها روژنه نونی بمه بیده. چمه قنان بمه بیباخش, چاکنه کی امه ایشته غارزخان بغشتمیش کردمان این امنی به ایمتهان مکش, انجخ بوجیتیکو بیروخان. امین.
Source: http://www.christusrex.org/www1/pater/JPN-talysh.html
Information about Talysh compiled by Wolfram Siegel, with addtional information supplied by Michael Peter Füstumum
Sample video in Talysh
Information about Talysh | Numbers
Links
Information about the Talysh language
http://en.wikipedia.org/wiki/Talysh_language
http://www.ethnologue.com/show_language.asp?code=tly
Iranian languages
Avestan, Baluchi, Bartangi, Dari, Gilaki, Hazaragi, Ishkashimi, Judeo-Persian, Juhuri, Khufi, Kumzari, Kurdish, Luri, Mazandarani, Ossetian, Ormuri, Oroshor, Persian, Parthian, Pashto, Rushani, Sanglechi, Sarikoli, Shabaki, Shughni, Tajik, Talysh, Tat, Wakhi, Wanetsi, Yaghnobi, Yazghulami, Zazaki
Languages written with the Arabic script
Adamaua Fulfulde, Afrikaans, Arabic (Algerian), Arabic (Chadian), Arabic (Egyptian), Arabic (Hassaniya), Arabic (Lebanese), Arabic (Libyan), Arabic (Modern Standard), Arabic (Moroccan), Arabic (Syrian), Arabic (Tunisian), Arwi, Äynu, Azeri, Balanta-Ganja, Balti, Baluchi, Beja, Belarusian, Bosnian, Brahui, Chagatai, Chechen, Comorian, Crimean Tatar, Dargwa, Dari, Dogri, Domari, Gilaki, Hausa, Hazaragi, Indus Kohistani, Kabyle, Kalkoti, Karakalpak, Kashmiri, Kazakh, Khowar, Khorasani Turkic, Konkani, Kumzari, Kurdish, Kyrgyz, Lezgi, Luri, Maguindanao, Malay, Malay (Terengganu), Mandinka, Marwari, Mazandarani, Morisco, Mozarabic, Nubi, Ormuri, Palula, Parkari Koli, Pashto, Persian/Farsi, Punjabi, Qashqai, Rajasthani, Rohingya, Salar, Saraiki, Sawi, Serer, Shabaki, Shina, Shughni, Sindhi, Somali, Tatar, Tausūg, Tawallammat Tamajaq, Tayart Tamajeq, Torwali, Turkish, Urdu, Uyghur, Uzbek, Wakhi, Wanetsi, Wolof, Xiao'erjing
Abaza, Abkhaz, Adyghe, Aghul, Akhvakh, Aleut, Altay, Alyutor, Andi, Archi, Assyrian / Neo-Assyrian, Avar, Azeri, Bagvalal, Balkar, Bashkir, Belarusian, Bezhta, Botlikh, Budukh, Bulgarian, Buryat, Chamalal, Chechen, Chelkan, Chukchi, Chulym, Chuvash, Crimean Tatar, Dargwa, Dolgan, Dungan, Enets, Erzya, Even, Evenki, Gagauz, Godoberi, Hinukh, Hunzib, Ingush, Interslavic, Itelmen, Juhuri, Kabardian, Kalderash Romani, Kalmyk, Karaim, Karakalpak, Karata, Kazakh, Ket, Khakas, Khanty, Khinalug, Khwarshi, Kildin Sámi, Komi, Koryak, Krymchak, Kryts, Kubachi, Kumandy, Kumyk, Kurdish, Kyrgyz, Lak, Lezgi, Lingua Franca Nova, Ludic, Macedonian, Mansi, Mari, Moksha, Moldovan, Mongolian, Montenegrin, Nanai, Negidal, Nenets, Nganasan, Nivkh, Nogai, Old Church Slavonic, Oroch, Orok, Ossetian, Pontic Greek, Russian, Rusyn, Rutul, Selkup, Serbian, Shor, Shughni, Siberian Tatar, Slovio, Soyot, Tabassaran, Tajik, Talysh, Tat, Tatar, Tindi, Tofa, Tsakhur, Tsez, Turkmen, Tuvan, Ubykh, Udege, Udi, Udmurt, Ukrainian, Ulch, Urum, Uyghur, Uzbek, Veps, Votic, Wakhi, West Polesian, Yaghnobi, Yakut, Yazghulami, Yukaghir (Northern / Tundra), Yukaghir (Southern / Kolyma), Yupik (Central Siberian)
Languages written with the Latin alphabet
Ancient Berber, Arabic, Aramaic, Hebrew, Manichaean, Nabataean, Pahlavi, Parthian, Phoenician, Paleo-Hebrew, Proto-Sinaitic / Proto-Canaanite, Psalter, Punic, Sabaean, Samaritan, Sogdian, South Arabian, Syriac, Tifinagh, Ugaritic
Page last modified: 23.04.21
[top]
---

Why not share this page:

If you like this site and find it useful, you can support it by making a donation via PayPal or Patreon, or by contributing in other ways. Omniglot is how I make my living.
If you need to type in many different languages, the Q International Keyboard can help. It enables you to type almost any language that uses the Latin, Cyrillic or Greek alphabets, and is free.
Note: all links on this site to Amazon.com
, Amazon.co.uk
and Amazon.fr
are affiliate links. This means I earn a commission if you click on any of them and buy something. So by clicking on these links you can help to support this site.
[top]