Shughni (Хугьнуон зив / Xuġnůni ziv)
Shughni is a member of the Eastern Iranian branch of the Indo-Iranian language family spoken in Tajikistan and Afghanistan. It is also known as a Pamir language, as it is spoken in the Pamir mountains. In Tajikistan it is spoken in the Gorno-Badakhshan Autonomous Region by about 40,000 people (in 1975). In Afghanistan it is spoken in Badakhshan Province by about 40,000 people (in 2009).
Shughni is also known as Shugnan-Rushan, Khughnani, Khughni, Khughnoni, Khugnone, Shighnani, Shighni, Shughnani, Shughnoni or Shugni.
Dialects include Rushani, Bartangi, Oroshor, Khufi and Shughni. The Khufi and Bartangi dialects could be considered different languages as they differ significantly from other dialects of Shughni. The Rushani dialect has the most speakers: 40,000 in Afghanistan and 15,000 in Tajikistan. The Shughni dialect has about 20,000 speakers in Tajikistan, and other dialects have smaller numbers of speakers in Tajikistan.
Shughni alphabets
Shughni was written with the Arabic alphabet until 1931, then with the Latin alphabet until 1938, and with the Cyrillic alphabet since then. However it is rarely written.
Arabic alphabet for Shughni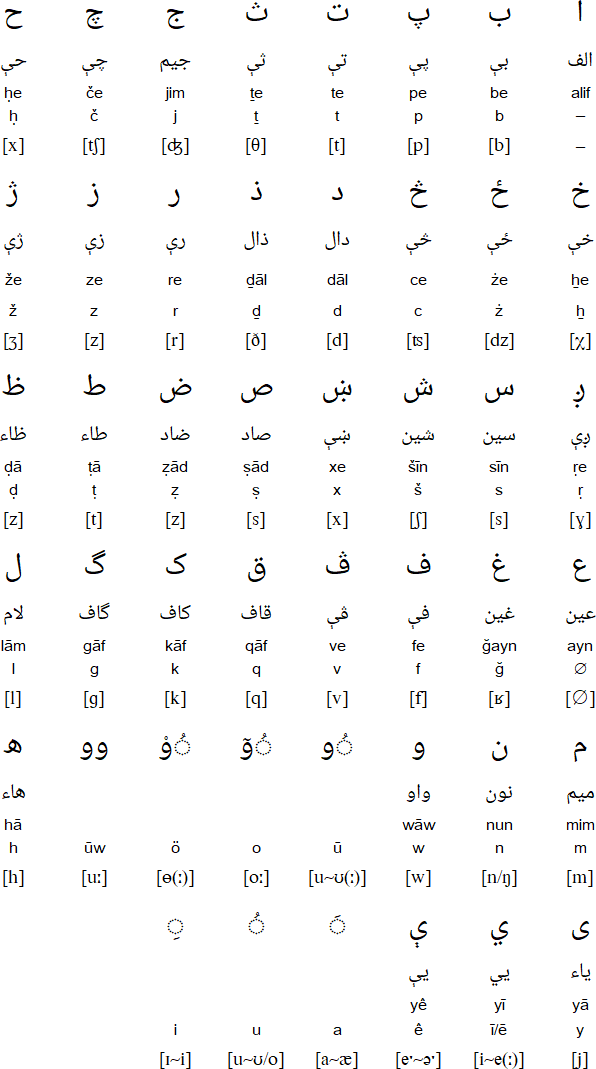 Latin alphabet for Shughni
Cyrillic alphabet for Shughni
Notes
вь is also written в̌, гь is also written г̌, дъ is also written д̌, тъ is also written т̌, and хь is also written х̌.
Download alphabet charts for Shughni in Excel or PDF formats
Sample texts in Shughni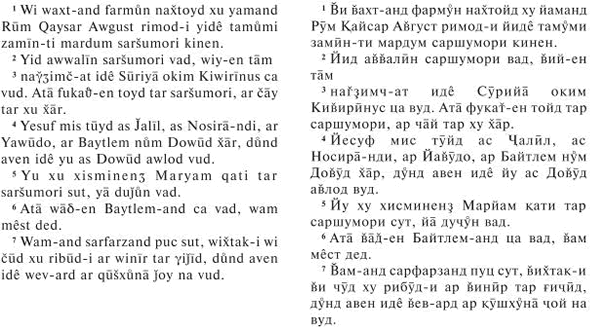 Source: Luqo Inǰīl. Луқо Инҷӣл. Gospel of Luke in Shughni language (Roman and Cyrillic scripts). Institute for Bible Translation, Moscow - 2001.
The above sample as text:
Wi waxt-and farmůn naх̌toyd xu yamand Rūm Qaysar Awgust rimod-i yidê tamůmi zamīn-to mardum saršumori kinen. Yid awwalīn saršumori vad, wiy-en tām naγ̌ӡimх̌-at idê Sūriyā okim Kiwirīnus ca vud. Atā fukaϑ-en toyd tar saršumori, ar х̌āy tar xu х̌ār. Yesuf mis tūyd as Jalīl, as Nosirā-ndi, ar Yawūdo, ar Baytlem nům Dowūd х̌ār, důnd aven idê yu as Dowūd awlod vud. Yu xu xisminenӡ Maryam qati tar saršumori sut, yā dujůn vad. Atā wāδ-en Baytlem-and ca vad, wam mêst ded. Wam-and sarfarzand puc sut, wiх̌tak-i wi х̌ūd xu ribūd-i ar winīr tar γijīd, důnd aven idê wev-ard ar qūšxůna joy na vud.
В̌и в̌аxт-анд фарму̊н нах̌тойд xу йаманд Рӯм Қайсар Ав̌густ римод-и йиде̂ таму̊ми замӣн-то мардум саршумори кинен. Йид ав̌в̌алӣн саршумори вад, в̌ий-ен та̄м наг̌з̌имх̌-ат иде̂ Сӯрийа̄ оким Кив̌ирӣнус ца вуд. Ата̄ фукат̌-ен тойд тар саршумори, ар х̌а̄й тар xу х̌а̄р. Йесуф мис тӯйд ас Ҷалӣл, ас Носира̄-нди, ар Йав̌ӯдо, ар Байтлем ну̊м Дов̌ӯд х̌а̄р, ду̊нд авен иде̂ йу ас Дов̌ӯд ав̌лод вуд. Йу xу xисминенз̌ Марйам қати тар саршумори сут, йа̄ дуҷу̊н вад. Ата̄ в̌а̄д̌-ен Байтлем-анд ца вад, в̌ам ме̂ст дед. В̌ам-анд сарфарзанд пуц сут, в̌их̌так-и в̌и х̌ӯд xу рибӯд-и ар в̌инӣр тар ғиҷӣд, ду̊нд авен иде̂ в̌ев-ард ар қӯшxу̊на ҷой на вуд.
Translation
In those days Caesar Augustus issued a decree that a census should be taken of the entire Roman world. This was the first census that took place while Quirinius was governor of Syria. And everyone went to their own town to register. So Joseph also went up from the town of Nazareth in Galilee to Judea, to Bethlehem the town of David, because he belonged to the house and line of David. He went there to register with Mary, who was pledged to be married to him and was expecting a child. While they were there, the time came for the baby to be born, and she gave birth to her firstborn, a son. She wrapped him in cloths and placed him in a manger, because there was no guest room available for them.
Information and sample texts provided by Wolfram Siegel, Wolfgang Kuhl and Michael Peter Füstumum
Sample videos in Shughni
Information about Shughni | Numbers
Links
Information about Shughni
http://en.wikipedia.org/wiki/Shughni_language
https://ru.wikipedia.org/wiki/Шугнанский_язык
http://www.ethnologue.com/language/sgh
http://elalliance.org/projects/languages-of-central-asia/shughni/
Iranian languages
Avestan, Baluchi, Bartangi, Dari, Gilaki, Hazaragi, Ishkashimi, Judeo-Persian, Juhuri, Khufi, Kumzari, Kurdish, Luri, Mazandarani, Munji, Ossetian, Ormuri, Oroshor, Persian, Parthian, Pashto, Rushani, Sanglechi, Sarikoli, Shabaki, Shughni, Tajik, Talysh, Tat, Wakhi, Wanetsi, Yaghnobi, Yazghulami, Yidgha, Zazaki
Languages written with the Arabic script
Adamaua Fulfulde, Afrikaans, Arabic (Algerian), Arabic (Bedawi), Arabic (Chadian), Arabic (Egyptian), Arabic (Gulf), Arabic (Hassaniya), Arabic (Hejazi), Arabic (Lebanese), Arabic (Libyan), Arabic (Modern Standard), Arabic (Moroccan), Arabic (Najdi), Arabic (Syrian), Arabic (Tunisian), Arwi, Äynu, Azeri, Balanta-Ganja, Balti, Baluchi, Beja, Belarusian, Bosnian, Brahui, Chagatai, Chechen, Chittagonian, Comorian, Crimean Tatar, Dargwa, Dari, Dhatki, Dogri, Domari, Gawar Bati, Gilaki, Hausa, Hazaragi, Hindko, Indus Kohistani, Kabyle, Kalkoti, Karakalpak, Kashmiri, Kazakh, Khowar, Khorasani Turkic, Khwarezmian, Konkani, Kumzari, Kurdish, Kyrgyz, Lezgi, Luri, Maguindanao, Malay, Malay (Terengganu), Mandinka, Marwari, Mazandarani, Mogholi, Morisco, Mozarabic, Munji, Noakhailla, Nubi, Ormuri, Palula, Parkari Koli, Pashto, Persian/Farsi, Punjabi, Qashqai, Rajasthani, Rohingya, Salar, Saraiki, Sawi, Serer, Shabaki, Shina, Shughni, Sindhi, Somali, Tatar, Tausūg, Tawallammat Tamajaq, Tayart Tamajeq, Torwali, Turkish, Urdu, Uyghur, Uzbek, Wakhi, Wanetsi, Wolof, Xiao'erjing, Yidgha
Abaza, Abkhaz, Adyghe, Aghul, Akhvakh, Akkala Sámi, Aleut, Altay, Alyutor, Andi, Archi, Assyrian / Neo-Assyrian, Avar, Azeri, Bagvalal, Balkar, Bashkir, Belarusian, Bezhta, Bosnian, Botlikh, Budukh, Bulgarian, Buryat, Chamalal, Chechen, Chelkan, Chukchi, Chulym, Chuvash, Crimean Tatar, Dargwa, Daur, Dolgan, Dungan, Enets, Erzya, Even, Evenki, Gagauz, Godoberi, Hinukh, Hunzib, Ingush, Interslavic, Itelmen, Juhuri, Kabardian, Kaitag, Kalderash Romani, Kalmyk, Karaim, Karakalpak, Karata, Karelian, Kazakh, Ket, Khakas, Khanty, Khinalug, Khorasani Turkic, Khwarshi, Kildin Sámi, Kili, Komi, Koryak, Krymchak, Kryts, Kubachi, Kumandy, Kumyk, Kurdish, Kyrgyz, Lak, Lezgi, Lingua Franca Nova, Ludic, Macedonian, Mansi, Mari, Moksha, Moldovan, Mongolian, Montenegrin, Nanai, Negidal, Nenets, Nganasan, Nivkh, Nogai, Old Church Slavonic, Oroch, Orok, Ossetian, Pontic Greek, Romanian, Rushani, Russian, Rusyn, Rutul, Selkup, Serbian, Shor, Shughni, Siberian Tatar, Sirenik, Slovio, Soyot, Tabassaran, Tajik, Talysh, Tat, Tatar, Teleut, Ter Sámi, Tindi, Tofa, Tsakhur, Tsez, Turkmen, Tuvan, Ubykh, Udege, Udi, Udmurt, Ukrainian, Ulch, Urum, Uyghur, Uzbek, Veps, Votic, Wakhi, West Polesian, Xibe, Yaghnobi, Yakut, Yazghulami, Yukaghir (Northern / Tundra), Yukaghir (Southern / Kolyma), Yupik (Central Siberian)
Languages written with the Latin alphabet
Page last modified: 22.01.22
[top]
---

Why not share this page:

If you like this site and find it useful, you can support it by making a donation via PayPal or Patreon, or by contributing in other ways. Omniglot is how I make my living.
Note: all links on this site to Amazon.com
, Amazon.co.uk
and Amazon.fr
are affiliate links. This means I earn a commission if you click on any of them and buy something. So by clicking on these links you can help to support this site.
Get a 30-day Free Trial of Amazon Prime (UK)
If you're looking for home or car insurance in the UK, why not try Policy Expert?
[top]