About the author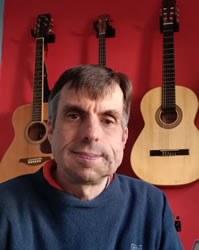 My name is Simon Ager, I live in Bangor in Wales and earn my living from this website. I'm originally from Lancashire in the northwest of England, and have also lived in France, Jersey, Taiwan and Japan.
I've always been interested in languages, and have studied quite a few. I speak English, French, Welsh, Mandarin Chinese and Irish more or less fluently, and can get by in German, Japanese, Scottish Gaelic, Spanish, Manx, Esperanto, Dutch, Swedish and Danish. I have also studied or dabbled with twenty or so other languages.
More details of my language learning adventures.
After languages my main passion is music - I sing in various groups, write songs and tunes, play some musical instruments and often go to concerts. I also enjoy reading, and juggling.
By the way, in case you're wondering, my surname, Ager, is pronounced /'eɪgə/. It apparently comes from the Saxon name Ēadgār.
About this site | Omniglot - a potted history | About me | My language learning adventures | My musical adventures | My singing adventures | Song writing | Tunesmithing | My juggling adventures
---
About me in other languages
These languages are arranged in alphabetic order according to their native names.
অসমীয়া, Bahasa Indonesia, Bahasa Melayu, বাংলা, català, čeština, Chabacano, Cymraeg, dansk, Deutsch, eesti, English, Englisc, العربية, ελληνικά, español, Esperanto, فارسى, français, Gaeilge, Gaelg, Gàidhlig, Gutiska (𐌲𐌿𐍄𐌹𐍃𐌺𐌰), 한국어, Hiligaynon, Hindi, Íslenska, italiano, עברית, Kadazan, Kala Lagaw Ya, Kernewek, Lingua Latina, magyar, मराठी, монгол, Neddersassisch, Nederlands, 日本語, norsk, occitan, ภาษาไทย, polski, português, român, Русский, Shqip, slovenčina, suomi, Svenska, Tagalog, Tamasheq, தமிழ், Türkçe, ײִדיש, 中文
Note: not all the translations of this text are exactly the same as the English version. In some cases, this is because I've translated them slightly differently, in others it's because I don't know the languages well enough to be able to change the translations to reflect changes in the English text. If you can help keep any of the translations up-to-date, or have spotted things that need correcting, please contact me.
[top]
---

Why not share this page:
Learn languages for free on Duolingo

If you like this site and find it useful, you can support it by making a donation via PayPal or Patreon, or by contributing in other ways. Omniglot is how I make my living.
Note: all links on this site to Amazon.com
, Amazon.co.uk
and Amazon.fr
are affiliate links. This means I earn a commission if you click on any of them and buy something. So by clicking on these links you can help to support this site.
[top]