Quis sum?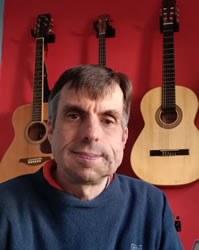 Simon Ager sum et ab origine Lancastriensi in septentrionali parte Angliae. Nunc in Bangertio Cambriae habito. Negotium meum Omniglot.
In copia terrarum laboravi (in Britanniarum Regno, in Francia, et in Taivania, etc.), peragendi negotiolis variis laboravi.
Diu studium linguae, me tenuerunt. Mea lingua nativa Anglica, at in ludo Francogallicam et Germanicam, in academia Sinicam et Iaponicam studui, et me multas alias docui. Doctior lingua Sinensis Mandarinica quam aliis linguis. Cambriana, Hibernica, Francogallica, Theodisca, Hispanica, et Iaponica, in illo ordine sequuntur.
Nunc Armoricanam, et Russianam studio. Simulque facere scientiam meam Cambrianae, Hibernicae, et Gadelicae Scoticae linguae meliorem, et recipere meam antiquam fluentiam quae quondam mihi fuit Francogallica, Theodisca, et Iaponica lingua conor.
Pluria de meis facinoribus pulcherrimis linguis discendis.
Gaudeo etiam legendo, auscultando musicam, spectando pelliculas, canendo fidibus variis, canendo mea voce, peregrinando, labendo rotulis rectis, vehendo birota, vehendo unirota, et agendo praestigias, et varia alia cerrita ludi.
Si forte scire volebas, cognomen meum enunciator, Ager, ut /'eiga/(/'Ig@/). Videtur tractum esse e Saxonico nomine Ēadgār - "ēad" significat "prosperitas, fortuna", et "gār" significat "hasta".
Omniglot potest ali muneribus tuis donatis per PayPal:
Vel licet dona extra pecunias situi donare aliis modis.
Translated into Latin by Andrew Kuhry-Haeuser of the Carmenta Online Latin Classroom
Latin alphabet | Latin language | Phrases | Numbers | Time | Tower of Babel | Articles | Links | Learning materials
Latin language resources on Amazon
About me in other languages
অসমীয়া, Bahasa Indonesia, Bahasa Melayu, বাংলা, català, čeština, Chabacano, Cymraeg, dansk, Deutsch, eesti, English, Englisc, العربية, ελληνικά, español, Esperanto, فارسى, français, Gaeilge, Gaelg, Gàidhlig, Gutiska (𐌲𐌿𐍄𐌹𐍃𐌺𐌰), 한국어, Hiligaynon, Hindi, Íslenska, italiano, עברית, Kadazan, Kala Lagaw Ya, Kernewek, Lingua Latina, magyar, मराठी, монгол, Neddersassisch, Nederlands, 日本語, norsk, occitan, ภาษาไทย, polski, português, român, Русский, Shqip, slovenčina, suomi, Svenska, Tagalog, Tamasheq, தமிழ், Türkçe, ײִדיש, 中文
About this site | Omniglot - a potted history | About me | My language learning adventures | My musical adventures | My singing adventures | Song writing | Tunesmithing | My juggling adventures
[top]
---

Why not share this page:

If you like this site and find it useful, you can support it by making a donation via PayPal or Patreon, or by contributing in other ways. Omniglot is how I make my living.
Note: all links on this site to Amazon.com
, Amazon.co.uk
and Amazon.fr
are affiliate links. This means I earn a commission if you click on any of them and buy something. So by clicking on these links you can help to support this site.
Get a 30-day Free Trial of Amazon Prime (UK)
If you're looking for home or car insurance in the UK, why not try Policy Expert?
[top]