自我介紹(繁體中文版)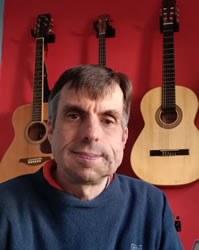 我叫做 Simon Ager。我的中文名字是葛善明。我住在威爾斯北部的班戈城市 (Bangor)。這個網站算是我主要的收入來源。我的故鄉在英格蘭西北部的Lancashire縣。我在幾個國家和地區住過包法國、澤西、臺灣和日本。
我從小對語言很感興趣。我學過不少種語言,有的我會講得很好,有的只會講一點點。中文、法文、威爾斯文及愛爾蘭文我掌握得最好,我的德文、西班牙文、日文、蘇格蘭蓋爾語和曼島語也不錯,而且我還會講一點點捷克文、俄語、布列塔尼語、閩南話、廣東話和英國手語 (BSL)。
除了語言以外,我主要的興趣是音樂-我在幾個合唱團唱歌、我寫歌、我會演奏幾種樂器、而且我常常去音樂會。我也喜歡讀書、滑冰,骑自行车和練習馬戲團小丑的技巧,其實我對什麼都感興趣吧。
如果你想知道,我的姓的發音是 /'eɪgə/。據説它是從撒克遜名字 Ēadgār 來的-「ēad」表示「豐富、幸福」, 而且「gār」 表示「矛,箭头,武器」。
您可以通过PayPal捐赠支持Omniglot:
或者你也可以用其它方法來支持這個网站。
自我介绍(简体中文版)
我叫做 Simon Ager。我的中文名字是葛善明。我住在威尔斯北部的班戈城市(Bangor)。这个网站算是我主要的收入来源。我的故乡在英格兰西北部的Lancashire县。我在几个国家和地区住过包括法国、泽西、台湾和日本。
我从小对语言很感兴趣。我学过不少种语言,有的我会讲得很好,有的只会讲一点点。中文、法文、威尔斯文及爱尔兰文我掌握得最好,我的德文、西班牙文、日文、苏格兰盖尔语和曼岛语也不错,而且我还会讲一点点捷克文、俄语、布列塔尼语、闽南话、广东话和英国手语(BSL)。
除了语言以外,我主要的兴趣是音乐-我在几个合唱团唱歌、我写歌、我会演奏几种乐器、而且我常常去音乐会。我也喜欢读书、滑冰,骑自行车和练习马戏团小丑的技巧,其实我对什么都感兴趣吧。
如果你想知道,我的姓的发音是/'eɪgə/。据说它是从撒克逊名字 Ēadgār 来的-「ēad」表示「丰富、幸福」, 而且「gār」表示「矛,箭头,武器」。
您可以通过PayPal捐赠支持Omniglot:
或者你也可以用其它方法来支持这个网站。
Zìwǒ Jièshào (Hànyŭ Pīnyīn bǎn)
Wǒ jiàozuò Simon Ager. Wǒ de Zhōngwén míngzì shì Gě Shànmíng. Wǒ zhù zài Wēiěrsī běibù de Bāngē chéngshì (Bangor). Zhège wǎngzhàn suàn shì wǒ zhǔyào de shōurù láiyuán. Wǒ de gùxiāng zài Yīnggélán xīběi bù de Lancashire xiàn. Wǒ zài jǐ gè guójiā hé dìqū zhù guò bāokuò Fàguó, Zéxī, Táiwān hé Rìběn.
Wǒ cóngxiǎo duì yǔyán hěn gǎn xìngqù. Wǒ xuéguò bu shǎo zhǒng yǔyán, yǒu de wǒ huì jiǎng de hěn hǎo, yǒu de zhǐ huì jiǎng yīdiǎn diǎn. Zhōngwén, Fǎwén, Wēiěrsīwén jí Ài'ěrlánwén wǒ zhǎngwò de zuì hǎo, wǒ de dé wén, Xībānyáwén, Rìwén, Sūgélán Gàiěryǔ hé Màndǎoyǔ yě bù cuò, érqiě wǒ hái huì jiǎng yīdiǎn Jiékèwén, Èyǔ, Bùliètǎníyǔ, Mǐnnánhuà, Guǎngdōnghuà hé Yīngguóshǒuyǔ (BSL).
Chákàn guānyú wǒ xuéxí Zhōngwén jí qítā yǔyán de gèng duō jìnkuàng.
Chúle yǔyán yǐwài, wǒ zhǔyào de xìngqù shì yīnyuè-wǒ zài jǐ gè héchàng tuán chànggē, wǒ xiě gē, wǒ huì yǎnzòu jǐzhǒng yuèqì, érqiě wǒ chángcháng qù yīnyuè huì. Wǒ yě xǐhuan dúshū, huábīng, qí zìxíngchē hé liànxí mǎxìtuán xiǎochǒu de jìqiǎo, qíshí wǒ duì shénme dōu gǎn xìngqù ba.
Rúguǒ nǐ xiǎng zhīdào, wǒ de xìng de fāyīn shì /'eɪgə/ (/'eig@/). Jù shuō tā shì cóng sākèxùn míngzì Ēadgār lái de - "ēad" biǎoshì "fēngfù, xìngfú", érqiě `gār" biǎoshì "máo, jiàntóu, wǔqì".
Nín kěyǐ tōngguò paypal juānzèng zhīchí Omniglot:
Huòzhě nǐ yě kěyǐ yòng qítā fāngfǎ lái zhīchí zhège wǎngzhàn.
Information about Mandarin | Phrases | Numbers | Colours | Family words | Terms of endearment | Time | Weather | Tongue twisters | Tower of Babel | Articles | Links | Learning materials
Chinese translations by Simon Ager
About me in other languages
অসমীয়া, Bahasa Indonesia, Bahasa Melayu, বাংলা, català, čeština, Chabacano, Cymraeg, dansk, Deutsch, eesti, English, Englisc, العربية, ελληνικά, español, Esperanto, فارسى, français, Gaeilge, Gaelg, Gàidhlig, Gutiska (𐌲𐌿𐍄𐌹𐍃𐌺𐌰), 한국어, Hiligaynon, Hindi, Íslenska, italiano, עברית, Kadazan, Kala Lagaw Ya, Kernewek, Lingua Latina, magyar, मराठी, монгол, Neddersassisch, Nederlands, 日本語, norsk, occitan, ภาษาไทย, polski, português, român, Русский, Shqip, slovenčina, suomi, Svenska, Tagalog, Tamasheq, தமிழ், Türkçe, ײִדיש, 中文
About this site | Omniglot - a potted history | About me | My language learning adventures | My musical adventures | My singing adventures | Song writing | Tunesmithing | My juggling adventures
[top]
---

Why not share this page:
If you like this site and find it useful, you can support it by making a donation via PayPal or Patreon, or by contributing in other ways. Omniglot is how I make my living.
Note: all links on this site to Amazon.com
, Amazon.co.uk
and Amazon.fr
are affiliate links. This means I earn a commission if you click on any of them and buy something. So by clicking on these links you can help to support this site.
Get a 30-day Free Trial of Amazon Prime (UK)
If you're looking for home or car insurance in the UK, why not try Policy Expert?
[top]