Noakhailla (নোয়াখাইল্লা)
Noakhailla is an eastern Indo-Aryan language spoken by about 7 million people mainly in the Greater Noakhali District in the Chittagong Division in the southeast of Bangladesh, and in the south of Tripura state in the northeast of India. There are also speakers of Noakhailla in other parts of Bangladesh, and in Europe, the Middle East and the USA.
Noakhailla is spoken by the Noakhailla people, and is used as a lingua franca by Kok-Borok and Chakma peoples in order to interact with the Noakhaillas.
Noakhailla is also known as Noakhali Bengali or Noakhalian. It is classified as a dialect of Bengali by some people. The language has no official status and there is a shift to Bengali, particularly among younger Noakhailla people.
In the past Noakhailla was written with the Arabic script. Nowadays Latin and Eastern Nagari (Bengali) alphabets are used.
Arabic alphabet for Noakhailla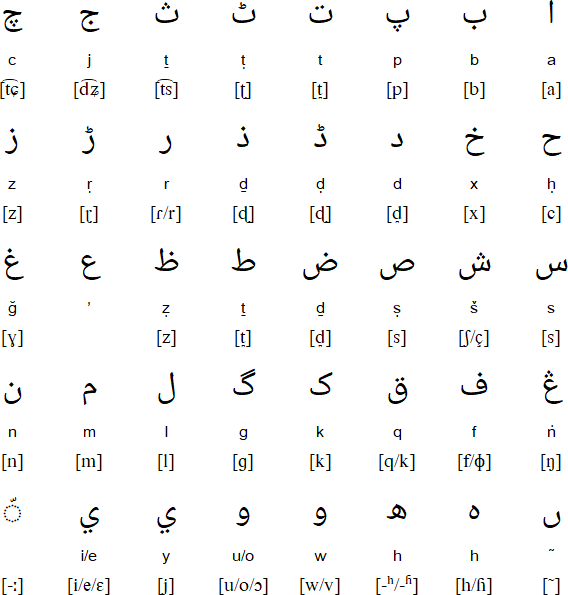 Eastern Nagari (Bengali) alphabet for Noakhailla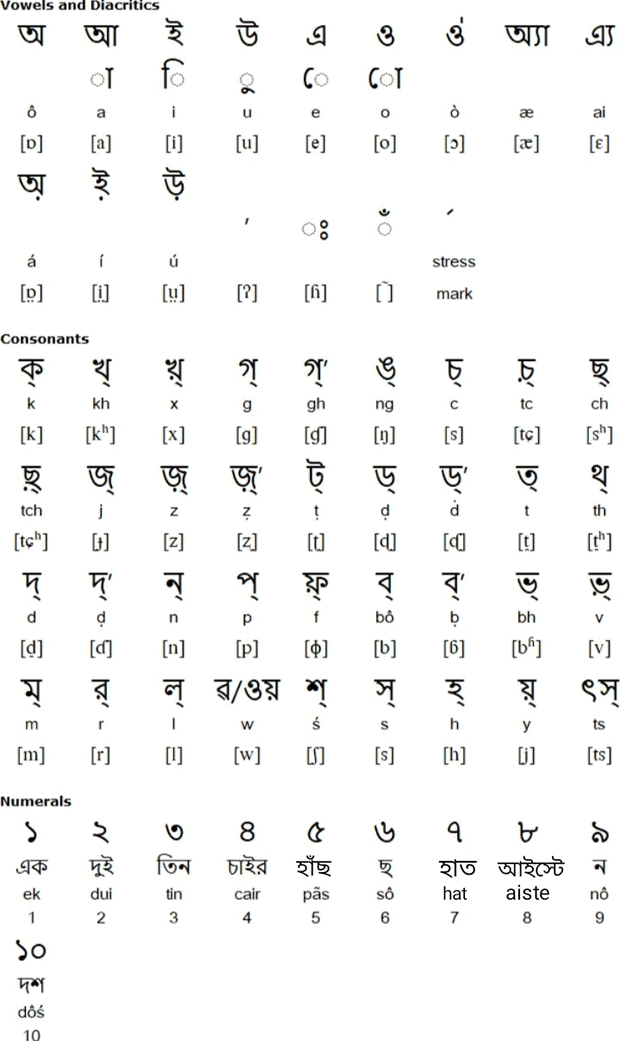 Latin alphabet for Noakhailla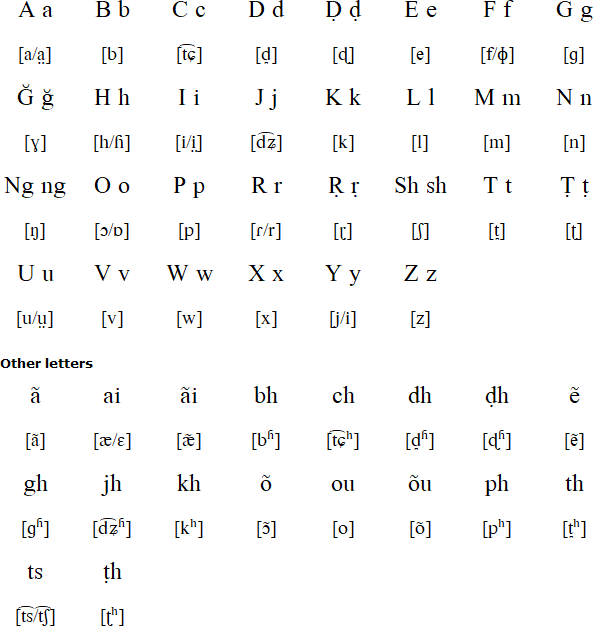 Download the Noakhailla alphabet charts (Excel)
Sample text (Eastern Nagari alphabet)
তুঁই যিন্দেঁগীত ক দফা হুইস্য হিঁয়েঁনে কিচ্ছু যা আইয়্যে না, ক্বারন তোঁয়াঁল্লে বুলি এগদফা জিতন অইলো যেঁনকি যেদেগিন হুইস্য হেগিন বেজ্ঞিনের যোয়াব"
Transliteration
tûi zïndegit kó dofā hüissho hïyãne kicchu zà àiye nà, kàrön tõãllē bûli eg dofā zitōn òilò zênki zedegïn hüissho hegïn beggïner zóyāb
Translation
It doesn't metter how many times you loose in your life. Because when you win, it turns out to be the answer of all the losses you've had.
Sample video in Noakhailla
Details provided by Sahriar Alam
Links
Information about Noakhailla
https://en.wikipedia.org/wiki/Noakhailla_language
https://glottolog.org/resource/languoid/id/noak1234
Indo-Aryan languages
Awadhi, Assamese, Bagri, Bengali, Bhili, Bishnupriya Manipuri, Braj, Chakma, Chhattisgarhi, Chittagonian, Desiya, Dhatki, Dhivehi, Dhundari, Fiji Hindi, Gawar Bati, Gujarati, Hajong, Halbi, Haryanvi, Hindi, Hindko, Kannauji, Khandeshi, Konkani, Kotia, Kumaoni, Kutchi, Lambadi, Marathi, Marwari, Mewari, Modi, Nimadi, Noakhailla, Odia, Parkari Koli, Punjabi, Rajasthani, Rajbanshi, Rangpuri, Rohingya, Saraiki, Sarnámi Hindustani, Sindhi, Sinhala, Sourashtra, Sugali, Sylheti, Tanchangya, Urdu
Languages written with the Arabic script
Adamaua Fulfulde, Afrikaans, Arabic (Algerian), Arabic (Bedawi), Arabic (Chadian), Arabic (Egyptian), Arabic (Gulf), Arabic (Hassaniya), Arabic (Hejazi), Arabic (Lebanese), Arabic (Libyan), Arabic (Modern Standard), Arabic (Moroccan), Arabic (Najdi), Arabic (Syrian), Arabic (Tunisian), Arwi, Äynu, Azeri, Balanta-Ganja, Balti, Baluchi, Beja, Belarusian, Bosnian, Brahui, Chagatai, Chechen, Chittagonian, Comorian, Crimean Tatar, Dargwa, Dari, Dhatki, Dogri, Domari, Gawar Bati, Gilaki, Hausa, Hazaragi, Hindko, Indus Kohistani, Kabyle, Kalkoti, Karakalpak, Kashmiri, Kazakh, Khowar, Khorasani Turkic, Khwarezmian, Konkani, Kumzari, Kurdish, Kyrgyz, Lezgi, Luri, Maguindanao, Malay, Malay (Terengganu), Mandinka, Marwari, Mazandarani, Mogholi, Morisco, Mozarabic, Munji, Noakhailla, Nubi, Ormuri, Palula, Parkari Koli, Pashto, Persian/Farsi, Punjabi, Qashqai, Rajasthani, Rohingya, Salar, Saraiki, Sawi, Serer, Shabaki, Shina, Shughni, Sindhi, Somali, Tatar, Tausūg, Tawallammat Tamajaq, Tayart Tamajeq, Torwali, Turkish, Urdu, Uyghur, Uzbek, Wakhi, Wanetsi, Wolof, Xiao'erjing, Yidgha
Languages written with the Eastern Nagari (Bengali) alphabet
Atong, Bengali, Bishnupriya Manipuri, Bodo, Bhumij, Chittagonian, Garo, Hajong, Karbi, Kharia, Khasi, Koch, Kokborok, Kurmali, Malto, Manipuri, Mundari, Noakhailla, Rangpuri, Sadri, Santali, Sylheti, Toto, Tanchangya
Languages written with the Latin alphabet
Page created: 15.08.23. Last modified: 19.08.23
[top]
---

Why not share this page:

If you like this site and find it useful, you can support it by making a donation via PayPal or Patreon, or by contributing in other ways. Omniglot is how I make my living.
Note: all links on this site to Amazon.com
, Amazon.co.uk
and Amazon.fr
are affiliate links. This means I earn a commission if you click on any of them and buy something. So by clicking on these links you can help to support this site.
Get a 30-day Free Trial of Amazon Prime (UK)
If you're looking for home or car insurance in the UK, why not try Policy Expert?
[top]