Hindi (हिन्दी)
Hindi is an Indo-Aryan language spoken mainly in India, and also in Nepal, Singapore and South Africa. There are about 600 million Hindi speakers worldwide, 342 million of whom are native speakers. In 2011 there were 596 million Hindi speakers in India, 1.3 million Hindi speakers in Nepal, 361,000 Hindi speakers in South Africa (in 2003), and 50,000 Hindi speakers in Singapore (in 2017).
Hindi at a glance
Native name: हिन्दी (Hindī)
Language family: Indo-European, Indo-Iranian, Indo-Aryan, Central Zone, Western Hindi, Hindustani, Khariboli
Number of speakers: 615 million
Spoken in: India, Nepal, South Africa and Singapore
First written: 4th century AD
Writing system: Devanāgarī script (देवनागरी), Brahmi script
Status: Official language of the Federal Government of India; official language of Bihar, Chhattisgarh, Delhi, Haryana, Himachal Pradesh, Jharkhand, Madhya Pradesh, Rajasthan, Uttar Pradesh and Uttarakhand states.
---
[top]
Hindi is the main language used in the northern Indian states of Rajasthan, Delhi, Haryana, Uttarakhand, Uttar Pradesh, Madhya Pradesh, Chhattisgarh, Himachal Pradesh, Jharkhand and Bihar. It is spoken in much of north and central India alongside other languages such as Punjabi, Gujarati, Marathi or Bengali. In other parts of India, as well as in Nepal, Bangladesh and Pakistan, Hindi is understood.
Hindi is spoken in the Bagmati, Janakpur and Narayani zones in the Terai lowlands of southern Nepal, and it is spoken in KwaZulu-Natal province in the east of South Africa.
Hindi is one of official languages of the government of India - the other offical language is English. Both languages are used in parliament, in the judiciary, in communications between the central government and state government, and for other official purposes.
[top]
Relationship to other languages
Hindi is closely related to Urdu, the main language of Pakistan, which is written with the Arabic script. Linguists consider Standard Hindi and Standard Urdu to be different formal registers both derived from the Khari Boli dialect, which is also known as Hindustani. Apart from the difference in writing systems, the other main difference between Hindi and Urdu is that Hindi contains more vocabulary from Sanskrit, while Urdu contains more vocabulary from Persian. At an informal spoken level there are few significant differences between Urdu and Hindi and they could be considered varieties a single language.
[top]
Written Hindi
Hindi first started to be used in writing during the 4th century AD. It was originally written with the Brahmi script but since the 11th century AD it has been written with the Devanāgarī alphabet. The first printed book in Hindi was John Gilchrist's Grammar of the Hindoostanee Language which was published in 1796.
[top]
Devanāgarī alphabet for Hindi
Vowels (स्वर) and vowel diacritics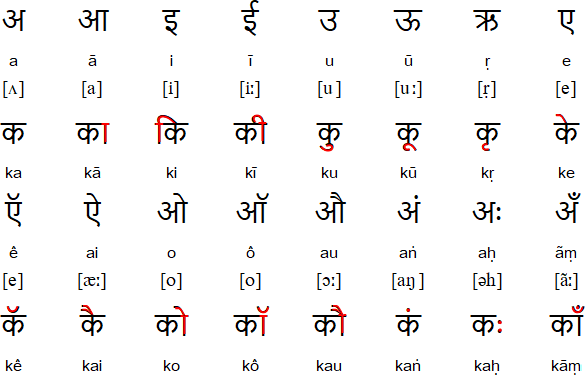 A recording of the Hindi vowels by मुहम्मद शकेब बेग (Mohammad Shakeb Baig) from भोपाल, भारत (Bhopal, India)
Consonants (व्यंजन)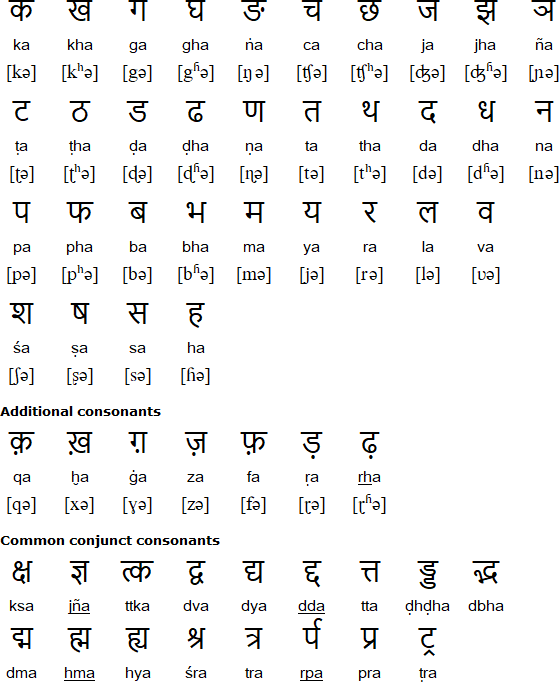 A recording of the Hindi consonants by मुहम्मद शकेब बेग (Mohammad Shakeb Baig) from भोपाल, भारत (Bhopal, India)
Numerals

Downloads
How to write Devanagari letters:
[top]
Sample text in Hindi

IPA transcription
[səbʱiː mənʊʃjõː koː ɡɔːɾəʋ ɔːr əd̪ʱɪkaːɾõ keː maːmleː mẽː dʒənmədʒaːt̪ sʋət̪ənt̪ɾət̪aː ɔːr səmaːnətaː pɾaːpt̪ hɛː. ʊnʱẽ bʊd̪ʱːɪ ɔːɾ ənt̪əɾaːt̪maː kiː d̪eːn pɾaːpt̪ hɛː ɔːɾ pəɾəspəɾ ʊnʱẽː bʱaːiːtʃaːɾeː keː bʱaːʋ seː bəɾt̪aːʋ kəɾnə tʃaːhɪeː]
Transliteration
Sabhī manuṣyōṁ kō gaurava aura adhikārōṁ kē māmalē mēṁ janmajāta svatantratā aura samānatā prāpta hai. Unhēṁ bud'dhi aura antarātmā kī dēna prāpta hai aura paraspara unhēṁ bhā'īcārē kē bhāva sē bartāva karanā cāhi'ē.
A recording of this text by Ganesh Deshmukh
A recording of this text by मुहम्मद शकेब बेग (Mohammad Shakeb Baig) from भोपाल, भारत (Bhopal, India)
Translation
All human beings are born free and equal in dignity and rights. They are endowed with reason and conscience and should act towards one another in a spirit of brotherhood.
(Article 1 of the Universal Declaration of Human Rights)
Thanks to Arvind Iyengar for providing the above sample text.
Samples of spoken Hindi
Information about Hindi | Phrases | Numbers | Kinship words | Time | Tongue twisters | Tower of Babel | Learning materials | Electronic dicitonaries and translators
[top]
Links
Information about Hindi
http://en.wikipedia.org/wiki/Hindi
https://www.ethnologue.com/language/hin
http://www.bbc.co.uk/languages/other/hindi/guide/facts.shtml
https://www.cs.colostate.edu/~malaiya/hindiint.html
http://www.britannica.com/topic/Hindi-language
https://en.wikipedia.org/wiki/Languages_with_official_status_in_India
Online Hindi lessons
http://www.ukindia.com/zhin001.htm
http://www.mindurhindi.com
http://polymath.org/hindi.php
http://ilovelanguages.org/hindi.php
http://www.hindipod101.com/
- Learn Hindi online with HindiPod101
- Learn Hindi now at Rocket Languages!

- Learn Hindi with Glossika
Learn Hindi with Ling
Learn Punjabi and Hindi Online
http://punjabihindionline.com/services/learn-hindi-punjabi-online/
Indo-Aryan languages
Awadhi, Assamese, Bagri, Bengali, Bhili, Bishnupriya Manipuri, Braj, Chakma, Chhattisgarhi, Chittagonian, Desiya, Dhatki, Dhivehi, Dhundari, Fiji Hindi, Gawar Bati, Gujarati, Hajong, Halbi, Haryanvi, Hindi, Hindko, Kannauji, Khandeshi, Konkani, Kotia, Kumaoni, Kutchi, Lambadi, Marathi, Marwari, Mewari, Modi, Nimadi, Noakhailla, Odia, Parkari Koli, Punjabi, Rajasthani, Rajbanshi, Rangpuri, Rohingya, Saraiki, Sarnámi Hindustani, Sindhi, Sinhala, Sourashtra, Sugali, Sylheti, Tanchangya, Urdu
Languages written with the Devanāgarī alphabet
Aka-Jeru, Angika, Athpare, Avestan, Awadhi, Balti, Bantawa, Belhare, Bhili, Bhumij, Bilaspuri, Bodo, Bhojpuri, Braj, Car, Chamling, Chhantyal, Chhattisgarhi, Chambeali, Danwar, Dhatki, Dhimal, Dhundari, Digaro Mishmi, Dogri, Doteli, Gaddi, Garhwali, Gondi, Gurung, Halbi, Haryanvi, Hindi, Ho, Jarawa, Jaunsari, Kannauji, Kham, Kangri, Kashmiri, Khaling, Khandeshi, Kharia, Khortha, Korku, Konkani, Kullui, Kumaoni, Kurmali, Kurukh, Kusunda, Lambadi, Limbu, Lhomi, Lhowa, Magahi, Magar, Mahasu Pahari, Maithili, Maldivian, Malto, Mandeali, Marathi, Marwari, Mewari, Mundari, Nancowry. Newar, Nepali, Nimadi, Onge, Pahari, Pali, Pangwali, Rajasthani, Rajbanshi, Rangpuri, Sadri, Sanskrit, Santali, Saraiki, Sirmauri, Sherpa, Shina, Sindhi, Sunwar, Sylheti, Tamang, Thakali, Thangmi, Wambule, Wancho, Yakkha, Yolmo
Page last modified: 05.08.22
[top]
---

Why not share this page:

If you like this site and find it useful, you can support it by making a donation via PayPal or Patreon, or by contributing in other ways. Omniglot is how I make my living.
Note: all links on this site to Amazon.com
, Amazon.co.uk
and Amazon.fr
are affiliate links. This means I earn a commission if you click on any of them and buy something. So by clicking on these links you can help to support this site.
Get a 30-day Free Trial of Amazon Prime (UK)
If you're looking for home or car insurance in the UK, why not try Policy Expert?
[top]