Odia (ଓଡ଼ିଆ)
Odia is an Indo-Aryan language spoken by about 40 million people mainly in the Indian state of Odisha, and also in parts of West Bengal, Jharkhand, Chhattisgarh and Andhra Pradesh. Odia is one of the many official languages of India. It is the official language of Odisha, and the second official language of Jharkhand. It is also designated as a Classical Language in India as it has a long literary history. Odia is closely related to Bengali and Assamese.
Odia is also known as Oriya, and Odisha as Orissa, however Odia and Odisha are now the preferred names in English as they are closer to their native names: ଓଡ଼ିଆ (oḍiā) [ɔɖiaː] and ଓଡ଼ିଶା (oḍiśā) [ɔɖisaː].
Written Odia
The Odia script developed from the Kalinga script, one of the many descendents of the Brahmi script of ancient India. The earliest known inscription in the Odia language, in the Kalinga script, dates from 1051.
The curved appearance of the Odia script is a result of the practice of writing on palm leaves, which have a tendency to tear if you use too many straight lines.
Notable features
Type of writing system: Abugida / Syllabic Alphabet in which all consonants have an inherent vowel. Diacritics, which can appear above, below, before or after the consonant they belong to, are used to change the inherent vowel.
When they appear the the beginning of a syllable, vowels are written as independent letters.
When certain consonants occur together, special conjunct symbols are used which combine the essential parts of each letter.
Writing direction: left to right in horizontal lines.
Script family: Proto-Sinaitic, Phoenician, Aramaic, Brāhmī, Gupta, Siddham, Gaudi, Odia
Odia alphabet
Vowels and vowel diacritics with k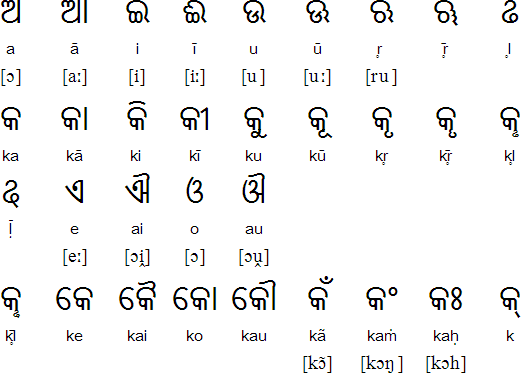 Consonants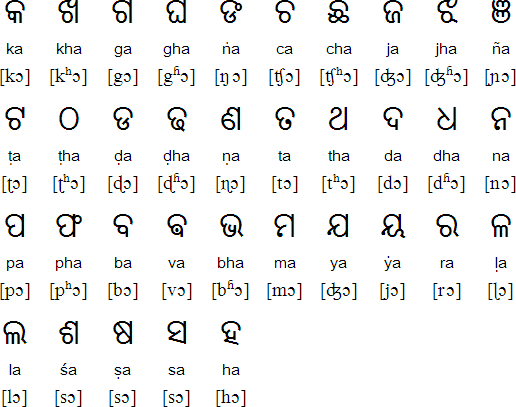 Some conjunct consonants
Numerals
Download the Excel spreadsheet used to make these charts
Sample texts

Transliteration
Sabu manuṣẏa janmaukāḷaru svadhīna, ṣemānaṅkara marsẏāḍā o adhaikāra samāna, semānaṅaṭhāre prabã o bibeka naiha ṭachai, semāne paraspara paba brādahaba paiṣaṣa karai ṭhārpẏa jakairā ḍarakāra.
Translation
All human beings are born free and equal in dignity and rights. They are endowed with reason and conscience and should act towards one another in a spirit of brotherhood.
(Article 1 of the Universal Declaration of Human Rights)
Odia pangram (by Subhashish Panigrahi)
ଶାଠ କହେ ଋତୁରେ ନଈ କଡ଼େ ଝଟା କି ଲଟାଟିଏ ଅହିରାଜ ଯଥା ଗଛରେ ଘର କରି ତା' ଦେହେ ମାତଇ ଆଉ ପ୍ରକୃତିରୁ ସକଳ ଜୀବନୀ ଖୋଜା ଊଣା ହେଲେ ଐକତାନେ ପଚା କଢ଼, ଫୁଲ ଓ ପତର-ଔଷଧୀ ଆହାର ଭରି ବଞ୍ଚେ ।
Translation
As we know that during the right season, on the bank of the river, a creeper would make a tree its home and grow over it like a krait, and when the nutrients from the nature fall short, the creeper feed on rotten buds, flowers and leaves making them its medicine.
Odia pangram (by Nasim Ali)
ଈଶ୍ୱର ସାର କହୁଥିଲେ ଯେ "ପିରିୟଡ଼ିକ ଟେବୁଲ"ର ମଝିରେ ଥିବା ଯବକ୍ଷାରଜାନ ସପ୍ତମ ମୌଳିକ ଓ ଓଜନ ହେଉଛି ୧୫ରୁ ଊଣା ଆଉ ଏ ଋକ୍ଷ ବାଷ୍ପଟି ଶଲ୍ୟ ଚିକିତ୍ସାର ନିଶ୍ଚେତକଠାରୁ ହୃଦ୍‌ରୋଗ ପାଇଁ ଔଷଧ, କ୍ଷେପଣାସ୍ତ୍ରର ଶକ୍ତିକୋଷ, ଥଣ୍ଡା ଫ୍ରିଜରର ଐକୀକ ଘଟକ, ଖାଦ୍ୟ ନ ସଢ଼ିବା ଭଳି ପ୍ୟାକେଜିଂ ତିଆରିରେ ଲାଗେ
Translation
Nitrogen is the seventh element of periodic table and has a mass of 14. Its existence ranges from anesthesia for surgery to medicine for cardiac diseases, missile energy, basic part of a freezing unit and preservative to prevent spoiling of food.
Odia pangram (by Prateek Pattanaik)
ଅଳି, ଆଜ ଇତର ଈଶାଣ ଉପାସନା ଊହି ଏକା ଐଛିଣି ଓଗାଳୁଁ ଔଷଧିନାଶନ କାମ ଖମଣି ଗଲାରୁ ଘୁଙ୍ଗୁର ନାଦରେ ଚମକାଇ, ଛଇଳାଙ୍କୁ ଜ୍ୱାଳାରେ ଝଞ୍ଜାଇ, ନିଜ ଟମକ ଠାଣିରେ ଡରାଇ, ଢାଳେ ଅପାଙ୍ଗରେ ତର ଥରାଇ, ଦୁଃଖ ଧନ ନେଇ, ପରମାଦ ଫଜିତ ବ୍ୟାଜ ଭାବେ ମଣି ଯୋଷାଙ୍କୁ ରସିକ ଲୀଳାରେ ବନ୍ଧାଇ ଶ୍ୟାମ ଷଟପଦ ସନ୍ନିଧେ ହଜାଇ କ୍ଷନ୍ଦିଲା ।
Translation
O Cuckoo! Today, in this place, when I thought of worshipping Shiva(1) and invoking him as I sat alone, that destroyer-of-all-remedies, Cupid came. As the sun went away (that is, night descended) Cupid devised various ways [to torture] poor ladies. [He] surprises them with the jingle of his anklets, burns them in the fire [of passion] and frightens them with the beat of his drum. [Again, he] makes them shiver with his sidelong glance. [He] takes their sadness (2) as debt, and to return more grief as a despised form of interest, he entangles them in the tricks of the playful bee-like Krishna by leaving them at his feet.
(1) Worshipping Shiva is believed to help one get his/her beloved.
(2) Due to the absence of their beloved ones.
Information about Odia | Phrases | Numbers | Tower of Babel
Links
Information about the Odia language
http://en.wikipedia.org/wiki/Odia_language
http://en.wikipedia.org/wiki/Odia_alphabet
http://www.orissadiary.com/orissa_profile/orissalanguage.asp
Odia lessons
http://learnoriya.blogspot.co.uk/
Odia phrases
http://wikitravel.org/en/Odia_phrasebook
http://www.mikecook.com/phrase/oriya.html
Odia dictionary
http://dictionary.tamilcube.com/oriya-dictionary.aspx
http://www.freelang.net/online/oriya.php
Odia fonts
http://www.wazu.jp/gallery/Fonts_Oriya.html
Type in Odia online
http://www.google.com/transliterate/oriya
http://www.bhashaindia.com/ilit/Oriya.aspx
Odia Unicode convertors
https://goo.gl/CmCF1q
Odia news
http://www.thesamaja.com
Indo-Aryan languages
Awadhi, Assamese, Bagri, Bengali, Bhili, Bishnupriya Manipuri, Braj, Chakma, Chhattisgarhi, Chittagonian, Desiya, Dhatki, Dhivehi, Dhundari, Fiji Hindi, Gawar Bati, Gujarati, Hajong, Halbi, Haryanvi, Hindi, Hindko, Kannauji, Khandeshi, Konkani, Kotia, Kumaoni, Kutchi, Lambadi, Marathi, Marwari, Mewari, Modi, Nimadi, Noakhailla, Odia, Parkari Koli, Punjabi, Rajasthani, Rajbanshi, Rangpuri, Rohingya, Saraiki, Sarnámi Hindustani, Sindhi, Sinhala, Sourashtra, Sugali, Sylheti, Tanchangya, Urdu
Ahom, Aima, Arleng, Badagu, Badlit, Basahan, Balinese, Balti-A, Balti-B, Batak, Baybayin, Bengali, Bhaiksuki, Bhujimol, Bilang-bilang, Bima, Blackfoot, Brahmi, Buhid, Burmese, Carrier, Chakma, Cham, Cree, Dehong Dai, Devanagari, Dham Lipi, Dhankari / Sirmauri, Ditema, Dives Akuru, Dogra, Ethiopic, Evēla Akuru, Fox, Fraser, Gond, Goykanadi, Grantha, Gujarati, Gunjala Gondi, Gupta, Gurmukhi, Halbi Lipi, Hanifi, Hanuno'o, Hočąk, Ibalnan, Incung, Inuktitut, Jaunsari Takri, Javanese, Kaithi, Kadamba, Kamarupi, Kannada, Kawi, Kharosthi, Khema, Khe Prih, Khmer, Khojki, Khudabadi, Kirat Rai, Kōchi, Komering, Kulitan, Kurukh Banna, Lampung, Lanna, Lao, Lepcha, Limbu, Lontara/Makasar, Lota Ende, Magar Akkha, Mahajani, Malayalam, Manpuri / Meitei (Modern), Manpuri (Old), Marchen, Meroïtic, Masarm Gondi, Modi, Mon, Mongolian Horizontal Square Script, Multani, Nandinagari, Newa, New Tai Lue, Ojibwe, Odia, Pahawh Hmong, Pallava, Phags-pa, Purva Licchavi, Qiang / Rma, Ranjana, Rejang (Kaganga), Sasak, Savara, Satera Jontal, Shan, Sharda, Siddham, Sinhala, Sorang Sompeng, Sourashtra, Soyombo, Sukhothai, Sundanese, Syloti Nagri, Tagbanwa, Takri, Tamil, Tanchangya (Ka-Pat), Tani, Thaana, Telugu, Thai, Tibetan, Tigalari, Tikamuli, Tocharian, Tolong Siki, Vatteluttu, Warang Citi
[top]
---

Why not share this page:

If you like this site and find it useful, you can support it by making a donation via PayPal or Patreon, or by contributing in other ways. Omniglot is how I make my living.
Note: all links on this site to Amazon.com
, Amazon.co.uk
and Amazon.fr
are affiliate links. This means I earn a commission if you click on any of them and buy something. So by clicking on these links you can help to support this site.
Get a 30-day Free Trial of Amazon Prime (UK)
If you're looking for home or car insurance in the UK, why not try Policy Expert?
[top]