Kulitan
Kulitan is one of the indigenous writing systems of the Philippines and is used to write Kapampangan, a language spoken mainly in the province of Pampanga in Central Luzon and its surrounding municipalities. Structurally, Kulitan is an abudiga, where each consonant has an inherent vowel that is modified with diacritics.
The origins of Kulitan are uncertain. Although some believe it to be an indigenous invention, many of the symbols and writing rules resemble those of Kawi as well as the other Indic scripts of Southeast Asia.
The oldest specimen of Kulitan were most likely the 'writing of the Kingdom of Luzon' found in several 16th century Luzon jars as described by Tauchi Yonesaburo [田内米三郎] (1853) in his book Toukikou [陶器考] 'Investigations of Pottery'. Several 16th and 17th century specimens of signatures by leading Kapampangan citizens written in Kulitan are preserved in various archives in the Philippines. Kulitan specimens also appear in the notes and abecedaries of several European explorers who visited Pampanga in the 19th century. Spanish lexicographers in the 17th and 18th centuries called the symbols used in this script culit, and the script became known as Kulitan as a result. The native names for it are Súlat Kapampángan and Pamagkulit.
Usage of the script was said to have declined in the 19th century, but was revived and revitalised by Kapampangan writers led by Aurelio Tolentino to write anti-Spanish propaganda during the Philippine Revolution of 1896. They were later used to write anti-American propaganda during the Philippine-American War and in the early years of US occupation. Kapampangan nationalist writers led by Don Zoilo Hilario revitalised Kulitan in the 1930s and 1940. Kulitan has declined once again after World War II and efforts were made in the 1980s and 1990s to revive and popularise it, particularly by Edwin Navarro Camaya and Michael Raymon Pangilinan. In 2008, a group of young writers led by Eliver Sicat, John Balatbat, Max Rosales and Bruno Tiotuico formed the Ágúman Súlat Kapampángan so as to safeguard and promote the teaching and usage of Kulitan.
Notable features
Writing direction: top to bottom in columns running from right to left
Consists of Indûng Súlat (mother characters), i.e. consonants with an inherent vowel, and Anak Súlat (offsping characters), i.e. vowel diacritics, which change the inherent vowel.
Used to write: Kapampangan a member of the Malayo-Polynesian branch of Austronesian languages spoken mainly on the Philippine island of Luzon by about 3 million people. It is also known as Pampango, Capampangan, Pampangueño or Amanung Sisuan.
Corrections and additional information supplied by Mike Pangilinan.
Kulitan script for Kapampangan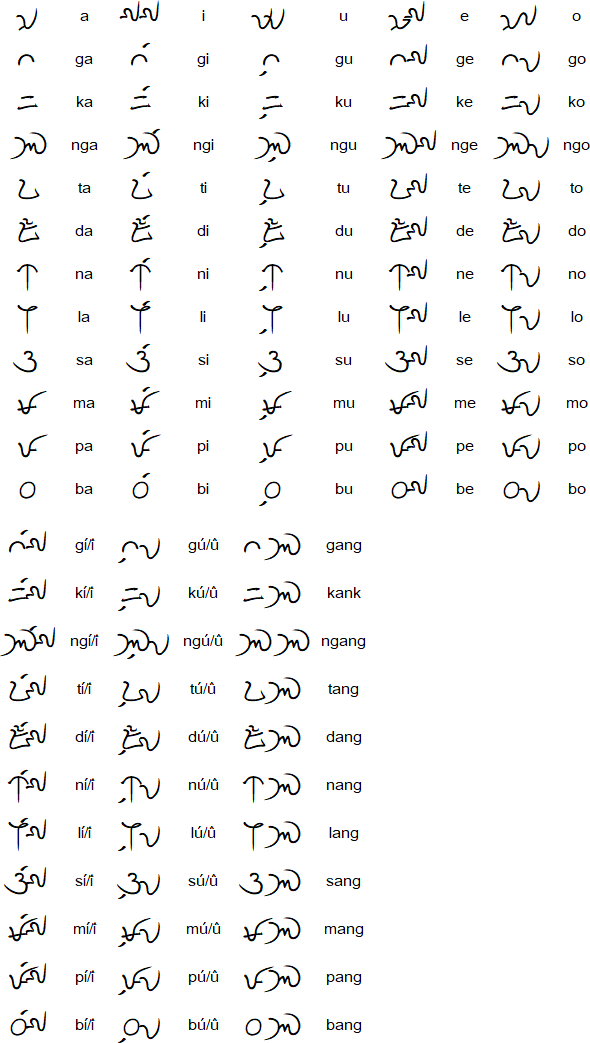 Download a speadsheet of this chart
Links
Information about the Kulitan script
https://en.wikipedia.org/wiki/Kulitan_alphabet
http://nordenx.blogspot.co.uk/search/label/Súlat Kapampángan
http://www.vjf.cnrs.fr/11ical/data/11ical_Pangilinan_Assessing_the_current_status_of_the_Kapampangan.pdf
http://siuala.com
Kulitan font
http://nordenx.deviantart.com/art/Baybayin-Pamagkulit-Font-246309064
Philippine languages
Aborlan Tagbanwa, Agutaynen, Aklan, Bantayanon, Bantik, Bantoanon, Baybayanon, Bikol, Binukid, Blaan, Buhid, Bukid, Buol, Butuanon, Calmian Tagbanwa, Caluyanon, Capiznon, Casiguran Dumagat Agta, Cebuano, Central Tagbanwa, Cuyonon, Gorontalo, Hanuno'o, Hiligaynon, Iraya, Isnag, Kagayanen, Kalanguya, Kapampangan, Kinabalian, Kinaray-a, Klata, Maguindanao, Mamanwa, Manide, Maranao, Masbateño, Matigsalug, Molbog, Mongondow, Obo, Palawano, Porohanon, Ratahan, Rinconada Bikol, Romblomanon, Sangirese, Surigaonon, Suwawa, Tagalog, Tagabawà, Talaud, Tausūg, Tawbuid, Tboli, Tiruray, Tombulu, Tondano, Tonsawang, Umiray Dumaget, Waray-Waray, Western Subanon
Ahom, Aima, Arleng, Badagu, Badlit, Basahan, Balinese, Balti-A, Balti-B, Batak, Baybayin, Bengali, Bhaiksuki, Bhujimol, Bilang-bilang, Bima, Blackfoot, Brahmi, Buhid, Burmese, Carrier, Chakma, Cham, Cree, Dehong Dai, Devanagari, Dham Lipi, Dhankari / Sirmauri, Ditema, Dives Akuru, Dogra, Ethiopic, Evēla Akuru, Fox, Fraser, Gond, Goykanadi, Grantha, Gujarati, Gunjala Gondi, Gupta, Gurmukhi, Halbi Lipi, Hanifi, Hanuno'o, Hočąk, Ibalnan, Incung, Inuktitut, Jaunsari Takri, Javanese, Kaithi, Kadamba, Kamarupi, Kannada, Kawi, Kharosthi, Khema, Khe Prih, Khmer, Khojki, Khudabadi, Kirat Rai, Kōchi, Komering, Kulitan, Kurukh Banna, Lampung, Lanna, Lao, Lepcha, Limbu, Lontara/Makasar, Lota Ende, Magar Akkha, Mahajani, Malayalam, Manpuri / Meitei (Modern), Manpuri (Old), Marchen, Meroïtic, Masarm Gondi, Modi, Mon, Mongolian Horizontal Square Script, Multani, Nandinagari, Newa, New Tai Lue, Ojibwe, Odia, Pahawh Hmong, Pallava, Phags-pa, Purva Licchavi, Qiang / Rma, Ranjana, Rejang (Kaganga), Sasak, Savara, Satera Jontal, Shan, Sharda, Siddham, Sinhala, Sorang Sompeng, Sourashtra, Soyombo, Sukhothai, Sundanese, Syloti Nagri, Tagbanwa, Takri, Tamil, Tanchangya (Ka-Pat), Tani, Thaana, Telugu, Thai, Tibetan, Tigalari, Tikamuli, Tocharian, Tolong Siki, Vatteluttu, Warang Citi
Page last modified: 16.03.23
[top]
---

Why not share this page:

If you like this site and find it useful, you can support it by making a donation via PayPal or Patreon, or by contributing in other ways. Omniglot is how I make my living.
Note: all links on this site to Amazon.com
, Amazon.co.uk
and Amazon.fr
are affiliate links. This means I earn a commission if you click on any of them and buy something. So by clicking on these links you can help to support this site.
Get a 30-day Free Trial of Amazon Prime (UK)
If you're looking for home or car insurance in the UK, why not try Policy Expert?
[top]