Telugu (తెలుగు)
Telugu is a Dravidian language spoken mainly in the southern Indian states of Andhra Pradesh and Telangana, where there are about 70.6 million speakers. Other India states with large numbers of Telugu speakers include: Karnataka (3.7 million), Tamil Nadu (3.5 million), Maharashtra (1.3 million), Chhattisgarh (1.1 million) and Odisha (214,010) [source]. According to the 2011 census there are about 93.9 million native speakers of Telugu in India, including 13 million people who speak it as a second language. The total number of Telugu speakers is about 95 million [source].
Other countries with significant numbers of Telugu speakers include the UAE (455,000), Saudi Arabic (349,000), the USA (248,000), Sri Lanka (230,000) and Malaysia (119,000).
Telugu at a glance
Native name: తెలుగు [t̪el̪uɡu]
Language family: Dravidian, Southern, South-Central
Number of speakers: c. 95 million
Spoken in: India
First written: 400 BC
Writing system: Brahmi script, Telugu script
Status: official language in India
Telugu is one of the 22 official languages of India, and a statutory provincial language in the states of Andhra Pradesh and Telangana, in the Yanam district of The Puducherry Union Territory, and in the Andaman and Nicobar islands. It is also a recognised minority language in South Africa.
There are three major dialects of Telugu: the Coastal dialect, which is spoken on the coast of Andhra Pradesh, the Rayalaseema dialect, which is spoken in the Rayalaseema districts of Andhra Pradesh, and the Telangana dialect, which spoken mainly in Telangana.
Written Telugu
The origins of the Telugu alphabet can be traced by to the Brahmi alphabet of ancient India, which developed into an alphabet used for both Telugu and Kannada, which in turn split into two separate alphabets between the 12th and 15th centuries AD.
The earliest known inscriptions containing Telugu words appear on coins that date back to 400 BC. The first inscription entirely in Telugu was made in 575 AD and was probably made by Renati Cholas, who started writing royal proclamations in Telugu instead of Sanskrit. Telugu developed as a poetical and literary language during the 11th century.
Until the 20th century Telugu was written in an archaic style very different from the everyday spoken language. During the the second half of the 20th century, a new written standard emerged based on the modern spoken language. In 2008 Telugu was designated as a classical language by the Indian government.
Notable features
Type of writing system: Abugida / Syllabic Alphabet in which all consonants have an inherent vowel. Diacritics, which can appear above, below, before or after the consonant they belong to, are used to change the inherent vowel.
When they appear the the beginning of a syllable, vowels are written as independent letters.
When certain consonants occur together, special conjunct symbols are used which combine the essential parts of each letter.
Writing direction: left to right in horizontal lines
Telugu alphabet

Download an alphabet chart for Telugu (Excel)
Notes
The letters ఌ (l̥a) and ౡ (l̥̄a) are not used in modern Telugu.
How to write and pronounce the Telugu letters:
Sample text in Telugu

Transliteration
Pratipattisvatvamula visyamuna mānavulellarunu janmataḥ svataṁtrulunu samānulunu naguduru. Vāru vivēdanāṁtaḥkaraṇa saṁpannulaguṭacaē parasparamu bhrātṛbhāvamutō vartiṁpavalayunu.
Translation
All human beings are born free and equal in dignity and rights. They are endowed with reason and conscience and should act towards one another in a spirit of brotherhood.
(Article 1 of the Universal Declaration of Human Rights)
Sample videos in Telugu
Information about Telugu | Phrases | Numbers | Colours | Family Words | Tower of Babel
Links
Information about the Telugu language and script
http://en.wikipedia.org/wiki/Telugu_language
https://www.ethnologue.com/language/tel
http://www.teluguworld.org/Telugu/telugu_history.html
http://www.engr.mun.ca/~adluri/telugu/
http://www.teluguworld.org/Telugu/telugu_history.html
http://www.teluguwebsite.com
http://www.engr.mun.ca/~adluri/telugu/language/script/script1d.html
https://sites.google.com/site/sarvabhashin/en/te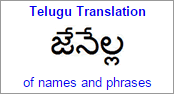 Online Telugu lessons
http://www.wazu.jp/gallery/Fonts_Telugu.html
http://scriptsource.org/scr/Telu
Online Telugu phrases
http://wikitravel.org/en/Telugu_phrasebook
http://www.travelmasti.com/domestic/andhrapradesh/languagetips.htm
Online Telugu dictionary
http://www.shabdkosh.com/te/
http://www.andhrabharati.com/dictionary/
http://dsal.uchicago.edu/dictionaries/gwynn/
http://dictionary.tamilcube.com/telugu-dictionary.aspx
http://telugudictionary.telugupedia.com/
Telugu fonts
http://www.wazu.jp/gallery/Fonts_Telugu.html
http://scriptsource.org/scr/Telu
Online Telugu input / transliteration
http://specials.msn.co.in/ilit/Telugu.aspx
http://www.tamilcube.com/translate/telugu.aspx
Online Telugu news
http://www.eenadu.net
http://www.andhraprabha.com
http://www.omnamovenkatesaya.com
Online Telugu TV
http://www.youtube.com/user/tv9telugu
Dravidian languages
Badaga, Brahui, Dhundari, Gondi, Irula, Jatapu, Kannada, Kodava, Kolam, Konda, Koya, Kurukh, Malayalam, Malto, Mukha Dora, Ravula, Sankethi, Savara, Sunuwar, Suriyani Malayalam, Tamil, Telugu, Toda, Tulu, Yerukula
Languages written with the Telugu alphabet
Ahom, Aima, Arleng, Badagu, Badlit, Basahan, Balinese, Balti-A, Balti-B, Batak, Baybayin, Bengali, Bhaiksuki, Bhujimol, Bilang-bilang, Bima, Blackfoot, Brahmi, Buhid, Burmese, Carrier, Chakma, Cham, Cree, Dehong Dai, Devanagari, Dham Lipi, Dhankari / Sirmauri, Ditema, Dives Akuru, Dogra, Ethiopic, Evēla Akuru, Fox, Fraser, Gond, Goykanadi, Grantha, Gujarati, Gunjala Gondi, Gupta, Gurmukhi, Halbi Lipi, Hanifi, Hanuno'o, Hočąk, Ibalnan, Incung, Inuktitut, Jaunsari Takri, Javanese, Kaithi, Kadamba, Kamarupi, Kannada, Kawi, Kharosthi, Khema, Khe Prih, Khmer, Khojki, Khudabadi, Kirat Rai, Kōchi, Komering, Kulitan, Kurukh Banna, Lampung, Lanna, Lao, Lepcha, Limbu, Lontara/Makasar, Lota Ende, Magar Akkha, Mahajani, Malayalam, Manpuri / Meitei (Modern), Manpuri (Old), Marchen, Meroïtic, Masarm Gondi, Modi, Mon, Mongolian Horizontal Square Script, Multani, Nandinagari, Newa, New Tai Lue, Ojibwe, Odia, Pahawh Hmong, Pallava, Phags-pa, Purva Licchavi, Qiang / Rma, Ranjana, Rejang (Kaganga), Sasak, Savara, Satera Jontal, Shan, Sharda, Siddham, Sinhala, Sorang Sompeng, Sourashtra, Soyombo, Sukhothai, Sundanese, Syloti Nagri, Tagbanwa, Takri, Tamil, Tanchangya (Ka-Pat), Tani, Thaana, Telugu, Thai, Tibetan, Tigalari, Tikamuli, Tocharian, Tolong Siki, Vatteluttu, Warang Citi
Page last modified: 21.10.23
[top]
---

Why not share this page:

If you like this site and find it useful, you can support it by making a donation via PayPal or Patreon, or by contributing in other ways. Omniglot is how I make my living.
Note: all links on this site to Amazon.com
, Amazon.co.uk
and Amazon.fr
are affiliate links. This means I earn a commission if you click on any of them and buy something. So by clicking on these links you can help to support this site.
Get a 30-day Free Trial of Amazon Prime (UK)
If you're looking for home or car insurance in the UK, why not try Policy Expert?
[top]