Malto (পাহাড়িয়া / पहाड़िया / Paháṛiyá)
Malto is a northern Dravidian language spoken by about 254,500 people in the northeast of India. There are two varieties of Malto: Kumarbhag Malto and Sauria Paharia. They are not mutually intelligible, and are classfied as separate languages in some sources.
Sauria Paharia (सौरिया पहाड़िया) is spoken by about 235,000 people in Bhagalpur in Bihar state, in the Godda, Sahibganj and Pakaur districts of Jharkhand state, and in the Murshidabad district of West Bengal state. There are also about 7,000 speakers of Sauria Paharia in Rajshahi and Rangpur divisions of Bangladesh.
Sauria Paharia is also known as Malatri, Maler, Malti, Malto, Maltu, Rajmahali or Sawriya Malto. There are ways to write it with the Bengali, Devanagari and Latin alphabets, and is used in newspapers and on the radio in India.
Kumarbhag Paharia (कुमारभाग पहाड़िया) is spoken by about 12,500 people in Godda, Sundar Pahardi and Pakaur districts of Jharkhand state, Mayurbhanj in Odisha state, and in Bankura, Barddhaman, and Murshidabad districts of West Bengal state.
Kumarbhag Paharia is also known as Kumar, Mad, Mal, Maler, Malti, Malto, Maltu, Paharia or Pahariya. It is rarely written.
Bengali alphabet for Malto (Sauria Paharia)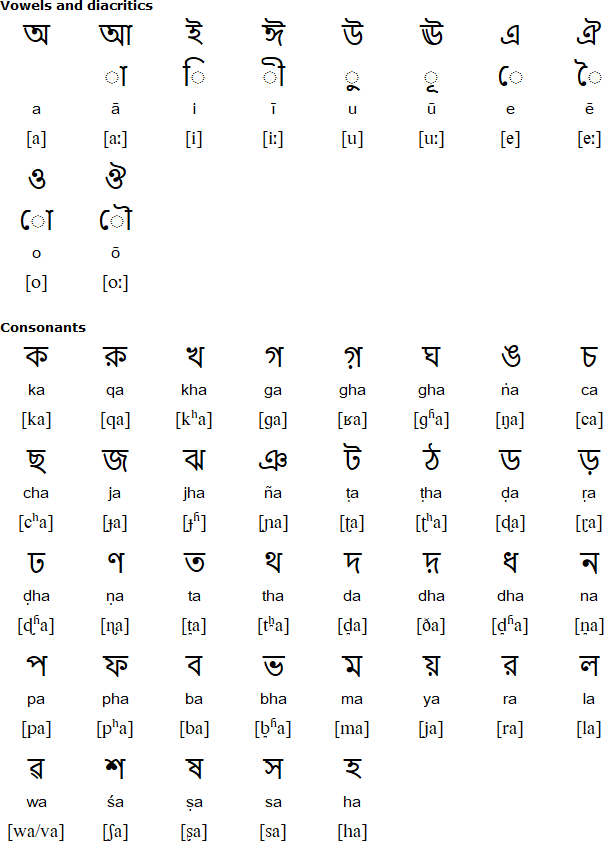 Devanagari alphabet for Malto (Sauria Paharia)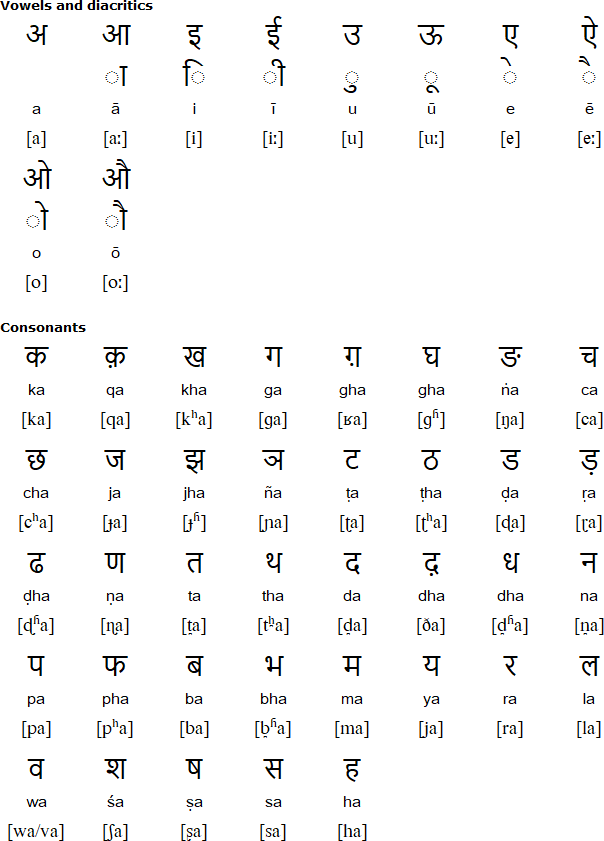 Latin alphabet for Malto (Sauria Paharia)
Download alphabet charts for Malto (Excel)
Sample text (Mark 1:1-4)
Bengali alphabet
নবিরকি কেতবেনো কুরকপেধ ইণয় কৌডিধ টুনড ঐন এণগকি চাকরিয়ন নিণগ অগদু তেয়িন: আহ নিণগ অগ অগদু নিণগ পাৱে মৈনজেহ. ডডেনো ওরত কূকরুকি সডিধ, গোসণয়িকিপাৱেসরয়েতর, অধিকিগোটডানডিন সোহজেতর আণয় অৱডপ চোৱ, য়োহননহ ডডেনো বপতিসমেচহ, অনতে পাপেকি মাপি lগকি গুমেনারেকি বপতিসম সবান মেনতর সেগয়হ. অনতে য়িহুদিয়.
Devanagari alphabet
नबिरकि केतबेनो कुरकपेद़ इणय कौडिद़ टुनड ऐन एणगकि चाकरियन निणग अगदु तेयिन: आह निणग अग अगदु निणग पावे मैनजेह. डडेनो ओरत कूकरुकि सडिद़, गोसणयिकिपावेसरयेतर, अद़िकिगोटडानडिन सोहजेतर आणय अवडप चोव, योहननह डडेनो बपतिसमेचह, अनते पापेकि मापि lगकि गुमेनारेकि बपतिसम सबान मेनतर सेगयह. अनते यिहुदिय.
Latin alphabet
Nabirki ketabeno kurkpeth iṉy kóḍith Ṭunḍa én eṉgki chákriyan niṉg agdu teyin: áh niṉg ag agdu niṉg páwe ménjeh. Ḍaḍeno ort kúkruki saḍith, Gosaṉyikipáwesaryetra, athikigoṭḍánḍin sohjetra áṉy awḍp chow, Yohannah ḍaḍeno baptismechah, ante pápeki mápi lagki gumenáreki baptisma sabán mentr segyah. Ante Yihudiya.
Translation
The beginning of the gospel of Jesus Christ, the Son of God;
As it is written in the prophets, Behold, I send my messenger before thy face, which shall prepare thy way before thee.
The voice of one crying in the wilderness, Prepare ye the way of
the Lord, make his paths straight.
John did baptize in the wilderness, and a preach the baptism of repentance for the remission of sins.
Details provided by Wolfram Siegel, Biswajit Mandal (biswajitmandal[dot]bm90[at]gmail[dot]com) and Michael Peter Füstumum
Videos in Malto
Link
Information about Malto
https://en.wikipedia.org/wiki/Malto_language
https://bharatstories.in/about-malto-language/
https://elar.soas.ac.uk/Collection/MPI64068
https://www.ethnologue.com/language/kmj
https://www.ethnologue.com/language/mjt
http://www.proel.org/index.php?pagina=mundo/dravidica/malto
Dravidian languages
Badaga, Brahui, Dhundari, Gondi, Irula, Jatapu, Kannada, Kodava, Kolam, Konda, Koya, Kurukh, Malayalam, Malto, Mukha Dora, Ravula, Sankethi, Savara, Sunuwar, Suriyani Malayalam, Tamil, Telugu, Toda, Tulu, Yerukula
Languages written with the Devanāgarī alphabet
Aka-Jeru, Angika, Athpare, Avestan, Awadhi, Balti, Bantawa, Belhare, Bhili, Bhumij, Bilaspuri, Bodo, Bhojpuri, Braj, Car, Chamling, Chhantyal, Chhattisgarhi, Chambeali, Danwar, Dhatki, Dhimal, Dhundari, Digaro Mishmi, Dogri, Doteli, Gaddi, Garhwali, Gondi, Gurung, Halbi, Haryanvi, Hindi, Ho, Jarawa, Jaunsari, Kannauji, Kham, Kangri, Kashmiri, Khaling, Khandeshi, Kharia, Khortha, Korku, Konkani, Kullui, Kumaoni, Kurmali, Kurukh, Kusunda, Lambadi, Limbu, Lhomi, Lhowa, Magahi, Magar, Mahasu Pahari, Maithili, Maldivian, Malto, Mandeali, Marathi, Marwari, Mewari, Mundari, Nancowry. Newar, Nepali, Nimadi, Onge, Pahari, Pali, Pangwali, Rajasthani, Rajbanshi, Rangpuri, Sadri, Sanskrit, Santali, Saraiki, Sirmauri, Sherpa, Shina, Sindhi, Sunwar, Sylheti, Tamang, Thakali, Thangmi, Wambule, Wancho, Yakkha, Yolmo
Languages written with the Eastern Nagari (Bengali) alphabet
Atong, Bengali, Bishnupriya Manipuri, Bodo, Bhumij, Chittagonian, Garo, Hajong, Karbi, Kharia, Khasi, Koch, Kokborok, Kurmali, Malto, Manipuri, Mundari, Noakhailla, Rangpuri, Sadri, Santali, Sylheti, Toto, Tanchangya
Languages written with the Latin alphabet
Page last modified: 17.01.22
[top]
---

Why not share this page:

If you like this site and find it useful, you can support it by making a donation via PayPal or Patreon, or by contributing in other ways. Omniglot is how I make my living.
Note: all links on this site to Amazon.com
, Amazon.co.uk
and Amazon.fr
are affiliate links. This means I earn a commission if you click on any of them and buy something. So by clicking on these links you can help to support this site.
Get a 30-day Free Trial of Amazon Prime (UK)
If you're looking for home or car insurance in the UK, why not try Policy Expert?
[top]