Kullui (कुळूई / कुल्वी)
Kullui is a member of the Western Pahari branch of the Indo-Ayran language family spoken in Himachal Pradesh in northern India by about 195,000 people. In particular it is spoken in the Balichowk, Banjar and Sainj sub-districts of the Kullu district in Himachal Pradesh.
Kullui is also known as Pahari, Himachali, Kulvi, Kullu Pahari, Kullui, Kaulī, Kuḷuī, Kulwālī, Pahāṛī, Pahāṛī Kullu, Phārī Kulu, Kulu Pahāṛī, Kulu Boli, Kulvi or Kullu.
Some speakers think of it as a dialect of Punjabi or Dogri. It has no official status, and is officially recorded as a dialect of Hindi. Kullui is spoken mainly by adults, and is classified by UNESCO as definitely endangered.
Kullui is currently written with the Devanagari alphabet, and was written with a version of the Takri alphabet until the mid-20th century. The Latin alphabet is used online by some Kullui speakers.
Devanagari alphabet for Kullui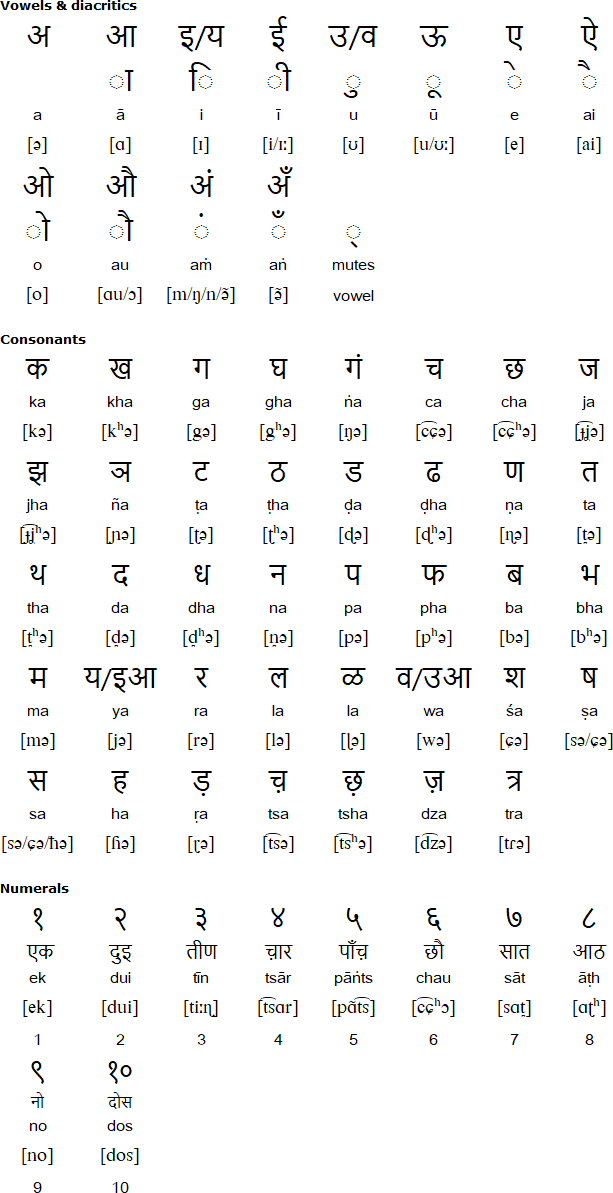 Takri alphabet for Kullui
Download alphabet charts for Kullui (Excel)
Sample text (Matthew 1:1-3)
अब्राहम राज़ा दाऊदा रा बुज़ुर्ग ती, राज़ा दाऊदा, यीशु मसीह रा बुज़ुर्ग ती, होर ऐ सा यीशु मसीह रा खानदान।
अब्राहम इसहाका रा बापू ती,
इसहाक याकूबा रा बापू ती, होर याकूब यहूदा होर तेइरै भाई रा बापू ती।
यहूदा पेरेस होर जेरह रा बापू ती;होर हेस्रोन पेरेसा रा बापू ती, होर तामार तिन्हरी आमा ती।
Transliteration
abrāham rādzā dāūdā rā budzurg tī, rādzā dāūdā, yīśu masīh rā budzurg tī, hor ai sā yīśu masīh rā khāndān.
abrāham isahākā rā bāpu tī, isahāk yākūbā rā bāpū tī, hor yākūb yahūhā hor teirai bhāī rā bāpū tī.
yahūdā peres hor jeroh rā bāpū tī; hor hestron peresā rā bāpū tī, hor tāmār tinharī āmā tī.
Translation
The book of the generation of Jesus Christ, the son of David,
the son of Abraham.
Abraham begat Isaac; and Isaac begat Jacob; and Jacob begat Judas and his brethren;
And Judas begat Phares and Zara of Thamar; and Phares begat Esrom; and Esrom begat Aram.
Source: https://play.google.com/store/apps/details?id=org.ips.kfxbible.kullvi
Details provided by Biswajit Mandal (biswajitmandal[dot]bm90[at]gmail[dot]com)
Sample videos in Kullui
Links
Information about Kullui
https://en.wikipedia.org/wiki/Kullui
https://www.ethnologue.com/language/kfx
http://pahari-languages.ru/?page_id=26&lang=en
Pahari languages
Bilaspuri, Chambeali, Dogri, Doteli, Gaddi, Garhwali, Jaunsari, Kangri, Kumaoni, Kullui, Mahasu Pahari, Mandeali, Nepali, Pangwali, Sirmauri
Languages written with the Devanāgarī alphabet
Aka-Jeru, Angika, Athpare, Avestan, Awadhi, Balti, Bantawa, Belhare, Bhili, Bhumij, Bilaspuri, Bodo, Bhojpuri, Braj, Car, Chamling, Chhantyal, Chhattisgarhi, Chambeali, Danwar, Dhatki, Dhimal, Dhundari, Digaro Mishmi, Dogri, Doteli, Gaddi, Garhwali, Gondi, Gurung, Halbi, Haryanvi, Hindi, Ho, Jarawa, Jaunsari, Kannauji, Kham, Kangri, Kashmiri, Khaling, Khandeshi, Kharia, Khortha, Korku, Konkani, Kullui, Kumaoni, Kurmali, Kurukh, Kusunda, Lambadi, Limbu, Lhomi, Lhowa, Magahi, Magar, Mahasu Pahari, Maithili, Maldivian, Malto, Mandeali, Marathi, Marwari, Mewari, Mundari, Nancowry. Newar, Nepali, Nimadi, Onge, Pahari, Pali, Pangwali, Rajasthani, Rajbanshi, Rangpuri, Sadri, Sanskrit, Santali, Saraiki, Sirmauri, Sherpa, Shina, Sindhi, Sunwar, Sylheti, Tamang, Thakali, Thangmi, Wambule, Wancho, Yakkha, Yolmo
Languages written with versions of the Takri alphabet
Bilaspuri, Dogri, Chambeali, Gaddi, Jaunsari, Kullui, Mandeali, Pangwali, Simauri
Page last modified: 28.06.21
[top]
---

Why not share this page:

If you like this site and find it useful, you can support it by making a donation via PayPal or Patreon, or by contributing in other ways. Omniglot is how I make my living.
Note: all links on this site to Amazon.com
, Amazon.co.uk
and Amazon.fr
are affiliate links. This means I earn a commission if you click on any of them and buy something. So by clicking on these links you can help to support this site.
Get a 30-day Free Trial of Amazon Prime (UK)
If you're looking for home or car insurance in the UK, why not try Policy Expert?
[top]