Saraiki (ਸਰਾਇਕੀ / सराइकी / سرائيكى)
Saraiki is a member of the Lahnda branch of Indo-Aryan languages and spoken by about 17 million people mainly in the central Pakistan provinces of Sindh and Punjab, and also in India, mainly in the state of Punjab.
Saraiki is also known as Siraiki, Seraiki, Multani, Lahndi and Western Punjabi, and is considered by some to be a dialect of Punjabi.
In Pakistan Saraiki is written with a version of Perso-Arabic alphabet, while in India the Gurmukhi and Devanagari alphabets are used, especially by Hindus.
Perso-Arabic alphabet for Saraiki
Information about Saraiki alphabet and pronunciation complied by Wolfram Siegel
Sample text in Saraiki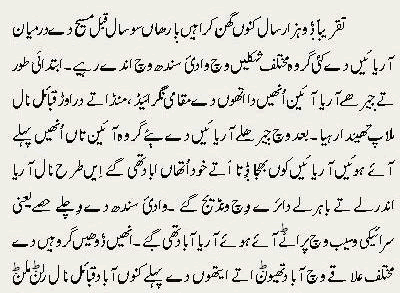 Source: http://www.wasaib.com/seraiki-tay-punjabi-dhoon-zubana-aslam-rasoolpuri-12.html
Sample video in Saraiki
Links
Information about the Saraiki language and culture
http://en.wikipedia.org/wiki/Saraiki_language
http://www.unics.uni-hannover.de/nhtcapri/western-panjabi-alphabet.html
http://www.siraikisangat.20fr.com
http://mazhar.dk/pakistan/population.htm
http://www.punjabilok.com/misc/literature/siraiki_language_and_ Poetics.htm
http://www.wasaib.com
http://saraiki.wordpress.com
Indo-Aryan languages
Awadhi, Assamese, Bengali, Bhojpuri, Chakma, Dhivehi, Domari, Fiji Hindi, Garhwali, Gujarati, Hajong, Hindi, Kashmiri, Konkani, Kotia, Kutchi, Magahi, Maithili, Marathi, Marwari, Modi, Nepali, Odia, Palula, Punjabi, Rajasthani, Rohingya, Romani, Saraiki, Sarnámi Hindustani, Sindhi, Sinhala, Shina, Sourashtra, Sugali, Sylheti, Torwali, Urdu
Languages written with the Arabic script
Adamaua Fulfulde, Afrikaans, Arabic (Algerian), Arabic (Egyptian), Arabic (Lebanese), Arabic (Modern Standard), Arabic (Moroccan), Arabic (Syrian), Arabic (Tunisian), Arwi, Äynu, Azeri, Balti, Baluchi, Beja, Bosnian, Brahui, Chagatai, Chechen, Comorian, Crimean Tatar, Dargwa, Dari, Domari, Gilaki, Hausa, Hazaragi, Kabyle, Karakalpak, Konkani, Kashmiri, Kazakh, Khowar, Khorasani Turkic, Kurdish, Kyrgyz, Lezgi, Luri, Malay, Marwari, Mandekan, Mazandarani, Morisco, Mozarabic, Palula, Pashto, Persian/Farsi, Punjabi, Qashqai, Rajasthani, Rohingya, Salar, Saraiki, Serer, Shabaki, Shina, Shughni, Sindhi, Somali, Tatar, Tausūg, Torwali, Turkish, Urdu, Uyghur, Uzbek, Wakhi, Wolof
---
If you need to type in many different languages, the Q International Keyboard can help. It enables you to type almost any language that uses the Latin, Cyrillic or Greek alphabets, and is free.
If you like this site and find it useful, you can support it by making a donation via PayPal or Patreon, or by contributing in other ways. Omniglot is how I make my living.
Note: all links on this site to Amazon.com
, Amazon.co.uk
and Amazon.fr
are affiliate links. This means I earn a commission if you click on any of them and buy something. So by clicking on these links you can help to support this site.