Chorasmian
The Chorasmian script was used to write Khwarezmian, an extinct East Iranian language that was spoken in what is now northern Uzbekistan, and parts of Kazakhstan and Turkmenistan until 1200 AD.
It developed from the Imperial Aramaic script and was used until the early 8th century AD. Writing in the Chorasmian script survives on coins and other artifacts, such as wood and parchment documents, and includes some Aramaic logograms and ideograms. The earliest known examples date from the end of the 2nd century AD. During the advance of Islam in the 8th century AD, the Perso-Arabic script was adopted for writing Khwarezmian.
Notable features
Chorasmian script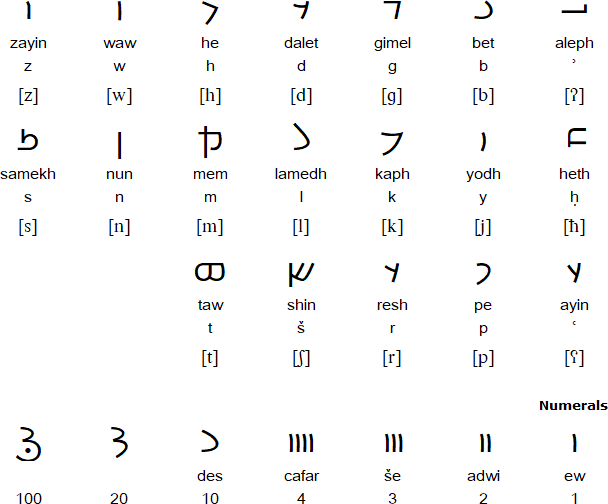 Arabic script Khwarezmian (الفـباى خوارزم)
Download an alphabet chart for Chorasmian (Excel)
Some details provided by Michael Peter Füstumum
Sample video in Khwarezmian
Links
Information about the Chorasmian script and Khwarezmian language
https://en.wikipedia.org/wiki/Khwarezmian_language
https://www.iranicaonline.org/articles/chorasmia-iii
https://archive.org/details/ChwarezmischerWorterindex
https://www.unicode.org/L2/L2018/18010r-khwarezmian.pdf
Languages written with the Arabic script
Adamaua Fulfulde, Afrikaans, Arabic (Algerian), Arabic (Bedawi), Arabic (Chadian), Arabic (Egyptian), Arabic (Gulf), Arabic (Hassaniya), Arabic (Hejazi), Arabic (Lebanese), Arabic (Libyan), Arabic (Modern Standard), Arabic (Moroccan), Arabic (Najdi), Arabic (Syrian), Arabic (Tunisian), Arwi, Äynu, Azeri, Balanta-Ganja, Balti, Baluchi, Beja, Belarusian, Bosnian, Brahui, Chagatai, Chechen, Chittagonian, Comorian, Crimean Tatar, Dargwa, Dari, Dhatki, Dogri, Domari, Gawar Bati, Gilaki, Hausa, Hazaragi, Hindko, Indus Kohistani, Kabyle, Kalkoti, Karakalpak, Kashmiri, Kazakh, Khowar, Khorasani Turkic, Khwarezmian, Konkani, Kumzari, Kurdish, Kyrgyz, Lezgi, Luri, Maguindanao, Malay, Malay (Terengganu), Mandinka, Marwari, Mazandarani, Mogholi, Morisco, Mozarabic, Munji, Noakhailla, Nubi, Ormuri, Palula, Parkari Koli, Pashto, Persian/Farsi, Punjabi, Qashqai, Rajasthani, Rohingya, Salar, Saraiki, Sawi, Serer, Shabaki, Shina, Shughni, Sindhi, Somali, Tatar, Tausūg, Tawallammat Tamajaq, Tayart Tamajeq, Torwali, Turkish, Urdu, Uyghur, Uzbek, Wakhi, Wanetsi, Wolof, Xiao'erjing, Yidgha
Ancient Berber, Arabic, Aramaic, Chorasmian, Elymaic, Hatran, Hebrew, Manichaean, Nabataean, North Arabian, Pahlavi, Palmyrene, Parthian, Phoenician, Paleo-Hebrew, Proto-Sinaitic / Proto-Canaanite, Psalter, Punic, Sabaean, Samaritan, Sogdian, South Arabian, Syriac, Tifinagh, Ugaritic
Page created: 28.02.23. Last modified: 13.04.23
[top]
---

Why not share this page:

If you like this site and find it useful, you can support it by making a donation via PayPal or Patreon, or by contributing in other ways. Omniglot is how I make my living.
Note: all links on this site to Amazon.com
, Amazon.co.uk
and Amazon.fr
are affiliate links. This means I earn a commission if you click on any of them and buy something. So by clicking on these links you can help to support this site.
Get a 30-day Free Trial of Amazon Prime (UK)
If you're looking for home or car insurance in the UK, why not try Policy Expert?
[top]