Gurung (तमु क्यी / ཏམུ་ཀི / Tamu Kyi)
Gurung is member of the Tamangic branch of the Sino-Tibetan language family. It is spoken in parts of southern and central Nepal, particularly in the Parbat district of the Dhawalagiri Zone, and in the Gorkha, Kaski, Lamjung, Tanahu and Syangja districts of the Gandaki Zone. In 2011 there were about 326,000 speakers of Gurung in Nepal. In 2007 there were about 33,000 speakers of Gurung in northeastern India, mainly in the South district of Sikkim state, and in the Darjeeling district of West Bengal state.
Gurung is also known as Daduwa or Western Gurung. The native name is Tamu Kyi, which means 'language of the Tamu'. The people who speak it call themselves Tamu, and others call them Gurung.
There are different varities of the language in each village where its spoken. These varities are grouped into two groups East Gurung and West Gurung. While varities within each group are more or less mutually intelligible, there is less intelligibilty between the two groups. Gurung is closely related to Tamang, Thakali, Manange, Nar Phu, and Chantyal, which are all Tamangic languages.
Gurung is spoken mainly by adults, while younger people are more likely to speak Nepali. Gurung is used in homes, markets, villages, literature, the media, and in religious contexts. It became one of the official languages of Sikkim in 1997.
Written Gurung
There are ways to write Gurung with the Devangari, Latin and Tibetan alphabets, and two scripts invented by Gurung speakers: Khe Prih and Khema. The Khema script is the official script for Gurung, according to the Nepal Language Commission. The Khe Prih script is also quite widely used, as is Devanagari.
Devanagari alphabet for Gurung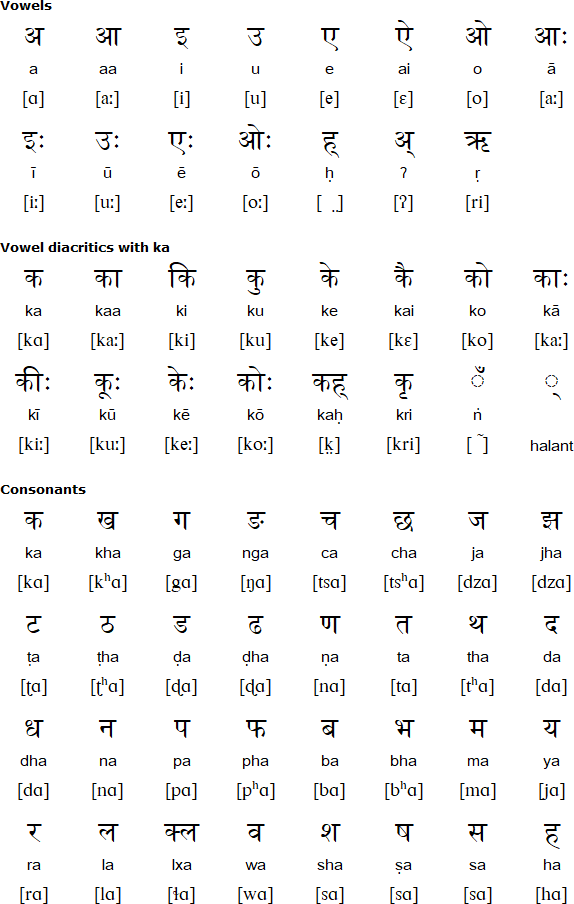 Download an alphabet chart for Gurung (Excel)
Sample text
९. क्हे मैंइ प्राथना लमा छले लद्ः ओ स्वर्गर मुंबै ङिए परमेश्वर आबा, क्हिए मिं पबित्र परिगे।
१०. क्हिए ग्याल्स युरिगे, स्वर्गर धोंले क्हिए सैंर मैंबे के पृथ्बीरै पूरा तरिगे।
११. ङिलाइ तिंयाँ त्हिंइ ह्रोंसेबै चबै सै पिंनु।
१२. ङिए फिर आछ्याँब् लब्मैंलाइ ङिइ क्षमा पिंल् खाँब् धोंले ङिइ लबै आछ्याँबे केमैंउँइँले ङि क्षमा पिंनु।
IPA Translation
ke̤ mɛ̃i praːtʰnaː lɑmaː tsʰɑle lɑdː o swɑrɡɑrɑ munbɛ ŋie pɑrmeswɑrɑ aːbaː, ki̤e mĩ pɑbitrɑ pɑriɡe.
ki̤e ɡjaːlsɑ juriɡe, swɑrɡɑrɑ dõle ki̤e sɛ̃r mɛ̃be ke pritʰbirɛ puraː tɑriɡe.
ŋilaːi timjãː tĩ̤i hrõsebɛ tsɑbɛ sɛ pinnu.
ŋie pʰirɑ aːtsʰjãːb lɑbmɛ̃laːi ŋii ksɑmaː pinl kʰãːb dõle ŋii lɑbɛ aːtsʰjãː kemɛ̃ũĩle ŋi ksɑmaː pinnu.
Translation
After this manner therefore pray ye: Our Father which art in heaven, Hallowed be thy  name.
Thy  kingdom come. Thy  will be done  in earth, as it is in heaven.
Give us this day our daily bread.
And forgive us our debts, as we  forgive our debtors.
Details provided by Biswajit Mandal (biswajitmandal[dot]bm90[at]gmail[dot]com)
Sample videos in Gurung
Links
Information about the Gurung language
https://en.wikipedia.org/wiki/Gurung_language
https://www.ethnologue.com/language/gvr
https://elalliance.org/languages/himalaya/gurung/
https://kathmandupost.com/art-culture/2019/09/06/the-gurung-language-once-had-no-written-script-now-it-has-five
Tamangic languages
Chhantyal, Gurung, Tamang, Thakali
Languages written with the Devanāgarī alphabet
Aka-Jeru, Angika, Athpare, Avestan, Awadhi, Balti, Bantawa, Belhare, Bhili, Bhumij, Bilaspuri, Bodo, Bhojpuri, Braj, Car, Chamling, Chhantyal, Chhattisgarhi, Chambeali, Danwar, Dhatki, Dhimal, Dhundari, Digaro Mishmi, Dogri, Doteli, Gaddi, Garhwali, Gondi, Gurung, Halbi, Haryanvi, Hindi, Ho, Jarawa, Jaunsari, Kannauji, Kham, Kangri, Kashmiri, Khaling, Khandeshi, Kharia, Khortha, Korku, Konkani, Kullui, Kumaoni, Kurmali, Kurukh, Kusunda, Lambadi, Limbu, Lhomi, Lhowa, Magahi, Magar, Mahasu Pahari, Maithili, Maldivian, Malto, Mandeali, Marathi, Marwari, Mewari, Mundari, Nancowry. Newar, Nepali, Nimadi, Onge, Pahari, Pali, Pangwali, Rajasthani, Rajbanshi, Rangpuri, Sadri, Sanskrit, Santali, Saraiki, Sirmauri, Sherpa, Shina, Sindhi, Sunwar, Sylheti, Tamang, Thakali, Thangmi, Wambule, Wancho, Yakkha, Yolmo
Page last modified: 22.06.21
[top]
---

Why not share this page:

If you like this site and find it useful, you can support it by making a donation via PayPal or Patreon, or by contributing in other ways. Omniglot is how I make my living.
Note: all links on this site to Amazon.com
, Amazon.co.uk
and Amazon.fr
are affiliate links. This means I earn a commission if you click on any of them and buy something. So by clicking on these links you can help to support this site.
Get a 30-day Free Trial of Amazon Prime (UK)
If you're looking for home or car insurance in the UK, why not try Policy Expert?
[top]