Halbi (हलबी / ହଲବୀ)
Halbi is an Eastern Indo-Aryan language spoken in eastern India in the states of Andhra Pradesh, Chhattisgarh, Madhya Pradesh, Maharashtra and Odisha. In 2011 there were about 966,000 speakers of Halbi, which is also known as Halabi, Halba, Halvas, Halvi or Holva.
Halbi is closely related to Odia and Marathi. Dialects of Halbi include Adkuri, Bastari, Bhunjia, Chandari, Gachikolo, Govari of Balaghat, Kawari, Kunbi, Mahari, Muri, Sundi. Bhunjia and Kawari.
There are ways to write Halbi with the Devanagari and Odia scripts, however it is used mainly as an oral language, particularly for trade, and few Habli speakers can read and write their language. In 2006 a new way to write Halbi, known as the Halbi Lipi, was created by Vikram Kumar Soni. It is used to a limited extent in Chhattisgarh.
Devanagari alphabet for Halbi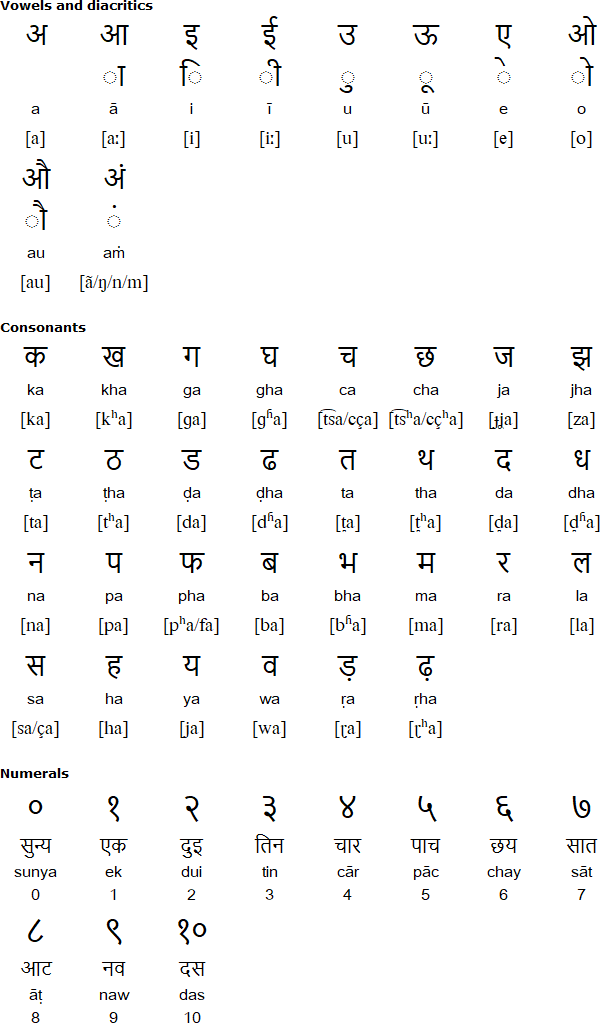 Odia alphabet for Halbi
Download alphabet charts for Halbi (Excel)
Sample text (Matthew 1:1-3)
Devanagari alphabet
१. अब्राहम चो पिला, दाऊद चो पिला, ईशु मसी चो बंसावली |
२. अब्राहम ले इसाक जनम होलो, इसाक ले याकुब जनम होलो, याकुब ले यहुदा आउर हुनचो भाई जनम होला,
३. यहुदा आउर तामार ले फिरिस आउर जोरह जनम होला, फिरिस ले हिस्रोन जनम होलो, आउर हिस्रोन ले एराम जनम होलो,
Odia alphabet
୧. ଅବ୍ରାହମ ଚୋ ପିଲା, ଦାଊଦ ଚୋ ପିଲା, ଇସୁ ମସୀ ଚୋ ବଂସାଵଲୀ।
୨. ଅବ୍ରାହମ ଲେ ଇସାକ ଜନମ ହୋଲୋ, ୟାକୁବ ଲେ ୟହୁଦା ଆଉର ହୁନଚୋ ଭାଈ ଜନମ ହୋଲା,
୩. ୟହୁଦା ଆଉର ତାମାର ଲେ ଫିରିସ ଆଉର ଜୋରହ ଜନମ ହୋଲା, ଫିରିସ ଲେ ହିସ୍ରୋନ ଜନମ ହୋଲୋ, ଆଉର ହିସ୍ରୋନ ଲେ ଏରାମ ଜନମ ହୋଲୋ,
Transliteration
abrāham co pilā, dāūd co pilā, īsu masī co baṁsāvalī.
abrāhām le isāk janam holo, isāk le yākub janam holo, yākub le yahudā āūr hunco bhaī janam holā,
yahudā āūr tāmār le phiris āūr jorah janam holā, phiris le hisron janam holo, āūr hisron le erām janam holo,
Translation
The book of the generation of Jesus Christ, the son of a David, the son of Abraham.
Abraham begat Isaac; and Isaac begat Jacob; and Jacob begat Judas and his brethren;
And Judas begat Phares and Zara of Thamar; and Phares begat Esrom; and Esrom begat Aram;
Source: https://play.google.com/store/apps/details?id=org.ips.hlbbible.halbi
Details provided by Biswajit Mandal (biswajitmandal[dot]bm90[at]gmail[dot]com)
Sample videos in and about Halbi
Links
Information about Halbi
https://en.wikipedia.org/wiki/Halbi_language
https://www.ethnologue.com/language/hlb
https://phoible.org/inventories/view/1727#tipa
https://www.halbiland.com/en/halbi-language
Indo-Aryan languages
Awadhi, Assamese, Bagri, Bengali, Bhili, Bishnupriya Manipuri, Braj, Chakma, Chhattisgarhi, Chittagonian, Desiya, Dhatki, Dhivehi, Dhundari, Fiji Hindi, Gawar Bati, Gujarati, Hajong, Halbi, Haryanvi, Hindi, Hindko, Kannauji, Khandeshi, Konkani, Kotia, Kumaoni, Kutchi, Lambadi, Marathi, Marwari, Mewari, Modi, Nimadi, Noakhailla, Odia, Parkari Koli, Punjabi, Rajasthani, Rajbanshi, Rangpuri, Rohingya, Saraiki, Sarnámi Hindustani, Sindhi, Sinhala, Sourashtra, Sugali, Sylheti, Tanchangya, Urdu
Languages written with the Devanāgarī alphabet
Aka-Jeru, Angika, Athpare, Avestan, Awadhi, Balti, Bantawa, Belhare, Bhili, Bhumij, Bilaspuri, Bodo, Bhojpuri, Braj, Car, Chamling, Chhantyal, Chhattisgarhi, Chambeali, Danwar, Dhatki, Dhimal, Dhundari, Digaro Mishmi, Dogri, Doteli, Gaddi, Garhwali, Gondi, Gurung, Halbi, Haryanvi, Hindi, Ho, Jarawa, Jaunsari, Kannauji, Kham, Kangri, Kashmiri, Khaling, Khandeshi, Kharia, Khortha, Korku, Konkani, Kullui, Kumaoni, Kurmali, Kurukh, Kusunda, Lambadi, Limbu, Lhomi, Lhowa, Magahi, Magar, Mahasu Pahari, Maithili, Maldivian, Malto, Mandeali, Marathi, Marwari, Mewari, Mundari, Nancowry. Newar, Nepali, Nimadi, Onge, Pahari, Pali, Pangwali, Rajasthani, Rajbanshi, Rangpuri, Sadri, Sanskrit, Santali, Saraiki, Sirmauri, Sherpa, Shina, Sindhi, Sunwar, Sylheti, Tamang, Thakali, Thangmi, Wambule, Wancho, Yakkha, Yolmo
Languages written with the Odia alphabet
Bhumij, Chhattisgarhi, Desiya, Halbi, Juang, Kharia, Kurmali, Mundari, Odia, Santali, Sora
Page last modified: 01.06.21
[top]
---

Why not share this page:

If you like this site and find it useful, you can support it by making a donation via PayPal or Patreon, or by contributing in other ways. Omniglot is how I make my living.
Note: all links on this site to Amazon.com
, Amazon.co.uk
and Amazon.fr
are affiliate links. This means I earn a commission if you click on any of them and buy something. So by clicking on these links you can help to support this site.
Get a 30-day Free Trial of Amazon Prime (UK)
If you're looking for home or car insurance in the UK, why not try Policy Expert?
[top]