Kutchi (કચ્છી /
ڪڇّي

)

Kutchi is an Indo-Aryan language with about 1.1 million speakers mainly in India, and also in Pakistan. There are also some Kutchi speakers in Trinidad and Tobago. In India Kutchi is spoken by about 1 million people mainly in the Kutch area of Gujarat State. There are also Kutchi speakers in the states of Andhra Pradesh, Assam, Karnataka, Kerala, Madhya Pradesh, Maharashtra, Odisha, Tamil Nadu and Uttar Pradesh.

There are about 50,000 speakers of Kutchi in Sindh province in Pakistan, particularly in Karachi. There are also about 82,000 Kutchi speakers in Kenya, 13,000 Kutchi speakers in Malawi, and some in Tanzania.

Kutchi is also known as Cuchi, Cutch, Kacchi, Kachchhi, Kachchi, Kachi, Katch, Katchi, Kautchy, Kutchchi or Kutchie. It is related to Sindhi and Gujarati. It also contains quite a lot of vocabulary from Sindhi, Gujarati and Rajasthani.

In India Kutchi is written with the Gujarai alphabet, while in Pakistan the Sindhi version of the Perso-Arabic script is used. In 2009 a new script for Kutchi was developed by Dr Rajul Shah more details.
Gujarātī script for Kutchi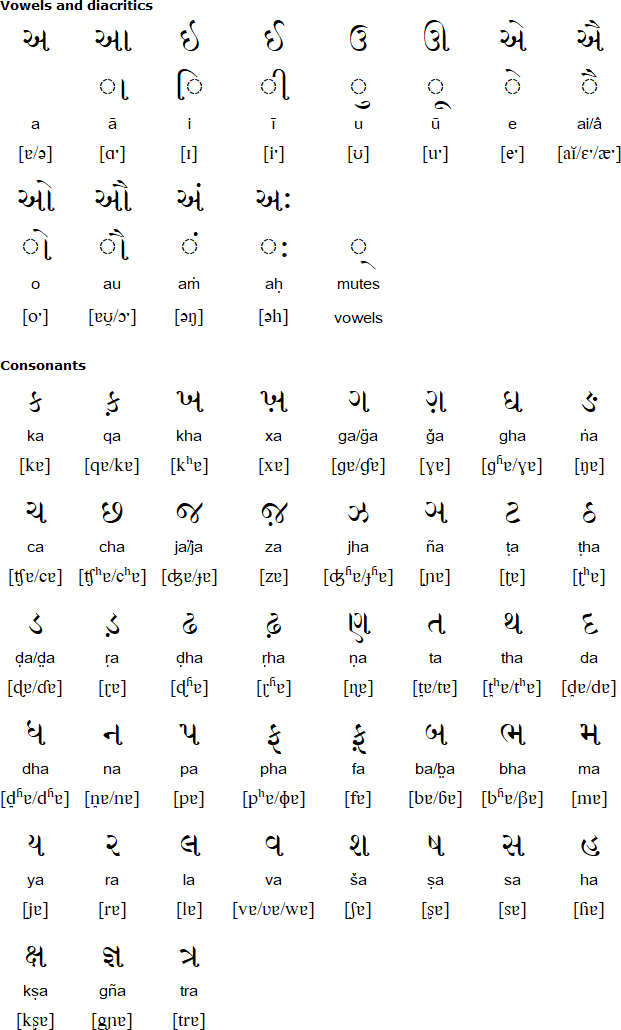 Sindhi alphabet for Kutchi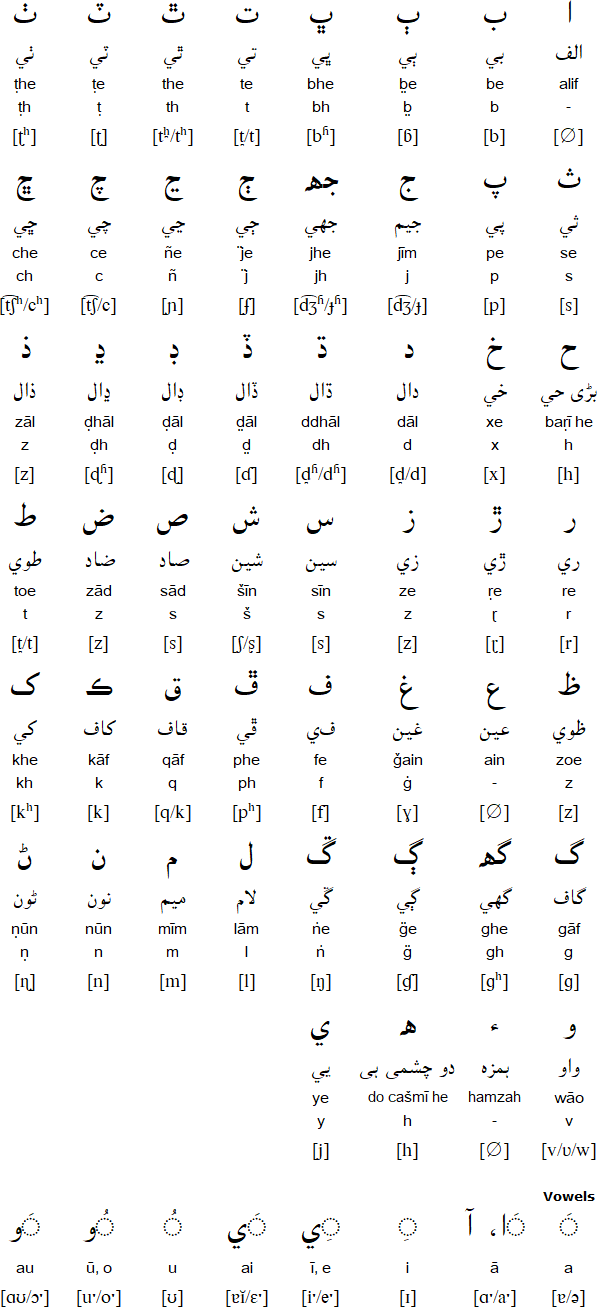 Information about Kutchi alphabets and pronunciation complied by Wolfram Siegel, with corrections by Michael Peter Füstumum
Sample text
કંડલા ભારત દેશજે આથમણે ભરાજે ગુજરાત રાજ્યજે વિસ્તારમેં સૌથી વડે હેડે કચ્છ જિલ્લેજે ગાંધીધામ શહેર નજીકજો મહત્વજો ને દેશજે પશ્ચિમી ધરિયા કિનારેજો હકડો વડો બંધર આય. હી બંધર અરબ સમંધરજે કિનારે કચ્છજે અખાતમેં ભનેલો આય. દેશજે ભાગલે પોય કરાંચી બંધર પાકિસ્તાનકે સોંપાણો તેથી આથમણે ભારતજે મહત્વજે બંધર સંઈ ઇ. સ. ૧૯૫૦મેં કંડલાજી સ્થાપના કરેમેં આવઈ .
Transliteration
Kaṇḍalā bhārata deśaje āthamaṇe bharāje gujarāta rājyaje vistāramẽ sauthī vaḍe heḍe kaccha jilleje gāndhīdhāma śahera najīkajo mahatvajo ne deśaje paścimī dhariyā kinārejo hakaḍo vaḍo bandhara āya. Hī bandhara araba samandharaje kināre kacchaje akhātamẽ bhanelo āya. Deśaje bhāgale poya karāñcī bandhara pākistānake sompāṇo tethī āthamaṇe bhārataje mahatvaje bandhara sãī i.
Sample text provided by Sammy Silvers
Sample videos in Kutchi
Information about Kutchi | Numbers
Links
Information about Kutchi
http://en.wikipedia.org/wiki/Kutchi_language
https://www.ethnologue.com/language/kfr
http://www.kutchimaadu.com/general/kutchi-language/
https://khojawiki.org/Kutchi
Online Kutchi lessons
http://www.panjokutch.com/Learn%20Kutchi/main%20page.htm
Recordings in Kutchi
http://globalrecordings.net/en/language/3922
Indo-Aryan languages
Awadhi, Assamese, Bagri, Bengali, Bhili, Bishnupriya Manipuri, Braj, Chakma, Chhattisgarhi, Chittagonian, Desiya, Dhatki, Dhivehi, Dhundari, Fiji Hindi, Gawar Bati, Gujarati, Hajong, Halbi, Haryanvi, Hindi, Hindko, Kannauji, Khandeshi, Konkani, Kotia, Kumaoni, Kutchi, Lambadi, Marathi, Marwari, Mewari, Modi, Nimadi, Noakhailla, Odia, Parkari Koli, Punjabi, Rajasthani, Rajbanshi, Rangpuri, Rohingya, Saraiki, Sarnámi Hindustani, Sindhi, Sinhala, Sourashtra, Sugali, Sylheti, Tanchangya, Urdu
Languages written with the Gujarati alphabet
Languages written with the Arabic alphabet
Adamaua Fulfulde, Afrikaans, Arabic (Algerian), Arabic (Bedawi), Arabic (Chadian), Arabic (Egyptian), Arabic (Gulf), Arabic (Hassaniya), Arabic (Hejazi), Arabic (Lebanese), Arabic (Libyan), Arabic (Modern Standard), Arabic (Moroccan), Arabic (Najdi), Arabic (Syrian), Arabic (Tunisian), Arwi, Äynu, Azeri, Balanta-Ganja, Balti, Baluchi, Beja, Belarusian, Bosnian, Brahui, Chagatai, Chechen, Chittagonian, Comorian, Crimean Tatar, Dargwa, Dari, Dhatki, Dogri, Domari, Gawar Bati, Gilaki, Hausa, Hazaragi, Hindko, Indus Kohistani, Kabyle, Kalkoti, Karakalpak, Kashmiri, Kazakh, Khowar, Khorasani Turkic, Khwarezmian, Konkani, Kumzari, Kurdish, Kyrgyz, Lezgi, Luri, Maguindanao, Malay, Malay (Terengganu), Mandinka, Marwari, Mazandarani, Mogholi, Morisco, Mozarabic, Munji, Noakhailla, Nubi, Ormuri, Palula, Parkari Koli, Pashto, Persian/Farsi, Punjabi, Qashqai, Rajasthani, Rohingya, Salar, Saraiki, Sawi, Serer, Shabaki, Shina, Shughni, Sindhi, Somali, Tatar, Tausūg, Tawallammat Tamajaq, Tayart Tamajeq, Torwali, Turkish, Urdu, Uyghur, Uzbek, Wakhi, Wanetsi, Wolof, Xiao'erjing, Yidgha
Page last modified: 10.06.22
[top]
---

Why not share this page:
If you like this site and find it useful, you can support it by making a donation via PayPal or Patreon, or by contributing in other ways. Omniglot is how I make my living.
Note: all links on this site to Amazon.com
, Amazon.co.uk
and Amazon.fr
are affiliate links. This means I earn a commission if you click on any of them and buy something. So by clicking on these links you can help to support this site.
Get a 30-day Free Trial of Amazon Prime (UK)
If you're looking for home or car insurance in the UK, why not try Policy Expert?
[top]