Lak (Лакку маз)
Lak is a Nakh-Daghestanian or Northeast Caucasian language spoken in the Dagestan Republic in the Russian Federation. According to the 2010 census, there are about 146,000 speakers of Lak, which is also known as Lakh, Laki or Kazikumukhtsy. It is closely related to Dargwa.
Lak at a glance
Native name: Лакку маз [lakːu maz]
Language family: Northeast Caucasian
Number of speakers: c. 146,000
Spoken in: Republic of Dagestan, Russian Federation
First written: 15th century
Writing system: Arabic, Cyrillic, Latin and Georgian scripts
Status: recognised provincial language in the Republic of Dagestan
The standard version of Lak is based on the Kumukh dialect, which is spoken in the village of Kumukh, which is Гъумук (Ğumuk) in Lak, and Кумух in Russian. Other dialects include Vitskhi, Arakul, Balkhar, Shadni, Shalib, Vikhli, Kuli and Kaya.
Since 1994 Lak has been recognised as a state language of Dagestan, along with Russian and several other languages. It is used as a medium of instruction in primary schools, and taught as a subject in secondary schools. There is a newspaper in Lak, and it also used on the radio.
From the 15th century until 1928 Lak was written with a version of the Arabic alphabet. In 1928 the Latin alphabet was adopted, and since 1938, a version of the Cyrillic alphabet has been used to write Lak. The Georgian alphabet has also been used to write Lak.
Lak was first documented in 1864 by Baron Peter von Uslar (Пётр Карлович Услар), a Russian linguist and ethnographer. He published a grammar of Lak in which he proposed a way to write Lak with the Cyrillic alphabet in 1890.
Arabic alphabet for Lak (15th century - 1928)
Latin alphabet for Lak (1928-1938)
Cyrillic alphabet for Lak (1938 - present)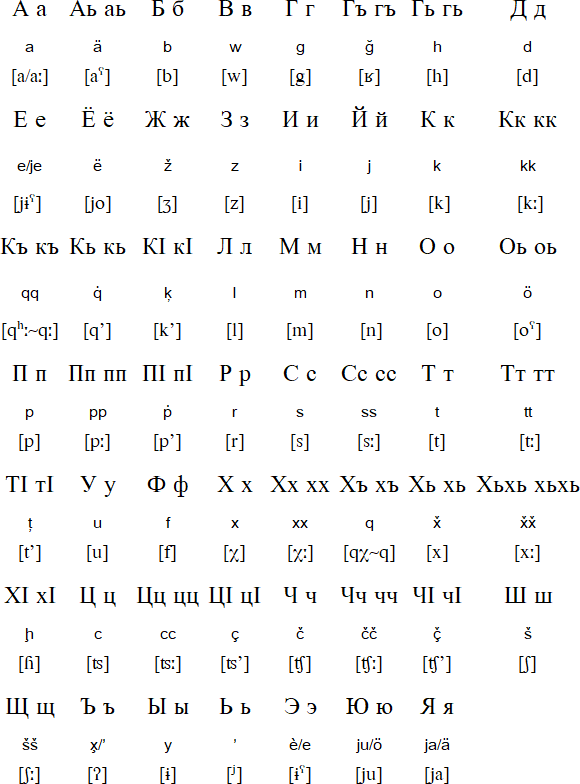 Hear how to pronounce the Lak letters:
Georgian alphabet for Lak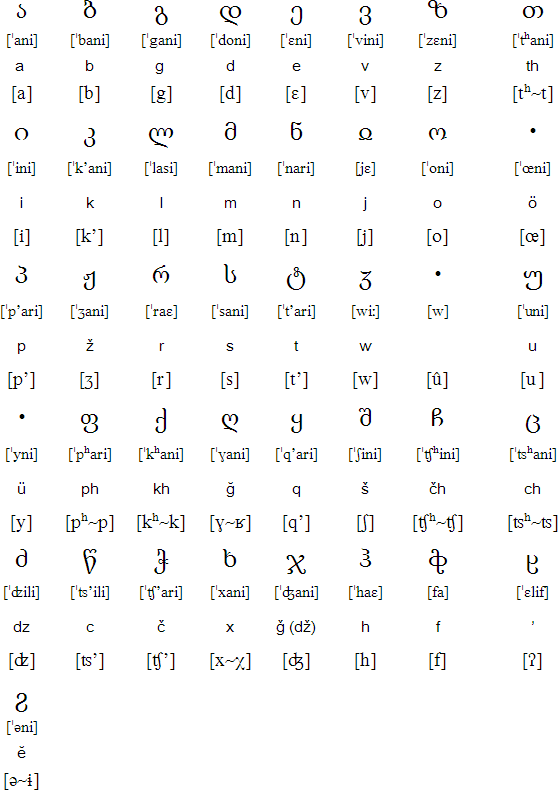 Download alphabet charts for Lak
Sample text in Lak
ЦулчӀа хъинну ккашилну бивкӀун бур. Ав бансса зад дириллай къадиркӀун дур. Га неххайн лавгун бур. ЦулчӀа, гьархъалттил ухчанттилу бивкӀумунил дурну, багьну бур. МикӀ гъагъан увксса гьарайзу Аьли, га бакӀрайн багьну, хъинну ххари хьуну ур. ЦулкӀлул лу пар-пар тӀий хъахъисса, кӀукӀлусса бивкӀун бур. «Вания ттула рахӀулул дарвач банна», — куну бур Аьлил. Ганал га, магъ дургьуну гьаз бувну, гьарахъалттил ппалав бувтун бур, цувамагу гьанзулттуйн микӀ гъагъан лавгун ур. Зана хьуну учӀайхту, Аьли ппалав левчуну ур. Ххал барча, цулчӀа бакъа. Га махӀаттал хьуну ур, хъап-шап тӀий майданнив увккун ур. Ургарча, цала хъун ажаригу бакъа. ЦулкӀлул хӀилла Аьлин дахьа гикку дурчӀуну дур.
Source: Определитель языков мира по письменностям. Академия наук СССР. Москва – 1965.
Information provided by Wolfram Siegel, Wolfgang Kuhl and Michael Peter Füstumum
Sample videos in and about Lak
Information about Lak | Numbers
Links
Information about the Lak language
http://en.wikipedia.org/wiki/Lak_language
https://ru.wikipedia.org/wiki/Лакский_язык
https://ru.wikipedia.org/wiki/Лакская письменность http://www.ethnologue.com/show_language.asp?code=lbe
http://www.evertype.com/alphabets
http://de.wikipedia.org/wiki/Lasische_Sprache
http://www.eki.ee/knab/lat/kblkauk2
Лакский Дом/Lak House - information about the Lak people (in Russian and English)
http://www.lakia.net
Dagestanskaya pravda - Online newspaper in Lak
http://www.dagpravda.ru
Northeast Caucasian languages
Aghul, Akhvakh, Andi, Archi, Avar, Bagvalal, Batsbi, Bezhta, Botlikh, Budukh, Caucasian Albanian, Chamalal, Chechen, Dargwa, Godoberi, Hinukh, Hunzib, Ingush, Karata, Khinalug, Khwarshi, Kryts, Kubachi, Lak, Lezgian, Rutul, Tabassaran, Tindi, Tsakhur, Tsez, Udi
Abaza, Abkhaz, Adyghe, Aghul, Akhvakh, Aleut, Altay, Alyutor, Andi, Archi, Assyrian / Neo-Assyrian, Avar, Azeri, Bagvalal, Balkar, Bashkir, Belarusian, Bezhta, Botlikh, Budukh, Bulgarian, Buryat, Chamalal, Chechen, Chelkan, Chukchi, Chulym, Chuvash, Crimean Tatar, Dargwa, Dolgan, Dungan, Enets, Erzya, Even, Evenki, Gagauz, Godoberi, Hinukh, Hunzib, Ingush, Interslavic, Itelmen, Juhuri, Kabardian, Kalderash Romani, Kalmyk, Karaim, Karakalpak, Karata, Kazakh, Ket, Khakas, Khanty, Khinalug, Khwarshi, Kildin Sámi, Komi, Koryak, Krymchak, Kryts, Kubachi, Kumandy, Kumyk, Kurdish, Kyrgyz, Lak, Lezgi, Lingua Franca Nova, Ludic, Macedonian, Mansi, Mari, Moksha, Moldovan, Mongolian, Montenegrin, Nanai, Negidal, Nenets, Nganasan, Nivkh, Nogai, Old Church Slavonic, Oroch, Orok, Ossetian, Pontic Greek, Russian, Rusyn, Rutul, Selkup, Serbian, Shor, Shughni, Siberian Tatar, Slovio, Soyot, Tabassaran, Tajik, Talysh, Tat, Tatar, Tindi, Tofa, Tsakhur, Tsez, Turkmen, Tuvan, Ubykh, Udege, Udi, Udmurt, Ukrainian, Ulch, Urum, Uyghur, Uzbek, Veps, Votic, Wakhi, West Polesian, Yaghnobi, Yakut, Yazghulami, Yukaghir (Northern / Tundra), Yukaghir (Southern / Kolyma), Yupik (Central Siberian)
Languages written with the Georgian alphabet
Abkhaz, Batsbi, Georgian, Laz, Mingrelian, Svan
Languages written with the Latin alphabet
Page last modified: 26.09.21
[top]
---

Why not share this page:

If you like this site and find it useful, you can support it by making a donation via PayPal or Patreon, or by contributing in other ways. Omniglot is how I make my living.
If you need to type in many different languages, the Q International Keyboard can help. It enables you to type almost any language that uses the Latin, Cyrillic or Greek alphabets, and is free.
Note: all links on this site to Amazon.com
, Amazon.co.uk
and Amazon.fr
are affiliate links. This means I earn a commission if you click on any of them and buy something. So by clicking on these links you can help to support this site.
[top]