Kumyk (Къумукъ тил / Qumuq til)
Kumyk is a member of the Kypchak branch of Turkic languages. It is spoken by about 426,000 people in the Dagestan Republic of Russian Federation, according to the 2010 census. The language is also known as Qumuq, Kumuk, Kumuklar or Kumyki. Kumyk has official status in Dagestan, and is also spoken in Chechnya, Ingushetia and in North Ossetia-Alania, and also in other parts of Russia.
From the 13th century until 1928, Kumyk was written with the Perso-Arabic script. Between 1929 and 1938, it was written with the Latin alphabet. Since 1938, Cyrillic has been used. There were some Kumyk speakers who wanted to return to the Arabic script, while others wanted to use the Latin alphabet. However, these proposals were opposed by the Kumyk authorities, and the Cyrillic alphabet remains in use.
The first newspapers and magazines in Kumyk appeared in 1917. There is currently a Kumyk newspaper called Ёлдаш (Yoldash - "Companion") which is published 3 times a week.
Kumyk Arabic alphabet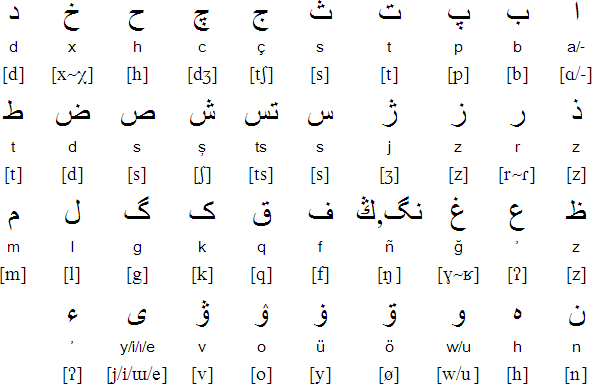 Notes
ث ,ح ,ذ ,ص ,ض ,ط ,ظ and ع are only used in Arabic loanwords and names.
Information provided by Michael Peter Füstumum
Kumyk Latin alphabet (1928)
Kumyk Cyrillic alphabet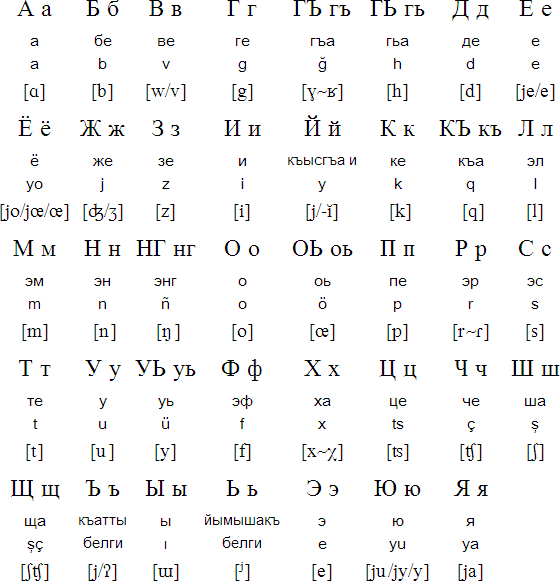 Notes
Kumyk has vowel harmony: э, и, оь (ё) & уь (ю) are front vowels, and а, ы, о & у are back vowels.
е = /e/ after a consonant and a vowel
ё = /jœ/ & ю = /jy/ word initially with front vowels when г or к is following or after front vowels. After consonants ё = /œ/ & ю = /y/, e.g. ётел /jœ'tel/, гёз /gœz/, юк /jyk/, мююз /myjyz/
ъ = /ʔ/ in Arabic loanwords, e.g. шиъру /ʃiʔ'ru/
ф, ц, щ only appear in Russian loan words. в = /v/ only in Russian loan words.
Kumyk Latin alphabet (Modern)
Sample Text in Kumyk in the Cyrillic alphabet
Бир къарт гиши болгъан, бек уста ялгъан айта болгъан. Ону бир ювугъу да болгъан. Бир гюн ювугъу айта:
- Яхари, паланча, сен ялгъан айтасан, амма сени ялгъанынга халкъ инана. Мен де айтма тураман сени йимик ялгъан, - деп.
Къарт:
- Къой, сен бажармассан, - дей.
Ювугъу:
- Бажаражакъман, - деп, бир гюн экевю де очаргъа чыкъгъанда айта:
- Гьейлер, тюнегюн гьавгъа баргъанда бир къубагийик ургъан эдим, къулагъына да, туягъына да тийди, дагъы да къачып гетди, - дей.
Очардагъылар:
- Уьюнгню Аллагь йыкъсын, къулагъына да, туягъына да тиеми?! Шолай ялгъанны айтмас хари! - дей.
О да, айтма зат билмей, уялып турагъанда къарт:
- Неге тамаша боласыз? Туягъы булан къулагъын къашый тура болгъандыр, - дей. Очардагъылар:
- Воллагь, герти айтасан, шолай болса, тиежек, - дейлер.
Къарт айта ювугъуна:
- Уьюнг йыгъылгъыр, айтагъанда да ялгъанны къолайсыз айтасан, магъа да къыйышдырма къыйын бола! -деп.
Sample Text in Kumyk in the Latin alphabet
Bir qart gişi bolğan, bek usta yalğan ayta bolğan. Onu bir yuvuğu da bolğan. Bir gün yuvuğu ayta:
- Yaxari, palança, sen yalğan aytasan, amma seni yalğanınga xalq inana. Men de aytma turaman seni yimik yalğan, - dep.
Qart:
- Qoy, sen bacarmassan, - dey.
Yuvuğu:
- Bacaracaqman, - dep, bir gün ekevü de oçarğa çıqğanda ayta:
- Heiler, tünegün havğa barğanda bir qubagiyik urğan edim, qulağına da, tuyağına da tiydi, dağı da qaçıp getdi, - dey.
Oçardağılar:
- Üüngnü Allah yıqsın, qulağına da, tuyağına da tiemi?! Şolay yalğannı aytmas xari! - dey.
O da, aytma zat bilmey, uyalıp turağanda qart:
- Nege tamaşa bolasız? Tuyağı bulan qulağın qaşıy tura bolğandır, - dey. Oçardağılar:
- Vollah, gerti aytasan, şolay bolsa, tiecek, - deyler.
Qart ayta yuvuğuna:
- Üyüng yığılğır, aytağanda da yalğannı qolaysız aytasan, mağa da qıyışdırma qıyın bola! -dep.
Sample videos in Kumyk
Improvements supplied by 이윤호
Information about Kumyk | Phrases | Numbers | Tower of Babel
Links
Information about the Kumyk language
http://en.wikipedia.org/wiki/Kumyk_language
https://de.wikipedia.org/wiki/Kumykische_Sprache
https://www.ethnologue.com/language/kum
Online Kumyk lessons
http://kumukia.ru/books/0012/
Online Kumyk dictionary
http://xn----ntbbedaael5ct1hh8c.xn--p1ai/slovar/
кумыскский-язык.рф/slovar/slovar.php
Kumyk phrases
http://in-yaz-book.ru/kumyk/kumyk-razg.shtml
http://www.travelphrases.info/languages/kumyk.htm
http://xn----ntbbedaael5ct1hh8c.xn--p1ai/razgovornik/razgovornik.php
Kumyk Bible
http://www.ibt.org.ru/russian/bible/kum/kum.htm
Turkic languages
Altay, Äynu, Azerbaijani, Bashkir, Chagatai, Chelkan, Chulym, Chuvash, Crimean Tatar, Dolgan, Fuyu Kyrgyz, Gagauz, Ili Turki, Karachay-Balkar, Karaim, Karakalpak, Karamanli Turkish, Kazakh, Khakas, Khalaj, Khorasani Turkic, Krymchak, Kumandy, Kumyk, Kyrgyz, Nogai, Old Turkic, Qashqai, Romanian Tatar, Salar, Shor, Siberian Tatar, Soyot, Tatar, Teleut, Tofa, Turkish, Turkmen, Tuvan, Urum, Uyghur, Uzbek, Western Yugur, Yakut (Sakha)
Abaza, Abkhaz, Adyghe, Aghul, Akhvakh, Akkala Sámi, Aleut, Altay, Alyutor, Andi, Archi, Assyrian / Neo-Assyrian, Avar, Azeri, Bagvalal, Balkar, Bashkir, Belarusian, Bezhta, Bosnian, Botlikh, Budukh, Bulgarian, Buryat, Chamalal, Chechen, Chelkan, Chukchi, Chulym, Chuvash, Crimean Tatar, Dargwa, Daur, Dolgan, Dungan, Enets, Erzya, Even, Evenki, Gagauz, Godoberi, Hinukh, Hunzib, Ingush, Interslavic, Itelmen, Juhuri, Kabardian, Kaitag, Kalderash Romani, Kalmyk, Karaim, Karakalpak, Karata, Karelian, Kazakh, Ket, Khakas, Khanty, Khinalug, Khorasani Turkic, Khwarshi, Kildin Sámi, Kili, Komi, Koryak, Krymchak, Kryts, Kubachi, Kumandy, Kumyk, Kurdish, Kyrgyz, Lak, Lezgi, Lingua Franca Nova, Ludic, Macedonian, Mansi, Mari, Moksha, Moldovan, Mongolian, Montenegrin, Nanai, Negidal, Nenets, Nganasan, Nivkh, Nogai, Old Church Slavonic, Oroch, Orok, Ossetian, Pontic Greek, Romanian, Rushani, Russian, Rusyn, Rutul, Selkup, Serbian, Shor, Shughni, Siberian Tatar, Sirenik, Slovio, Soyot, Tabassaran, Tajik, Talysh, Tat, Tatar, Teleut, Ter Sámi, Tindi, Tofa, Tsakhur, Tsez, Turkmen, Tuvan, Ubykh, Udege, Udi, Udmurt, Ukrainian, Ulch, Urum, Uyghur, Uzbek, Veps, Votic, Wakhi, West Polesian, Xibe, Yaghnobi, Yakut, Yazghulami, Yukaghir (Northern / Tundra), Yukaghir (Southern / Kolyma), Yupik (Central Siberian)
Languages written with the Latin alphabet
Page last modified: 20.04.22
[top]
---

Why not share this page:

If you like this site and find it useful, you can support it by making a donation via PayPal or Patreon, or by contributing in other ways. Omniglot is how I make my living.
Note: all links on this site to Amazon.com
, Amazon.co.uk
and Amazon.fr
are affiliate links. This means I earn a commission if you click on any of them and buy something. So by clicking on these links you can help to support this site.
Get a 30-day Free Trial of Amazon Prime (UK)
If you're looking for home or car insurance in the UK, why not try Policy Expert?
[top]