The Tower of Babel (Genesis 11: 1-9)
Къумукъ тил (Kumyk)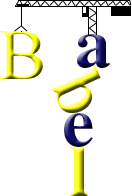 Бабулдети бийик бина
Шо заманларда бютюн дюньяда ортакъ бир тил ва бир сëйлев болгъан.
Инсанлар гюнтувушдан таба гелип, Шинар элдеги бир тюзлюкге етишелер ва шонда ерлешелер.
Олар бир-бирине: - Балчыкъдан керпич гесип, ону отда къыздырып къатдурайыкъ, - дейлер. Шолай одар ташны орнуна керпични, киречни орнуна сылама къоллама башлайлар.
Инсанлар: - Бийиклиги кëклеге етердей бинасы булангьы шагьар да къуруп, атыбызны белгили этейик, ëгьесе гьарибиз гьар якъгьа чачылып къалажакъбыз, - дейлер.
Раббибиз инсанлар къургьан шагьаргьа ва бинагъа къарамакъ учун ерге тюше.
Раббибиз булай дей: - Булар бир халкъ, барысыны да тили бир. Бу чу оланы ишлерини янгыз аввалы! Булар чы не затгьа урунса да, артына чыгъып болар!
Оланы ягьына тюшюп, бир-бирин англап болмасын учун, оланы тилин булгьайыкъ чы!
Раббибиз оланы гьарисин гьар якъгьа чачыш йибере, адамлар да оьзлени шагьарын къурагьанын токътата.
Шо саялы шо шагьаргьа Бабил* деп айтыла, неге тюгюл Раббибиз онда ер юзюнде яшайгьанланы барысыны да тилин булгьай ва гьарацин дюньяны гьар ягъына чачып йибере.
* Бабил - бу атны айтылышы ягьуди тилдеги «айырмакъ», деген сëзню айтылышына ошашлы геле.
Source: http://www.ibt.org.ru/english/bible/kum.htm
Transliteration (by Shawn Kilpatrick)
Şo zamanlarda bütün dünyada ortaq bir til wa bir söylew bolğan.
İnsanlar güntuwuşdan taba gelip. Şinar eldegi bir tüzlükge yetişeler wa şonda yerleşeler.
Olar bir-birine: -Balçıqdan kerpiç gesip, onu otda qızdırıp qatdurayıq, - deyler. Şolay odar taşnı ornuna kerpiçni, kirpiçni, kireçni ornuna sılama qollama başlaylar.
İnsanlar: - Biyikligi köklege yeterdey binası bulanhı şahar da qurup, atıbıznı belgili eteyik. Yohese haribiz har yaqha çaçılıp qalajaqbız, - deyler.
Rabbibiz insanlar qurhan şaharha wa binağa qaramaq uçun yerge tüşe.
Rabbibiz bulay dey: - Bular bir xalq, barısını da tili bir. Bu çu danı işlerini yangız awwalı! Bular çı ne zatğa urunsa da, artına çığıp bolar.
Olanı yahına tüşüp, bir-birin anglap bolmasın uçun, olanı tilin bulhayıq çı.
Rabbibiz olanı harisin har yaqha çaçış yibere, adamlar da özleni şaharın qurahanın toqtata.
Şo sayalı şo şaharha Babil* dep aytıla, nege tügül Rabbibiz onda er yuzünde yaşayhanlanı barısın, da tilin bulhay wa haratsin dünyanı har yağına çaçıp yibere.
*Babil - bu atnı aytılışı yahudi tildegi <> degen söznü aytılışına oşaş lı gele.
Information about Kumyk | Phrases | Numbers | Tower of Babel
Tower of Babel in Turkic languages
Altay, Azeri, Bashkir, Chuvash, Crimean Tatar, Gagauz, Karakalpak, Kazakh, Kumyk, Kyrgyz, Nogai, Tatar, Turkish, Turkmen, Tuvan, Uyghur, Uzbek, Yakut
Other Tower of Babel translations
By language | By language family
[top]
---

Why not share this page:

If you like this site and find it useful, you can support it by making a donation via PayPal or Patreon, or by contributing in other ways. Omniglot is how I make my living.
Note: all links on this site to Amazon.com
, Amazon.co.uk
and Amazon.fr
are affiliate links. This means I earn a commission if you click on any of them and buy something. So by clicking on these links you can help to support this site.
Get a 30-day Free Trial of Amazon Prime (UK)
If you're looking for home or car insurance in the UK, why not try Policy Expert?
[top]