The Tower of Babel (Genesis 11: 1-9)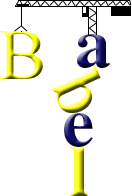 Тыва дыл / Tyva dyl (Tuvan)
Вавилон суургазы
Ол үеде бүгү черниң кырынга чаңгыс дыл, ооң чаңгыс хевири турган.
Чөөн чүк углай көшкеш, кижилер Сеннаар деп черде оргулаашf тып алгаш, аңаа турумчуп алганнар.
Олар: «Дойдан тууйбуларны кылгаш, отка өрттедип алыылыңар» – деп сүмелешкеннер. Даш орнунга тууйбуларны, оларны быжыктыр тудуштурарынга малгашты ажыглааннар.
«Хоорайдан тудуп алыылыңар, бедии дээрге чедип турар суургадан база. Чырык черге ис чок тарай бербези-биле, бис адывысты ынчаар алдаржыдып аар бис» – дээннер.
Кижилерниң тудуп турар хоорайын база суургазын көөр дээш, Дээрги-Чаяакчы черже дүжүп келген.
Ынчан Дээрги-Чаяакчы мынча дээн: «Шупту чаңгыс дылдыг, чаңгыс аай чон-дур. Бо дээрге оларның ажыл-херектериниң чүгле эгези-дир. Олар чүнү кылыр деп бодап алырыл, ооң шуптузун ыяап-ла чедип алырлар-дыр.
Бо дораан черже дүшкеш, бот-боттарын билчип шыдавас кылдыр оларның дылдарын холуп кааптаалы».
Дээрги-Чаяакчы оон оларны бүгү черниң кырынга тарадыпканa; ынчалдыр олар хоорай тударын ара соксап кааннар.
Ынчангаш ол хоорайга Вавилон деп атты тывыскан, чүге дээрге Дээрги-Чаяакчы аңаа черниң чурттакчыларының чугаа-домаан холуп каапкан*, оон кижилерни чер кырынга тараткан.
* 11:9 Еврей дылда «Вавилон» деп ат «холуп каар» (валал) деп сөске дөмейлешкек.
Source: Ветхий Завет. The Old Testament in the Tuvan language. Institute for Bible Translation, Moscow (2011) http://ibt.org.ru/russian/bible/tvn/tuvan_ot.pdf
Contributed by Wolfgang Kuhl
Transliteration
Vavilon suurgazƣ
Ol yede bygy çerniņ kƣrƣnga čaņgis dƣl, ooņ čaņgis xeviri turgan.
Čөөn čyk uglaj kөškeš, kižiler Sennaar dep čerde orgulaašf tƣp algaš, aņaa turumčup algannar.
Olar: «Dojdan tuujbularnƣ kƣlgaš, otka өrttedip alƣƣlƣņar» – dep symeleškenner. Daš ornunga tuujbularnƣ, olarnƣ bƣƶƣktƣr tudušturarƣnga malgaštƣ ažƣglaannar.
«Xoorajdan alƣƣlƣņar, bedii deerge čedip turar suurgadan baza. Čƣrƣk čerže is čok taraj berbezi-bile, bis adƣvƣstƣ ƣnčaar aldaržƣdƣp aar bis» – deenner.
Kižilerniņ tudup turar xoorajƣn baza suurgazƣn kөөr deeš, Deergi-Čajaakčƣ čerže dyžyp kelgen.
Ƣnčan Deergi-Čajaakčƣ mƣnča deen: «Šuptu čaņgis dƣldƣg, čaņgis aaj čon-dur. Bo deerge olarnƣņ aƶƣl-xerekteriniņ čygle egezi-dir. Olar čyny kƣlƣr dep bodap alƣrƣl, ooņ šuptuzun ƣjap-la čedip alƣrlar-dƣr.
Bo doraan čerže dyškeš, bot-bottarƣn bilčip šƣdavas kƣldƣr olarnƣņ dƣldarƣn xolup kaaptaalƣ».
Deergi-Čajaakčƣ oon olarnƣ bygy černiņ kƣrƣnga taradƣpkana; ƣnčaldƣr olar xooraj tudarƣn ara soksap kaannar.
Ƣnčangaš ol xoorajga Vavilon dep attƣ tƣvƣskan, čyge deerge Deergi-Čajaakčƣ aņaa černiņ čurttakčƣlarƣnƣņ čugaa-domaan xolup kaapkan*, oon kižilerni čer kƣrƣnga taratkan.
* 11:9 Jevrej dƣlda «Vavilon» dep at «xolup kaar» (valal) dep sөskedөmejleškek.
Transliteration by Daniel Parker
Information about Tuvan | Phrases | Numbers | Tower of Babel
Tower of Babel in Turkic languages
Altay, Azeri, Bashkir, Chuvash, Crimean Tatar, Gagauz, Karakalpak, Kazakh, Kumyk, Kyrgyz, Nogai, Tatar, Turkish, Turkmen, Tuvan, Uyghur, Uzbek, Yakut
Other Tower of Babel translations
By language | By language family
[top]
---

Why not share this page:

If you like this site and find it useful, you can support it by making a donation via PayPal or Patreon, or by contributing in other ways. Omniglot is how I make my living.
Note: all links on this site to Amazon.com
, Amazon.co.uk
and Amazon.fr
are affiliate links. This means I earn a commission if you click on any of them and buy something. So by clicking on these links you can help to support this site.
Get a 30-day Free Trial of Amazon Prime (UK)
If you're looking for home or car insurance in the UK, why not try Policy Expert?
[top]