The Tower of Babel (Genesis 11: 1-9)
Башҡорт теле / Başqort tele (Bashkir/Bashkort)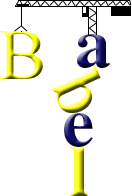 Cyrillic alphabet
Башланғыста донъяла бер тел булған һәм бер үк һүҙҙәр ҡулланылған.
Кешеләр шәреҡтән хәрәкәт итеп Шинар ерендә тигеҙ урын таптылар һәм шунда ерләштеләр.
Бер-береһенә әйттеләр: "Әйҙә, кирбестәр яһайыҡ һәм утта яндырайыҡ". Таш урынына кирбес, балсыҡ урынына ыҫмала ҡулландылар.
Шунан, "Әйҙә, үҙебеҙгә ҡала һәм манара төҙөйөк, исемебеҙҙе ишеттерәйек һәм донъя буйлап таралмаҫбыҙ" - тинеләр.
Әҙәм балаһы төҙөгән ҡаланы һәм манараны күрер өсөн Хоҙай аҫҡа төштө
һәм "Бер халыҡ булып, бер телдә һөйләшеп быны эшләй башлағас, уйлаған һәр бер эштәрен башҡарасаҡтар.
Әйҙә, ергә төшөп телдәрен бутайыҡ, бер-береһен аңламаһындар." - тине.
Хоҙай уларҙы унан бөтә ер буйлап таратты; улар ҡала төҙөүҙән туҡтанылар.
Шунлыҡтан уның исеме Вавилон, сөнки унда Хоҙай кешеләрҙең телен бутаны һәм уларҙы бар донъя буйлап таратты.
Latin alphabet
Başlanğısta don"yala ber tel bulğan häm ber ük hüźźär qullanılğan.
Keşelär şäreqtän xäräkät itep Şinar erendä tigeź urın taptılar häm şunda erläştelär.
Ber-berehenä äyttelär: "Äyźä, kirbestär yahayıq häm utta yandırayıq". Taş urınına kirbes, balsıq urınına ıҫmala qullandılar.
Şunan, "Äyźä, üźebeźgä qala häm manara töźöyök, isemebeźźe işetteräyek häm don"ya buylap taralmaҫbıź" - tinelär.
Äźäm balahı töźögän qalanı häm manaranı kürer ösön Xoźay aҫqa töştö
häm "Ber xalıq bulıp, ber teldä höyläşep bını eşläy başlağas, uylağan här ber eştären başqarasaqtar.
Äyźä, ergä töşöp teldären butayıq, ber-berehen añlamahındar." - tine.
Xoźay ularźı unan bötä er buylap tarattı; ular qala töźöüźän tuqtanılar.
Şunlıqtan unıñ iseme Vavilon, sönki unda Xoźay keşelärźeñ telen butanı häm ularźı bar don"ya buylap tarattı.
Translations provided by Haqmar
2009 version
Бабил манараһы
Бɵтə донъяла бер тел, бер тɵрлɵ һүҙҙəр ине.
Кɵнсығыштан күсеп, халыҡтар Шинар ерендə тигеҙ урын таптылар ҙа шунда урынлаштылар.
Бер-береһенə: — Əйҙəгеҙ, балсыҡтан кирбес һуғайыҡ та уны утта яндырайыҡ, — тинелəр. Шулай итеп, улар таш урынына — кирбес, ə эзбиз иҙмəһе урынына ер аҫтынан сыҡҡан ҡара ыҫмала ҡуллана башланы.
Шунан былай тинелəр: — Үҙебеҙгə күккə ашып торған манаралы ҡала тɵҙɵйɵк, шулай итһəк, бɵтə ер йɵҙɵнə таралышып бɵтһəк тə, даныбыҙ ҡалыр.
Раббы əҙəм балалары тɵҙɵп ятҡан ҡала менəн манараны ҡарарға тип ергə тɵштɵ.
Əйтте Раббы: — Бер үк халыҡ, бɵтəһенең дə телдəре бер тɵрлɵ. Бына нимə эшлəй башлағандар былар; ниəттəрен ғəмəлгə ашырмайынса туҡтамаҫтар!
Ергə тɵшəйек тə телдəрен бутап бɵтəйек əле, береһенең əйткəнен икенсеһе аңламаһын əйҙə!
Раббы уларҙы бɵтə ер йɵҙɵнə таратты — бына шулай улар ҡаланы тɵҙɵүҙəн туҡтаны.
Шуға күрə был ҡала Бабил тип атала — Раббы унда ерҙəге барса кешелəрҙең телдəрен бутаны һəм ошо урындан уларҙы бɵтə ер йɵҙɵнə сəсте.
Source: Башланмыш (Genesis). «Книга Бытия» на башкирском языке. Российское Библейское Общество. Bible Society in Russia, 2009.
Contributed by Wolfgang Kuhl
Transliteration
Babil manarahı
Bötä don"yala ber tel, ber törlö hüźźär ine.
Könsığıştan küsep, xalıqtar Şinar erendä tıgeź urın taptılar źa şunda urınlaştılar.
Ber-berehenä: — Äyźägeź, balsıqtan kırbes huğayıq ta unı utta undırayıq, — tınelär. Şulay ıtep, ular taş urınına — kırbes, ä ezbiz iźmähe urınına er aҫtınan sıqqan qara ıҫmala qullana başlanı.
Şunan bılay tınelär: — üźebeźgä kükkä aşıp torğan manaralı qala töźöyök, şulay ıthäk, bötä er yöźönä taralışıp böthäk tä, danıbıź qalır.
Rabbı äźäm balaları töźöp yutqan qala menän manaranı qararğa tıp ergä töştö.
Äytte Rabbı: — ber ük xalıq, bötäheneñ dä teldäre ber törlö. Bına nimä eşläy başlağandar bılar; nıättären ğämälgä aşırmayınsa tuqtamaҫtar!
Ergä töşäyek tä teldären butap bötäyek äle, bereheneñ äytkänen ıkensehe añlamahın äyźä!
Rabbı ularźı bötä er yöźönä tarattı — bına şulay ular qalanı töźöüźän tuqtanı.
Şuğa kürä bıl qala Babil tip atala — Rabbı unda erźäge barsa keşelärźeñ teldären butanı häm oşo urından ularźı bötä er yöźönä säste.
Transliteration by Daniel Parker
Information about Bashkir | Phrases | Numbers | Tower of Babel
Tower of Babel in Turkic languages
Altay, Azeri, Bashkir, Chuvash, Crimean Tatar, Karakalpak, Kazakh, Kumyk, Kyrgyz, Nogai, Tatar, Turkish, Turkmen, Tuvan, Uyghur, Uzbek, Yakut
Other Tower of Babel translations
By language | By language family
---
If you need to type in many different languages, the Q International Keyboard can help. It enables you to type almost any language that uses the Latin, Cyrillic or Greek alphabets, and is free.
If you like this site and find it useful, you can support it by making a donation via PayPal or Patreon, or by contributing in other ways. Omniglot is how I make my living.
Note: all links on this site to Amazon.com
, Amazon.co.uk
and Amazon.fr
are affiliate links. This means I earn a commission if you click on any of them and buy something. So by clicking on these links you can help to support this site.