The Tower of Babel (Genesis 11: 1-9)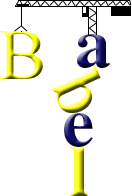 татарча (Tatar)
Бабил манарасы
Башлангычта бѳтен кешеләр бер телдә, бер шивәдә сѳйләшәләр иде.
Алар, кѳнчыгыштан хәрәкәт итеп, Шинар үзәнлегендә үзләренә урын табып, шунда җирләштеләр.
Бер-берләренә: - Әйдәгез, утта яндырылган кирпечләр сугыйк, - диделәр. Таш урынына - кирпеч, исвесть урынына җир сумаласы куллана башладылар.
Соӊра әйттеләр: * Җир йѳзе буйлап сибелеп бетмик һәм исемебезне данга күмик дисәк, үзебезгә бер шәһәр тѳзеп, башы күкләргә тиярдей биек манара торгызыйк, - диделәр.
Раббы адәм балалары тѳзи башлаган шәһәрне һәм манараны күрү ѳчен күктән инде
һәм болай диде: * Менә, болар барысы да бер телдә сѳйләшүчеләр, бер кавем кешеләре, әнә нәрсә эшли башлаганнар. Инде болар уйлаган эшләреннән кире кайтмаячак.
Шуӊа күрә, түбән иӊеп, телләрен буташтырыйк, сѳйләшкәндә берсе-берсен аӊламас булсыннар.
Шулай дип, Раббы адәм балаларын җир йѳзе буйлап чәчте, алар бу шәһәрне тѳзүдән туктадылар.
Шунлыктан шәһәр Бабил* дип аталды. Чѳнки Раббы адәм балаларыныӊ сѳйләмә телен шунда буташтырды - аларны шуннан торып җир йѳзе буйлап чәчте.
* Бабил - яһүдчә «бутау», «буталу» мәгънәсендә.
Source: Бытие. Genesis in Tatar language, Institute for Bible Translation, Moscow (2007). http://ibt.org.ru/russian/bible/ttr/OT/gen.pdf
Contributed by Wolfgang Kuhl
Transliteration
Babil manarası
Başlangıçta böten keşelär ber teldä, ber şivädä söyläşälär ide.
Alar, könçıgıştan xäräkät itep, Şinar üzänleğendä üzlärenä urın tabıp, şunda cirläştelär.
Ber-berlärenä: - äydägez, utta yandırılgan kirpeçlär suğıyq, - didelär. Taş urınına - kirpeç, isvest' urınına cir sumalası qullana başladılar.
Soñra äyttelär: * Cir yöze buylap sibelep betmik häm isemebezne danga kümik disäk, üzebezgä ber şähär tözep, başı küklärgä tiyärdei biek manara torgızıyk, - didelär.
Rabbı adäm balaları tözi başlagan şähärne häm manaranı kürü ѳçen küktän inde
häm bolay dide: * Menä, bolar barısı da ber teldä söyläşuçelär, ber qavem keşeläre, änä närsä eşli başlagannar. Inde bolar uylagan eşlärennän kire qaytmayaçaq.
Şuña kürä, tübän iñep, tellären butaştırıyq, söyläşkändä berse-bersen añlamas bulsınnar.
Şulay dip, Rabbı adäm balaların cir yöze buylap çäçte, alar bu şähärne tözüdän tuqtadılar.
Şunlıqtan şähär Babil* dip ataldı. Çönki Rabbı adäm balalarınıñ söylämä telen şunda butaştırdı - alarnı şunnan torıp cir yöze buylap çäçte.
* Babil - yahüdça «butau», «butalu» mağnäsendä.
Transliteration by Daniel Parker
Information about the Tatar language | Numbers | Tower of Babel | Learning materials
Tower of Babel in Turkic languages
Altay, Azeri, Bashkir, Chuvash, Crimean Tatar, Karakalpak, Kazakh, Kumyk, Kyrgyz, Nogai, Tatar, Turkish, Turkmen, Tuvan, Uyghur, Uzbek, Yakut
Other Tower of Babel translations
By language | By language family
---
If you need to type in many different languages, the Q International Keyboard can help. It enables you to type almost any language that uses the Latin, Cyrillic or Greek alphabets, and is free.
If you like this site and find it useful, you can support it by making a donation via PayPal or Patreon, or by contributing in other ways. Omniglot is how I make my living.
Note: all links on this site to Amazon.com
, Amazon.co.uk
and Amazon.fr
are affiliate links. This means I earn a commission if you click on any of them and buy something. So by clicking on these links you can help to support this site.