The Tower of Babel (Genesis 11: 1-9)
Qırımtatar tili (Crimean Tatar)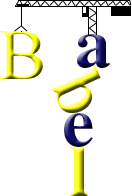 Вавилон къуллеси (Башланув 11.1-9)
О заманда бутюн ер юзюнде бир тиль эди, сёзлер де бир эдилер.
Шаркъ тарафтан баргъанда, адамлар Шинар мемлекетиндеки вадийни таптылар ве анда ерлештилер.
Олар бир-бирлерине бойле айттылар: - Кенлинъ, кирпичлерни япайыкъ да, оларны атешке пиширейик. Бойлеликнен, оларда таш ерине тола, киреч иринтиси ерине исе зифт еди.
Сонъ олар бойле дедилер: - Келинъ, озюмисге шеэр ве башы кокке тийген къулле къурайыкъ; бутюн ер юзюнде дагъылмайыкъ деп, озюмизге нам къазанайыкъ.
РАББИ, адам огъуллары къургъан шеэрге ве къуллеге бакъмакъ ичюн энди.
РАББИ деди ки: - Иште, бир халкъ ве эр кесте бир тиль. Мына не япып башлайлар олар! Эм де ниетлеринден къайтмазлар.
Келинъ, тюшейик де, бири башкъасынынъ тилини анъламасын деп, анда оларнынъ тилини къарыштырайыкъ.
РАББИ оларны андан къувып бутюн ер юзюнде дагъытты, ве олар шеэр къурмакъны токътаттылар.
Бойлеликнен, бу шеэрге Вавилон деген ад берильди, чюнки анда РАББИ бутюн ер юзюндеки тильни къарыштырды ве чюнки РАББИ халкъны андан къувып бутюн ер юзюнде дагъытты.
Transliteration
Vavilon qullesi (Башланув 11.1-9)
O zamanda bütün yer yüzünde bir til edi, sözler de bir ediler.
Şarq taraftan barğanda, adamlar Şinar memleketindeki vadiyni taptılar ve anda yerleştiler.
Olar bir-birlerine böyle ayttılar: - Kenliñ, kirpiçlerni yapayıq da, olarnı ateşke pişireyik. Böyleliknen, olarda taş yerine tola, kireç irintisi yerine ise zift yedi.
Soñ olar böyle dediler: - Keliñ, özümisge şeer ve başı kökke tiygen qulle qurayıq; bütün yer yüzünde dağılmayıq dep, özümizge nam qazanayıq.
RABBİ, adam oğulları qurğan şeerge ve qullege baqmaq içün endi.
RABBİ dedi ki: - İşte, bir halq ve er keste bir til. Mına ne yapıp başlaylar olar! Em de niyetlerinden qaytmazlar.
Keliñ, tüşeyik de, biri başqasınıñ tilini añlamasın dep, anda olarnıñ tilini qarıştırayıq.
RABBİ olarnı andan quvıp bütün yer yüzünde dağıttı, ve olar şeer qurmaqnı toqtattılar.
Böyleliknen, bu şeerge Vavilon degen ad berildi, çünki anda RABBİ bütün yer yüzündeki tilni qarıştırdı ve çünki RABBİ halqnı andan quvıp bütün yer yüzünde dağıttı.
Source: http://www.ibt.org.ru/english/bible/crt.htm
Information about Crimean Tatar | Numbers | Tower of Babel
Tower of Babel in Turkic languages
Altay, Azeri, Bashkir, Chuvash, Crimean Tatar, Gagauz, Karakalpak, Kazakh, Kumyk, Kyrgyz, Nogai, Tatar, Turkish, Turkmen, Tuvan, Uyghur, Uzbek, Yakut
Other Tower of Babel translations
By language | By language family
[top]
---

Why not share this page:

If you like this site and find it useful, you can support it by making a donation via PayPal or Patreon, or by contributing in other ways. Omniglot is how I make my living.
Note: all links on this site to Amazon.com
, Amazon.co.uk
and Amazon.fr
are affiliate links. This means I earn a commission if you click on any of them and buy something. So by clicking on these links you can help to support this site.
Get a 30-day Free Trial of Amazon Prime (UK)
If you're looking for home or car insurance in the UK, why not try Policy Expert?
[top]