Cyrillic script
The Cyrillic script is named after Saint Cyril, a missionary from Byzantium who, along with his brother, Saint Methodius, created the Glagolitic script. Modern Cyrillic alphabets developed from the Early Cyrillic script, which was developed during the 9th century in the First Bulgarian Empire (AD 681-1018) by a decree of Boris I of Bulgaria (Борис I). It is thought that St. Kliment of Ohrid, a disciple of Cyril and Methodius, was responsible for the script. The Early Cyrillic script was based on the Greek uncial script with ligatures and extra letters from the Glagolitic and Old Church Slavonic scripts for sounds not used in Greek.
Early Cyrillic script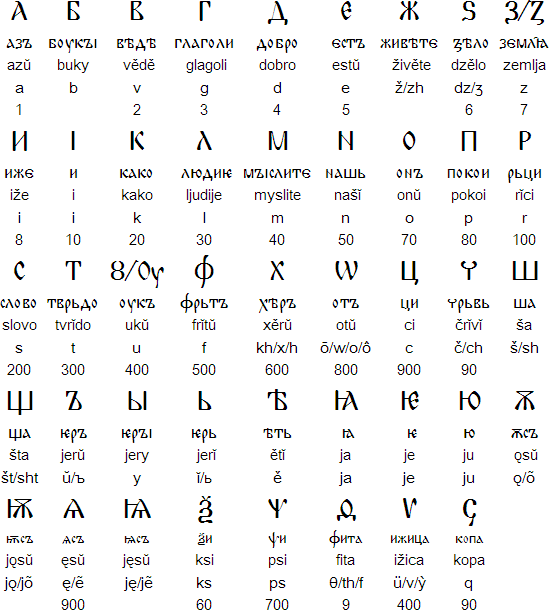 Notes
Capital and lowercase letters were not distinguished in old manuscripts
Yeri (Ы) was originally a ligature of Yer and I (Ъ + I = Ы).
Iotation was indicated by ligatures formed with the letter I: Ꙗ (not ancestor of modern Ya, Я, which is derived from Ѧ), Ѥ, Ю (ligature of I and ОУ), Ѩ, Ѭ.
Many letters had variant forms and commonly used ligatures, for example И = І = Ї, Ѡ = Ѻ, ѠТ = Ѿ.
Cyrillic numerals
The letters had numeric values, the order of which came from the Greek alphabet.
Modern Cyrillic script
This chart shows most of the Cyrillic letters currently in use, plus ones that are no longer used, with their names.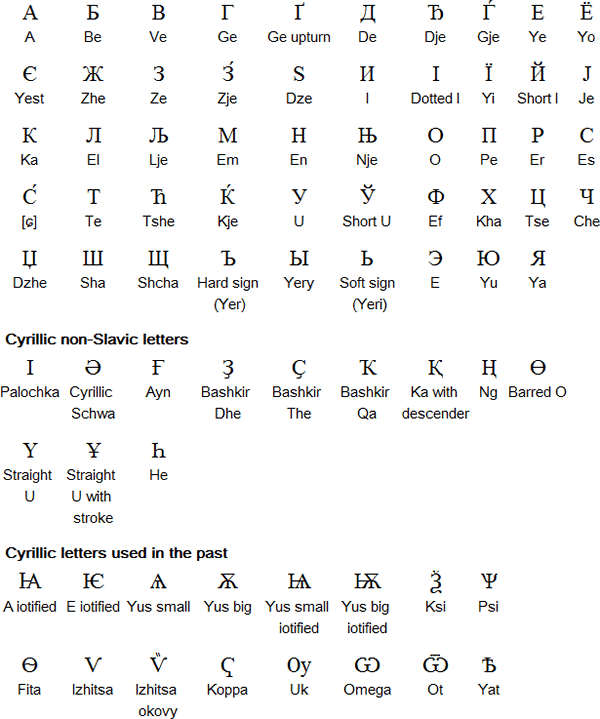 Languages written with the Cyrillic alphabet
The Cyrillic alphabet has been adapted to write more than 120 different languages, mainly in Russia, Central Asia and Eastern Europe. In many cases additional letters are used, some of which are adaptations of standard Cyrillic letters, while others are taken from the Greek or Latin alphabets.
Abaza, Abkhaz, Adyghe, Aghul, Akhvakh, Akkala Sámi, Aleut, Altay, Alyutor, Andi, Archi, Assyrian / Neo-Assyrian, Avar, Azeri, Bagvalal, Balkar, Bashkir, Belarusian, Bezhta, Bosnian, Botlikh, Budukh, Bulgarian, Buryat, Chamalal, Chechen, Chelkan, Chukchi, Chulym, Chuvash, Crimean Tatar, Dargwa, Daur, Dolgan, Dungan, Enets, Erzya, Even, Evenki, Gagauz, Godoberi, Hinukh, Hunzib, Ingush, Interslavic, Itelmen, Juhuri, Kabardian, Kaitag, Kalderash Romani, Kalmyk, Karaim, Karakalpak, Karata, Karelian, Kazakh, Ket, Khakas, Khanty, Khinalug, Khorasani Turkic, Khwarshi, Kildin Sámi, Komi, Koryak, Krymchak, Kryts, Kubachi, Kumandy, Kumyk, Kurdish, Kyrgyz, Lak, Lezgi, Lingua Franca Nova, Ludic, Macedonian, Mansi, Mari, Moksha, Moldovan, Mongolian, Montenegrin, Nanai, Negidal, Nenets, Nganasan, Nivkh, Nogai, Old Church Slavonic, Oroch, Orok, Ossetian, Pontic Greek, Romanian, Rushani, Russian, Rusyn, Rutul, Selkup, Serbian, Shor, Shughni, Siberian Tatar, Sirenik, Slovio, Soyot, Tabassaran, Tajik, Talysh, Tat, Tatar, Teleut, Ter Sámi, Tindi, Tofa, Tsakhur, Tsez, Turkmen, Tuvan, Ubykh, Udege, Udi, Udmurt, Ukrainian, Ulch, Urum, Uyghur, Uzbek, Veps, Votic, Wakhi, West Polesian, Xibe, Yaghnobi, Yakut, Yazghulami, Yukaghir (Northern / Tundra), Yukaghir (Southern / Kolyma), Yupik (Central Siberian)
Links
Information about the history of the Cyrillic alphabet
http://en.wikipedia.org/wiki/Cyrillic_script
http://en.wikipedia.org/wiki/Early_Cyrillic_alphabet
http://www.volgawriter.com/VW%20Cyrillic.htm
http://en.wikipedia.org/wiki/Cyrillic_alphabets
https://r12a.github.io/scripts/cyrillic/
Free Cyrillic fonts
http://www.wazu.jp/gallery/Fonts_CyrS.html
http://www.fingertipsoft.com/ref/cyrillic/fontlist.html
http://www.typography.com/collections/cyrillic/
http://kodeks.uni-bamberg.de/AKSL/Schrift/RomanCyrillicStd.htm
ALPHABETUM - a Unicode font specifically designed for ancient scripts, including classical & medieval Latin, ancient Greek, Etruscan, Oscan, Umbrian, Faliscan, Messapic, Picene, Iberian, Celtiberian, Gothic, Runic, Old & Middle English, Hebrew, Sanskrit, Old Nordic, Ogham, Kharosthi, Glagolitic, Old Cyrillic, Phoenician, Avestan, Ugaritic, Linear B, Anatolian scripts, Coptic, Cypriot, Brahmi, Old Persian cuneiform: http://guindo.pntic.mec.es/~jmag0042/alphabet.html
A-chik Tokbirim, Adinkra, ADLaM, Armenian, Avestan, Avoiuli, Bassa (Vah), Beitha Kukju, Borama / Gadabuursi, Carian, Carpathian Basin Rovas, Chinuk pipa, Chisoi, Coorgi-Cox, Coptic, Cyrillic, Dalecarlian runes, Elbasan, Etruscan, Faliscan, Fox, Galik, Georgian (Asomtavruli), Georgian (Nuskhuri), Georgian (Mkhedruli), Glagolitic, Global Alphabet, Gothic, Greek, Irish (Uncial), Kaddare, Kayah Li, Khatt-i-Badí', Khazarian Rovas, Koch, Korean, Latin, Lepontic, Luo Lakeside Script, Lycian, Lydian, Manchu, Mandaic, Mandombe, Marsiliana, Medefaidrin, Messapic, Mongolian, Mro, Mundari Bani, Naasioi Otomaung, N'Ko, North Picene, Nyiakeng Puachue Hmong, Odùduwà, Ogham, Old Church Slavonic, Oirat Clear Script, Ol Chiki (Ol Cemet' / Santali), Old Italic, Old Nubian, Old Permic, Ol Onal, Orkhon, Osage, Oscan, Osmanya (Somali), Pau Cin Hau, Phrygian, Pollard script, Runic, Székely-Hungarian Rovás (Hungarian Runes), South Picene, Sutton SignWriting, Sunuwar, Tai Viet, Tangsa, Todhri, Toto, Umbrian, (Old) Uyghur, Wancho, Yezidi, Zaghawa, Zoulai
Page last modified: 15.03.23
[top]
---

Why not share this page:

If you like this site and find it useful, you can support it by making a donation via PayPal or Patreon, or by contributing in other ways. Omniglot is how I make my living.
Note: all links on this site to Amazon.com
, Amazon.co.uk
and Amazon.fr
are affiliate links. This means I earn a commission if you click on any of them and buy something. So by clicking on these links you can help to support this site.
Get a 30-day Free Trial of Amazon Prime (UK)
If you're looking for home or car insurance in the UK, why not try Policy Expert?
[top]