Székely-Hungarian Rovás
Székely-Hungarian Rovás, which are also known as Hungarian Runes, are thought to have descended from the Turkic script (Kök Turki) used in Central Asia, though some scholars believe the Székely-Hungarian Rovás pre-date the Turkic script. They were used by the Székler Magyars in Hungary until the 11th century. In remote parts of Transylvania however, the runes were still used up until the 1850s. During the 20th century there was a revival of interest in the alphabet.
Notable features
Writing direction: usually written on sticks in boustrophedon style (alternating direction right to left then left to right), although the right to left direction was most common.
There are separate letters for all the phonemes of Hungarian and are in this respect better suited to written Hungarian than the Latin alphabet.
Words were separated by three vertical dots.
Ligatures were often used and sometimes an entire word was written with a single sign.
There are no lower or upper case letters, but the first letter of a proper name was often written a bit larger.
Vowels were sometimes not written, unless their omission would cause ambiguity.
The consonants with (a) next to them were used before a, á, o, ó, u and ú, while those with (e) next to them were used before e, ë, é, i, í, ö, ő, ü, ű
A number of separate symbols, known as capita dictionum or the head of the words, were also used, though their usage is uncertain.
Used to write
Hungarian (Magyar), a Uralic language with about 15 million speakers in Hungary, Romania, Serbia, Ukraine and Slovakia. There are also many people of Hungarian origin in the UK and other European countries, the USA, Canada and Australia.
Székely-Hungarian Rovás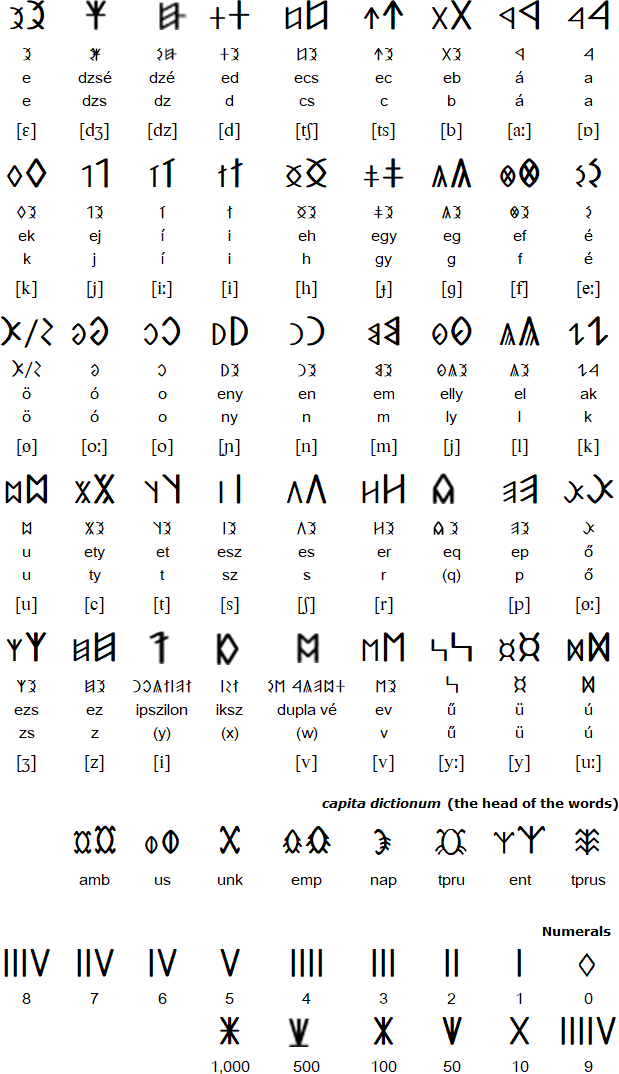 Download an alphabet chart for Székely-Hungarian Rovás (Excel)
Sample texts
Translation into Modern Hungarian
(Ezt) az Úr születése utáni 1501. évben írták. Mátyás, János, István kovácsok csinálták. Mátyás mester (és) Gergely mester csinálták [uninterpretable].
English translation
(This) was written in the 1501st year of our Lord. The smiths Matthias, John (and) Stephen did (this). Master Matthias (and) Master Gergely did [uninterpretable]
Source: http://en.wikipedia.org/wiki/Old_Hungarian_script
Translation
Feher Taltos Traditional Hungarian Drummers (Regélő Fehér Táltos)
Sample video about the Székely-Hungarian Rovás
Information about Hungarian | Székely-Hungarian Rovás (Hungarian Runes) | Phrases | Numbers | Time | Tongue twisters | Tower of Babel | Learning materials
Links
Information about Székely-Hungarian Rovás
http://en.wikipedia.org/wiki/Old_Hungarian_script
http://wiki.rovas.info
http://www.solyommadar.hu
http://books.google.com/books?id=TyK8azCqC34C&pg=PA177&hl=hu&source=gbs_toc_r&cad=3#v=onepage&q&f=false
A-chik Tokbirim, Adinkra, ADLaM, Armenian, Avestan, Avoiuli, Bassa (Vah), Beitha Kukju, Beria (Zaghawa), Borama / Gadabuursi, Carian, Carpathian Basin Rovas, Chinuk pipa, Chisoi, Coorgi-Cox, Coptic, Cyrillic, Dalecarlian runes, Elbasan, Etruscan, Faliscan, Fox, Galik, Georgian (Asomtavruli), Georgian (Nuskhuri), Georgian (Mkhedruli), Glagolitic, Global Alphabet, Gothic, Greek, Irish (Uncial), Kaddare, Kayah Li, Khatt-i-Badí', Khazarian Rovas, Koch, Korean, Latin, Lepontic, Luo Lakeside Script, Lycian, Lydian, Manchu, Mandaic, Mandombe, Marsiliana, Medefaidrin, Messapic, Mongolian, Mro, Mundari Bani, Naasioi Otomaung, N'Ko, North Picene, Nyiakeng Puachue Hmong, Odùduwà, Ogham, Old Church Slavonic, Oirat Clear Script, Ol Chiki (Ol Cemet' / Santali), Old Italic, Old Nubian, Old Permic, Ol Onal, Orkhon, Osage, Oscan, Osmanya (Somali), Pau Cin Hau, Phrygian, Pollard script, Runic, Székely-Hungarian Rovás (Hungarian Runes), South Picene, Sutton SignWriting, Sunuwar, Tai Viet, Tangsa, Todhri, Toto, Umbrian, (Old) Uyghur, Wancho, Yezidi, Zoulai
Page last modified: 15.03.23
[top]
---

Why not share this page:

If you like this site and find it useful, you can support it by making a donation via PayPal or Patreon, or by contributing in other ways. Omniglot is how I make my living.
Note: all links on this site to Amazon.com
, Amazon.co.uk
and Amazon.fr
are affiliate links. This means I earn a commission if you click on any of them and buy something. So by clicking on these links you can help to support this site.
Get a 30-day Free Trial of Amazon Prime (UK)
If you're looking for home or car insurance in the UK, why not try Policy Expert?
[top]