Pollard Script
The Pollard script, which is also known as Pollard Miao or Miao, was devised in 1905 by Samuel Pollard (1864-1915), a British missionary, with help from Yang Yage and Li Shitifan. Before Pollard came along, the A-Hmao language, when written at all, was written with Chinese characters. Pollard Miao underwent many changes and revisions and only became stable in 1936, when a translation of the New Testament was published in the Pollard script.
The authorities in Beijing were not too keen on a spelling system devised by Western missionaries in Laos in the 1950s - the Romanized Popular Alphabet (RPA). Therefore in 1957 the Chinese government introduced an alternative system based on Hànyŭ Pīnyīn. This was not popular among the A-Hmao people, who were already familiar with the Pollard system.
Various efforts have been made to improve Pollard Miao writing, which inadequately represents the phonetics and tones of A-Hmao and is not ideal for writing Chinese loan words. A semi-official 'reformed' Pollard script has been in use since 1988, along with the older version of the script, and the pīnyīn version.
Notable features
Type of writing system: Abugida / Syllabic Alphabet with alphabetic elements
Writing direction: left to right in horizontal lines
Vowels (finals) are written in small letters around the consonants (initials). The positioning of the vowels indicates the tone of a syllable. An alternative system of tone indication is used in the 1988 version of the script.
Pollard script
This chart shows the Pollard script with the Pinyin equivalents of each letter and IPA transcriptions of the pronunciation.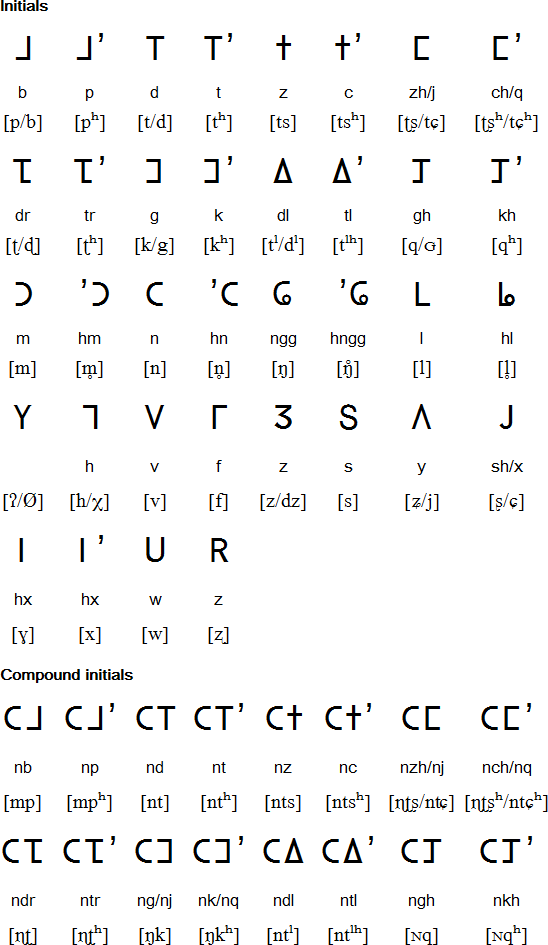 Finals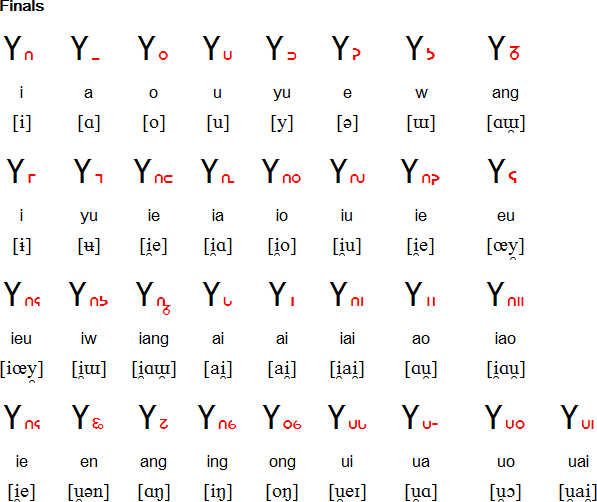 Tone indication
Notes
When the initials zh, ch, nzh, nch and sh are followed by the final i or any diphthong beginning with i the Pinyin equivalents become j, q, nj, nq and x respectively.
In Pinyin tones are indicated by letters added to the ends of words. The numbers under the tones indicate the tone contours: 1 = low and 5 = high, so 11 is a low level tone, 55 is a high level tone, and 24 is a rising tone.
Sample text in A-Hmao in the Pollard Script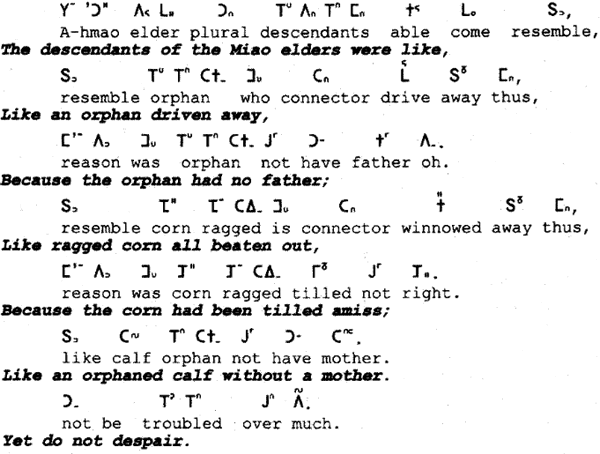 Source: http://syllabics.net/files/cree/two_related_indigenous_writing_systems.pdf
Information about: Hmong | Hmong Dau | Hmong Njua | Scripts for Hmong: Pahawh Hmong | Romanized Popular Alphabet | Pollard Miao | Nyiakeng Puachue Hmong | Phrases in: Hmong Dau | Numbers in: Hmong Dau | Iu Mien | Tower of Babel in: Hmong Dau | Hmong Njua | Iu Mien | Books about Hmong
Links
Information about the Pollard script
http://en.wikipedia.org/wiki/Pollard_script
http://www.archives.ecs.soton.ac.uk/miao/WritingMiao/m001eqv.pdf
http://www.hmonglanguage.net/index.php/ntawv-pollard
A-chik Tokbirim, Adinkra, ADLaM, Armenian, Avestan, Avoiuli, Bassa (Vah), Beitha Kukju, Beria (Zaghawa), Borama / Gadabuursi, Carian, Carpathian Basin Rovas, Chinuk pipa, Chisoi, Coorgi-Cox, Coptic, Cyrillic, Dalecarlian runes, Elbasan, Etruscan, Faliscan, Fox, Galik, Georgian (Asomtavruli), Georgian (Nuskhuri), Georgian (Mkhedruli), Glagolitic, Global Alphabet, Gothic, Greek, Irish (Uncial), Kaddare, Kayah Li, Khatt-i-Badí', Khazarian Rovas, Koch, Korean, Latin, Lepontic, Luo Lakeside Script, Lycian, Lydian, Manchu, Mandaic, Mandombe, Marsiliana, Medefaidrin, Messapic, Mongolian, Mro, Mundari Bani, Naasioi Otomaung, N'Ko, North Picene, Nyiakeng Puachue Hmong, Odùduwà, Ogham, Old Church Slavonic, Oirat Clear Script, Ol Chiki (Ol Cemet' / Santali), Old Italic, Old Nubian, Old Permic, Ol Onal, Orkhon, Osage, Oscan, Osmanya (Somali), Pau Cin Hau, Phrygian, Pollard script, Runic, Székely-Hungarian Rovás (Hungarian Runes), South Picene, Sutton SignWriting, Sunuwar, Tai Viet, Tangsa, Todhri, Toto, Umbrian, (Old) Uyghur, Wancho, Yezidi, Zoulai
Page last modified: 15.03.23
[top]
---

Why not share this page:
If you like this site and find it useful, you can support it by making a donation via PayPal or Patreon, or by contributing in other ways. Omniglot is how I make my living.
Note: all links on this site to Amazon.com
, Amazon.co.uk
and Amazon.fr
are affiliate links. This means I earn a commission if you click on any of them and buy something. So by clicking on these links you can help to support this site.
Get a 30-day Free Trial of Amazon Prime (UK)
If you're looking for home or car insurance in the UK, why not try Policy Expert?
[top]