Beitha Kukju
The Beitha Kukju alphabet was created between 1825 and 1845 by Naum Veqilharxhi (1797-1854) a lawyer and scholar from Vithkuq, a village in the Korçë region in southern Albania. The name of the alphabet is a corruption of the name Vithkuq. This alphabet was part of Veqilharxhi's promotion of the Albanian National Awakening movement, and he saw it as a way to avoid the religious associations and divisions of the Latin, Greek and Arabic alphabets. Beitha Kukju is also known as Vithkuqi or Büthakukye.
Details of this alphabet first appeared in Evëtori Shqip Fort i Shkurtër (The most Useful and Concise Albanian Alphabet), a primer published by Veqilharxhi in 1844-5. This was distributed in the Korçë region, later in Berat, and proved popular. Veqilharxhi also produced a number of other books in his alphabet, but few survive.
Notable features
Beitha Kukju alphabet (Alfabeti i Vithkuqit)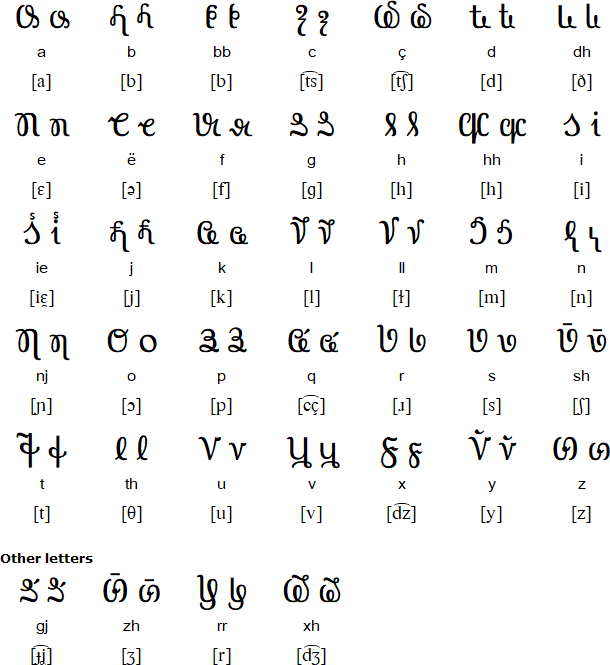 Download an alphabet chart for Beitha Kukju
Sample text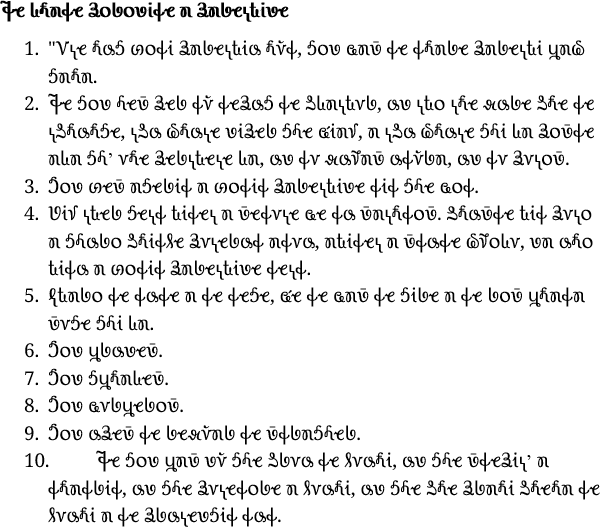 Transliteration
Të dhjetë porositë e perëndisë
"Unë jam zoti perëndia jyt, mos kesh të tjerë perëndi veç meje.
Të mos bësh për ty tëpam të gdhendur, as ndo një farë gjë të ngjajmë, nga çjanë sipër mbë qiell, e nga çjanë mbi dhe poshtë edhe mb' ujë përndënë dhe, as tu falesh atyre, as tu punosh.
Mos zësh emërit e zotit perëndisë tit mbë kot.
Sill ndër mënt ditën e shëtunë kë ta shenjtosh. Gjashtë dit puno e mbaro gjithë punërat etua, editën e shtatë çlodhu, se ajo dita e zotit perëndisë tënt.
Ndero të tatë e të tëmë, që të kesh të mirë e të rosh vjete shumë mbi dhe.
Mos vrasësh.
Mos mvjedhësh.
Mos kurvërosh.
Mos apësh të rëfyer të shtrembër.
Të mos vesh sy mbë grua të huaji, as mbë shtëpin' e tjetrit, as mbë punëtorë e huaji, as mbë gjë preji gjëje të huaji e të pranësmit tat.
Source: https://www.unicode.org/L2/L2017/17316-n4854-vithkuqi.pdf
Translation
The Ten Commandments of God
I am the LORD thy god. Thou shalt have none other gods before me.
Thou shalt not make thee any graven image, or any likeness of any thing that is in heaven above, or that is in the earth beneath, or that is in the waters beneath the earth:
Thou shalt not take the name of the LORD thy God in vain.
Keep the sabbath day to sanctify it, as the LORD thy God hath commanded thee. Six days thou shalt labour, and do all thy work: but the seventh day is the sabbath of the LORD thy God:
Honour thy father and thy mother, that thy days may be prolonged.
Thou shalt not kill.
Thou shalt not steal.
Thou shalt not commit adultery.
Neither shalt thou bear false witness against thy neighbour.
Neither shalt thou desire thy neighbour's wife, neither shalt thou covet thy neighbour's house, his field, or his manservant, or his maidservant, his ox, or his ass, or any thing that is thy neighbour's.
Source: bible.com
Information about Albanian | Phrases (Gheg) | Phrases (Tosk) | Numbers | Tongue twisters | Tower of Babel | Learning materials | Beitha Kukju alphabet | Elbasan alphabet | Todhri alphabet
Links
Information about the Beitha Kukju alphabet
https://en.wikipedia.org/wiki/Vithkuqi_alphabet
https://ru.wikipedia.org/wiki/Виткутьское_письмо
http://www.rbardalzo.narod.ru/4/alb.html
https://eyeondesign.aiga.org/vithkuqi-a-lost-albanian-alphabet-rescued-by-a-design-student/
https://www.unicode.org/L2/L2017/17316-n4854-vithkuqi.pdf
Beith Kukju / Vithkuqi fonts
https://notofonts.github.io/vithkuqi/
Information about Naum Veqilharxhi
http://en.wikipedia.org/wiki/Naum_Veqilharxhi
A-chik Tokbirim, Adinkra, ADLaM, Armenian, Avestan, Avoiuli, Bassa (Vah), Beitha Kukju, Borama / Gadabuursi, Carian, Carpathian Basin Rovas, Chinuk pipa, Chisoi, Coorgi-Cox, Coptic, Cyrillic, Dalecarlian runes, Elbasan, Etruscan, Faliscan, Fox, Galik, Georgian (Asomtavruli), Georgian (Nuskhuri), Georgian (Mkhedruli), Glagolitic, Global Alphabet, Gothic, Greek, Irish (Uncial), Kaddare, Kayah Li, Khatt-i-Badí', Khazarian Rovas, Koch, Korean, Latin, Lepontic, Luo Lakeside Script, Lycian, Lydian, Manchu, Mandaic, Mandombe, Marsiliana, Medefaidrin, Messapic, Mongolian, Mro, Mundari Bani, Naasioi Otomaung, N'Ko, North Picene, Nyiakeng Puachue Hmong, Odùduwà, Ogham, Old Church Slavonic, Oirat Clear Script, Ol Chiki (Ol Cemet' / Santali), Old Italic, Old Nubian, Old Permic, Ol Onal, Orkhon, Osage, Oscan, Osmanya (Somali), Pau Cin Hau, Phrygian, Pollard script, Runic, Székely-Hungarian Rovás (Hungarian Runes), South Picene, Sutton SignWriting, Sunuwar, Tai Viet, Tangsa, Todhri, Toto, Umbrian, (Old) Uyghur, Wancho, Yezidi, Zaghawa, Zoulai
Page last modified: 20.08.23
[top]
---

Why not share this page:

If you like this site and find it useful, you can support it by making a donation via PayPal or Patreon, or by contributing in other ways. Omniglot is how I make my living.
Note: all links on this site to Amazon.com
, Amazon.co.uk
and Amazon.fr
are affiliate links. This means I earn a commission if you click on any of them and buy something. So by clicking on these links you can help to support this site.
Get a 30-day Free Trial of Amazon Prime (UK)
If you're looking for home or car insurance in the UK, why not try Policy Expert?
[top]