Kalderash Romani (Kaldarári)
Kalderash is a variety of Romani spoken by about 200,000 people mainly in Romania, and also in Greece, Israel and a number of other countries. It belongs to the Northern Vlax group of Romani dialects and is mainly influenced by Romanian. It is also known as Vlax Romanian.
Kalderash Romani was written with a version of the Cyrilllic alphabet in the USSR in the 1920s and 1930s. It is also written with the Latin alphabet.
Cyrillic alphabet for Kaldersh Romani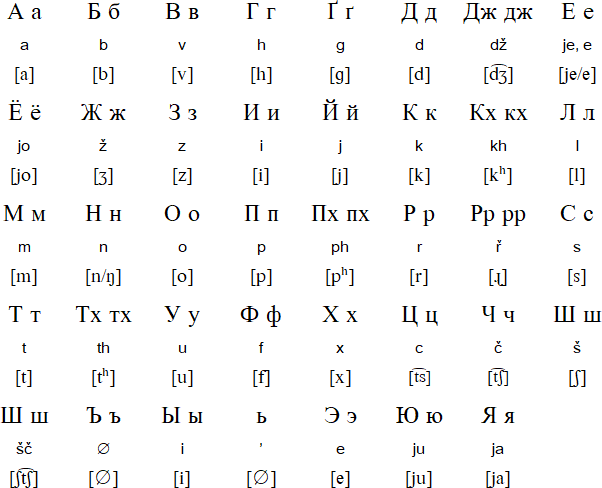 Latin alphabet for Kaldersh Romani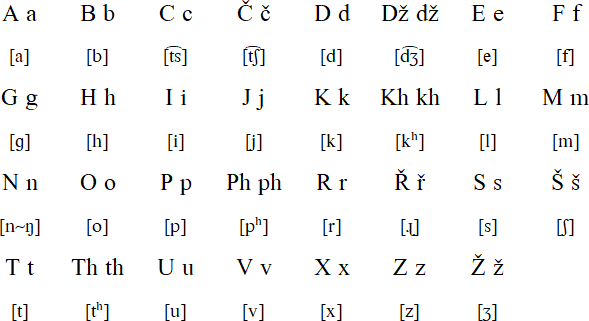 Download alphabet charts for Kalderash Romani (Excel)
Sample text (Cyrillic alphabet)
[...] Амаро Дад каи сан андэ о чэри! Кэ тйиро анав т'авэл свинтсимэ;
кэ тйири ампэрэтсиа т'авэл; кэ тэ кэрэс сар ту камэс пэ э пхув сар андэ о чэри.
Дэ амэ адиэс амаро манрро сако диэсэско.
Ертисар амэнґэ амарэ бэзэxа, сар ви амэ ертисарас кудалэнґэ каи гамисаилэ амэндэ.
На зумав амэн, нума скиписар амэн катар о xитро. Кэ тукэ си, андэ са лэ бэрш каи авэна, э ампэрэтсиа, э зор аи о вэстимос.
Source: https://adcmemorial.org/wp-content/uploads/propisi.pdf
Sample text (Latin alphabet)
[...] Amaro Dad kai san ande o čeri! Ke tjiro anav t'avel svintsime;
ke tjiri amperetsia t'avel; ke te keres sar tu kames pe e phuv sar ande o čeri.
De ame adies amaro manřo sako diesesko.
Jertisar amenge amare bezexa, sar vi ame jertisaras kudalenge kai hamisaile amende.
Na zumav amen, numa skipisar amen katar o xitro. Ke tuke si, ande sa le berš kai avena, e amperetsia, e zor ai o vestimos. Amen.
Sources: https://www.bible.com/es-ES/bible/1425/MAT.6.KALD
Translation (The Lord's Prayer: Matthew 6:9-13)
[...] Our Father which art in heaven, Hallowed be thy name.
Thy kingdom come. Thy will be done in earth, as it is in heaven.
Give us this day our daily bread.
And forgive us our debts, as we forgive our debtors.
And lead us not into temptation, but deliver us from evil: For thine is the kingdom, and the power, and the glory, for ever. Amen.
Source: https://www.bible.com/bible/1/MAT.6.kjv
Details provided by Michael Peter Füstumum
Sample video in Kalderash Romani
Information about Kalderash | Numbers
Links
Information about Kalderash Romani
https://en.wikipedia.org/wiki/Kalderash_Romani_language
https://ru.wikipedia.org/wiki/Цыганский_язык
https://nn.wikipedia.org/wiki/Kalderasj
https://en.wikipedia.org/wiki/Romani_alphabets/
https://www.ethnologue.com/language/rmy
http://romani.uni-graz.at/romlex/dialects.xml
https://en.wikipedia.org/wiki/Kalderash
https://www.languagesandnumbers.com/how-to-count-in-kalderash-romani/en/rmy-kal/
Romani languages
Caló, Domari, Erromintxela, Finnish Kalo, Kalderash, Lovari, Romani
Abaza, Abkhaz, Adyghe, Aghul, Akhvakh, Akkala Sámi, Aleut, Altay, Alyutor, Andi, Archi, Assyrian / Neo-Assyrian, Avar, Azeri, Bagvalal, Balkar, Bashkir, Belarusian, Bezhta, Bosnian, Botlikh, Budukh, Bulgarian, Buryat, Chamalal, Chechen, Chelkan, Chukchi, Chulym, Chuvash, Crimean Tatar, Dargwa, Daur, Dolgan, Dungan, Enets, Erzya, Even, Evenki, Gagauz, Godoberi, Hinukh, Hunzib, Ingush, Interslavic, Itelmen, Juhuri, Kabardian, Kaitag, Kalderash Romani, Kalmyk, Karaim, Karakalpak, Karata, Karelian, Kazakh, Ket, Khakas, Khanty, Khinalug, Khorasani Turkic, Khwarshi, Kildin Sámi, Kili, Komi, Koryak, Krymchak, Kryts, Kubachi, Kumandy, Kumyk, Kurdish, Kyrgyz, Lak, Lezgi, Lingua Franca Nova, Ludic, Macedonian, Mansi, Mari, Moksha, Moldovan, Mongolian, Montenegrin, Nanai, Negidal, Nenets, Nganasan, Nivkh, Nogai, Old Church Slavonic, Oroch, Orok, Ossetian, Pontic Greek, Romanian, Rushani, Russian, Rusyn, Rutul, Selkup, Serbian, Shor, Shughni, Siberian Tatar, Sirenik, Slovio, Soyot, Tabassaran, Tajik, Talysh, Tat, Tatar, Teleut, Ter Sámi, Tindi, Tofa, Tsakhur, Tsez, Turkmen, Tuvan, Ubykh, Udege, Udi, Udmurt, Ukrainian, Ulch, Urum, Uyghur, Uzbek, Veps, Votic, Wakhi, West Polesian, Xibe, Yaghnobi, Yakut, Yazghulami, Yukaghir (Northern / Tundra), Yukaghir (Southern / Kolyma), Yupik (Central Siberian)
Languages written with the Latin alphabet
Page last modified: 17.02.23
[top]
---

Why not share this page:

If you like this site and find it useful, you can support it by making a donation via PayPal or Patreon, or by contributing in other ways. Omniglot is how I make my living.
Note: all links on this site to Amazon.com
, Amazon.co.uk
and Amazon.fr
are affiliate links. This means I earn a commission if you click on any of them and buy something. So by clicking on these links you can help to support this site.
Get a 30-day Free Trial of Amazon Prime (UK)
If you're looking for home or car insurance in the UK, why not try Policy Expert?
[top]