Azerbaijani (
آذربايجانجا ديلي

/ Азәрбајҹан дили / Azərbaycan dili)

Azerbaijani is a member of the Western Oghuz branch of the Turkic language family spoken by about 32.2 million people mainly in Azerbaijan, Iran, Georgia, Russia and Turkey, and also in Iraq, Syria and Turkmenistan.

There are two main varieties of the language: North Azerbaijani and South Azerbaijani, which are sometimes classified as separate languages, although there is a fair degree of mutually intelligibility between them.

North Azerbaijani is spoken in Azerbaijan, where is the official language, and also southern Dagestan, in the southern Caucasus Mountains and in parts of Central Asia. There are around 7.3 million native speakers, and another 8 million second language speakers.
Azerbaijani at a glance
Native name:

آذربايجانجا ديلي

/ Азәрбајҹан дили / Azərbaycan dili [ɑzærbɑjdʒɑn dili]
Alternative names: Azeri, Azari, Azeri Turkish, Azerbaijani Turkish
Linguistic affliation: Turkic, Oghuz, Western Oghuz
Number of speakers: 24.2 million
Spoken in: Azerbaijan, Afghanistan, Georgia, Iran, Iraq, Russia, Syria, Turkey, Turkmenistan
First written: 7th century
Writing systems: Arabic script, Cyrillic alphabet, Latin alphabet
Status: official language in Azerbaijan, and in Dagestan in the Russian Federation
South Azerbaijani has about 16.9 million speakers mainly in the northwest of Iran, where it is known as تورکی (Türki), and also in parts of Iraq and Turkey, and in Afghanistan and Syria.
Azerbaijani is closely related to Turkish, Qashqai, Turkmen and Crimean Tatar, and there is a degree of mutually intelligibility between Azerbaijani and Turkish.
The Arabic script was introduced to the Azerbaijan region in the 7th century and continued to be used to write Azerbaijani until the 1920s. Three different versions of the Arabic script were used during this period: the 28-letter Arabic script, the 32-letter Perso-Arabic script and the 33-letter Turkic Arabic script. None of these was ideal for writing Azerbaijani and various reforms were proposed, particularly during the late 19th and early 20th centuries.
In Iran the Azerbaijani language has always been written with a version of the Arabic script and is know as Azeri Turk.
Arabic script for Azerbaijani
Latin alphabet for Azerbaijani (1922 version)
In 1922 the Latin alphabet, known as Yanalif (new alphabet), was adopted to write Azerbaijani in Soviet northern Azerbaijan. This was essentially an attempt by the Soviet authorities to reduce the influence of Islam in the Turkic republics, all of which used the Arabic script before 1922.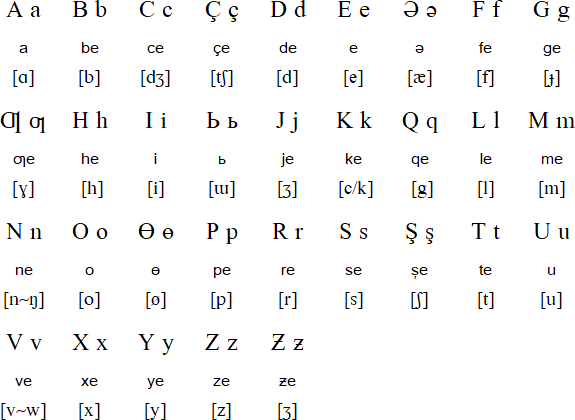 Cyrillic alphabet for Azerbaijani (Азәрбајҹан әлифбасы)
In 1939 the Cyrillic alphabet was imposed by Stalin, who wanted to discourage contact between the Turkic republics and Turkey, and worried about the development of alliances which might undermine the authority of the Soviet Union.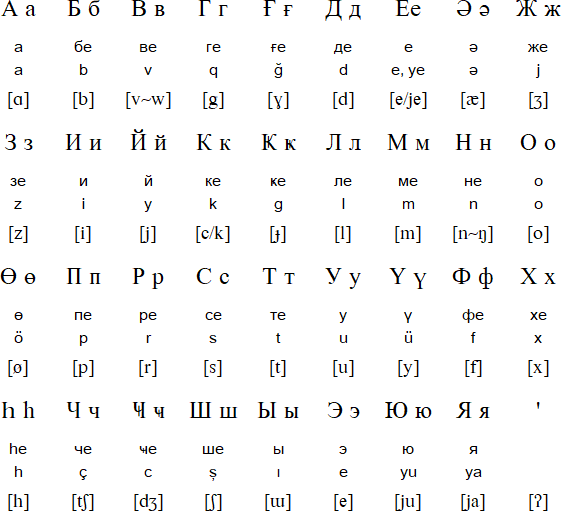 A simplified version of the Cyrillic alphabet was introduced in 1958.
Latin alphabet for Azerbaijani (1991 version)
On independence in 1991, Azerbaijan switched back to the Latin alphabet, though a slightly different version to that of 1929-1939. This switch caused considerable confusion and there was a chronic shortage of typewriters and computers fonts which could be used to write the new alphabet. Fortunately the Latin alphabet as used to write Turkish is very similar to the Azerbaijani one, so Turkish typewriters were in great demand. The main difficulty with the new alphabet is the letter which looks like a upside-down lower case 'e' and is known as a schwa as no other language uses this letter. Some people write 'æ' instead if the schwa is not available.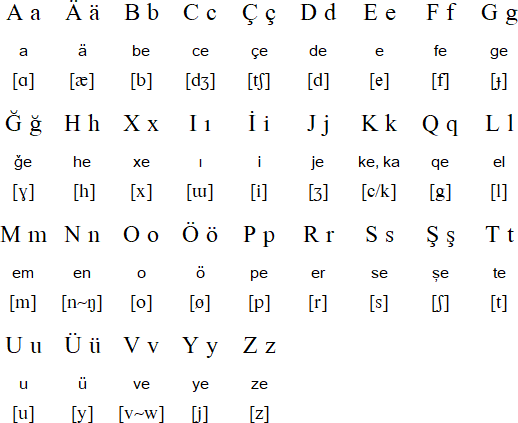 Latin alphabet for Azerbaijani (Azərbaycan əlifbası) - 1992 version
On 16th May 1992 the Latin alphabet for Azerbaijani was slightly revised - the letter ä was replaced with ə and the order of letters was changed as well.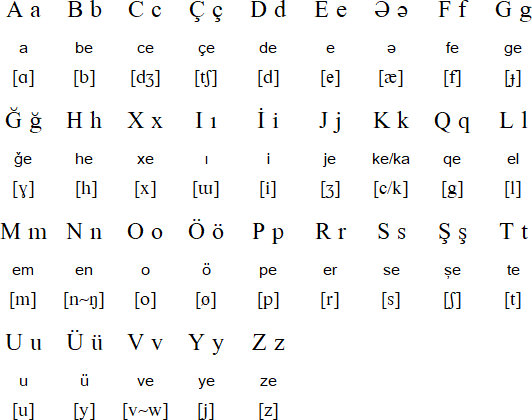 Download an Azeri alphabet charts (Excel)
Sample texts
Azeri Turk
بوتون اينسانلار حيثييت و حاقلار باخيميندان دنك (برابر) و اركين (آزاد) دوغولارلار. اوس (عقل) و اويات (ويجدان) ييهﺳﻴﺪيرلر و بير بيرلرينه قارشى قارداشليق روحو ايله داوراماليدرلار.
Transliteration
Bütün insanlar heysiyyət və haqlar baxımından dənk (bərabər) və ərkin (azad) doğularlar. Us (əql) və uyat (vicdan) yiyəsidirlər və bir birlərinə qarşı qardaşlıq ruhu ilə davranmalıdırlar.
1922 Latin alphabet
Butun insanlar ləƶaqət və huqyqlarьna gөrə azad və bərabər doƣylyrlar. Onarьn şüyralrь və vicdanlarь var və bir-birlərinə munasibətdə qardaşlьq rynhynda davranmalьdьrlar.
Cyrillic alphabet
Бүтүн инсанлар ләјагәт вә һүгугларына ҝөрә азад бәрабәр доғулурлар. Онларын шүурлары вә виҹданлары вар вә бир-бирләринә мүнасибәтдә гардашлыг руһунда давранмалыдырлар.
1991 Latin alphabet
Bütün insanlar läyaqät vä hüquqlarına göre azad bärabär doğulurlar. Onarın şüuralrı vä vicdanları var vä bir-birlärinä münasibätdä qardaşlıq runhunda davranmalıdırlar.
1992 Latin alphabet
Bütün insanlar ləyaqət və hüquqlarına görə azad bərabər doğulurlar. Onarın şüuralrı və vicdanları var və bir-birlərinə münasibətdə qardaşlıq runhunda davranmalıdırlar.
Listen to a recording of this text
Translation
All human beings are born free and equal in dignity and rights. They are endowed with reason and conscience and should act towards one another in a spirit of brotherhood.
(Article 1 of the Universal Declaration of Human Rights)
Information about Azerbaijani | Phrases | Numbers Tower of Babel | Learning materials
Links
Information about the Azeri Language and alphabets
http://en.wikipedia.org/wiki/Azerbaijani_language
http://en.wikipedia.org/wiki/Azerbaijani_alphabet
http://www.loc.gov/catdir/cpso/romanization/azerbaij.pdf
http://www.azeri.org
Online Azeri lessons
http://www.travel-images.com/az-lear.html
http://polymath.org/azeri.php
Azeri phrases
http://www.etriptips.com/wiki/Azerbaijani_phrasebook
http://azeri.org/Azeri/az_learn/az_socio/articles/az_socio_64/64_socio.html
http://www.ulinkx.com/video/search?q=azerbaijani+phrases
Online Azeri dictionaries
http://azerdict.com
http://www.azerice.da.ru
http://www.ozbekce.da.ru
http://www.tdk.org.tr
Azerbaijani Electronic talking dictionaries
http://www.ectaco.com
Online Azerbaijani radio
http://www.azadses.org/
Online Azerbaijani news
http://www.azadses.org/
Turkic languages
Other languages written with the: Arabic, Cyrillic and Latin alphabets