Saraiki (ਸਰਾਇਕੀ / सराइकी / سرائيكى)
Saraiki is a member of the Lahnda branch of Indo-Aryan languages and spoken by about 17 million people mainly in the central Pakistan provinces of Sindh and Punjab, and also in India, mainly in the state of Punjab.
Saraiki is also known as Siraiki, Seraiki, Multani, Lahndi and Western Punjabi, and is considered by some to be a dialect of Punjabi.
In Pakistan Saraiki is written with a version of Perso-Arabic alphabet, while in India the Gurmukhi and Devanagari alphabets are used, especially by Hindus.
Perso-Arabic alphabet for Saraiki
Information about Saraiki alphabet and pronunciation complied by Wolfram Siegel
Sample text in Saraiki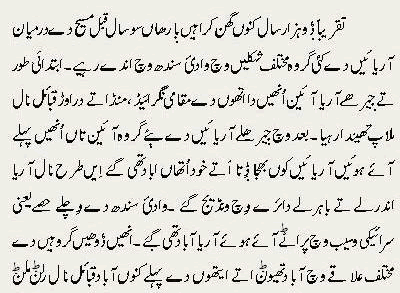 Source: http://www.wasaib.com/seraiki-tay-punjabi-dhoon-zubana-aslam-rasoolpuri-12.html
Sample video in Saraiki
Links
Information about the Saraiki language and culture
http://en.wikipedia.org/wiki/Saraiki_language
http://www.unics.uni-hannover.de/nhtcapri/western-panjabi-alphabet.html
http://www.siraikisangat.20fr.com
http://mazhar.dk/pakistan/population.htm
http://www.punjabilok.com/misc/literature/siraiki_language_and_ Poetics.htm
http://www.wasaib.com
http://saraiki.wordpress.com
Indo-Aryan languages
Awadhi, Assamese, Bengali, Bhojpuri, Chakma, Dhivehi, Fiji Hindi, Gujarati, Hajong, Hindi, Kashmiri, Konkani, Kotia, Kutchi, Magahi, Maithili, Marathi, Marwari, Modi, Nepali, Odia, Palula, Punjabi, Rajasthani, Rohingya, Romani, Saraiki, Sarnámi Hindustani, Sindhi, Sinhala, Shina, Sourashtra, Sugali, Sylheti, Urdu
Other languages written with the Arabic script