Karakalpak (Қарақалпақ тили / Qaraqalpaq tili / قاراقالپاق تىلى)
Karakalpak is a member of the Kypchak branch of Turkic languages. It is spoken by about 412,000 people in the Karakalpakstan Autonomous Republic in Uzbekistan, where the language has official status. There are some Karakalpak speakers in Afghanistan, Russia, Kazakhstan and Turkey as well.
Karakalpak is most closely related to Kazakh and Nogai, and has absorbed a lot of vocabulary and some grammar from Uzbek as well.
Until 1928, Karakalpak was written with the Arabic alphabet. Then from 1928 to 1940 it written the Latin alphabet, after which the Cyrillic alphabet was used. Since 1994, the Cyrillic alphabet has gradually been replaced by the Latin alphabet.
Karakalpak Arabic alphabet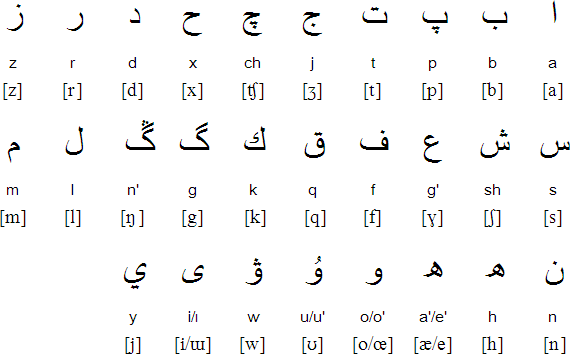 Karakalpak Cyrillic alphabet (қарақалпақ әлипбеси)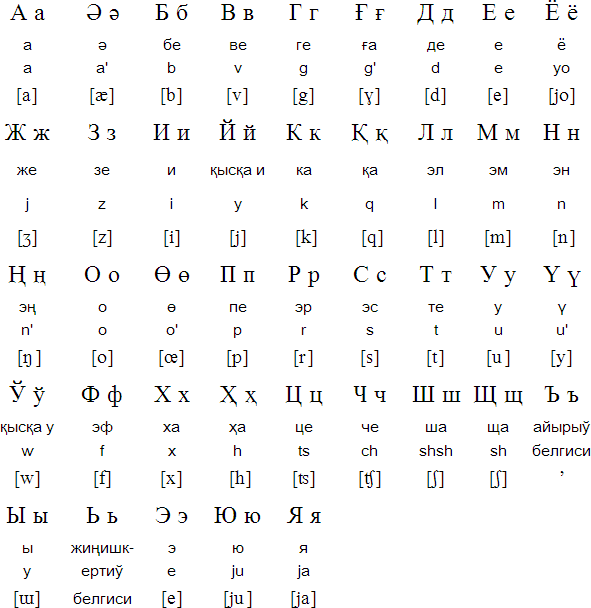 Karakalpak Latin alphabet (qaraqalpaq a'lipbesi)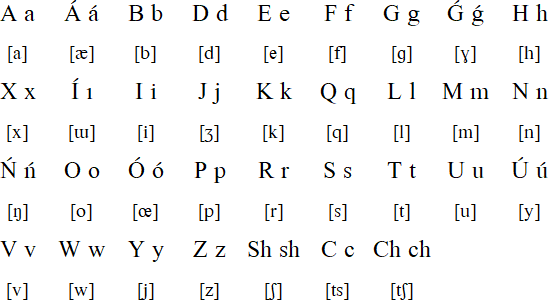 Sample text in Karakalpak (The Lord's Prayer)
Transliteration
Sonlıqtan sizler bılay dep duwa etin'ler: Aspandag'ı A'kemiz. Senin' atın' muxaddes bola bersin. Senin' Patshalıg'ın' kelsin. Aspanda orınlang'anı sıyaqlı, jerde de Senin' erkin' orıinlansın. Bizlerge bu'gin de ku'ndelikli nanımızdı bere go'r. Bizlerge gu'na islegenlerdi keshirgenimizdey, bizlerdin' de gu'nalarımızdı keshire go'r. Bizlerdi sınaqqa tu'sirmey, shaytannan qutqara go'r. Awmiyin.
Source: http://www.language-museum.com/encyclopedia/k/karakalpak.php
Information about Karakalpak | Karakalpak numbers | Tower of Babel in Karakalpak
Links
Information about the Karakalpak language
http://en.wikipedia.org/wiki/Karakalpak_language
http://karakalpak.com/language.html
http://www.ozturkler.com/data_english/0007/0007_10_04.htm
Information about the Karakalpak people and Karakalpakstan
http://karakalpak.com
http://karakalpak.homestead.com/
Video of people speaking Karakalpak
http://youtube.com/watch?v=NCMJkvRepbQ
Turkic languages
Other languages written with the Arabic, Latin and Cyrillic alphabets