Shughni (xuǧnůn ziv / Хуг̌ну̊ ни зив)
Shughni is a Pamir language belonging to the southeastern Iranian language group and spoken in parts of Tajikistan and Afghanistan by maybe 80,000 people. About half the speakers of Shughni live in Gorno-Badakhshan Autonomous Province in Tajikistan, and the other half in Badakhshan Province in Afghanistan.
Shughni alphabets
Shughni was written with the Arabic alphabet until 1931, then with the Latin alphabet until 1938, and with the Cyrillic alphabet since then. However it is rarely written.
Arabic alphabet for Shughni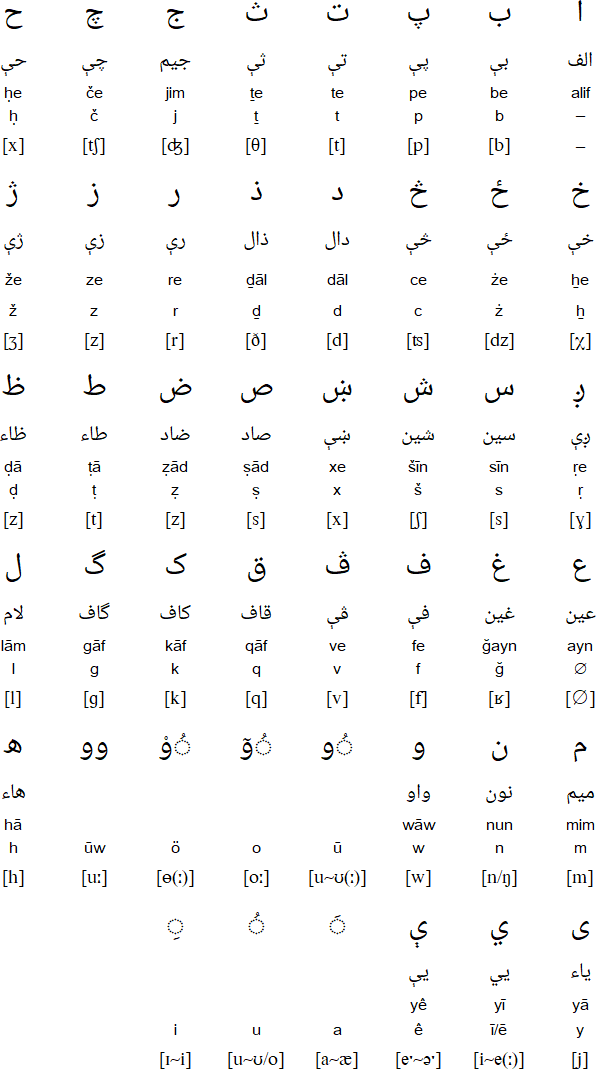 Latin alphabet for Shughni
Cyrillic alphabet for Shughni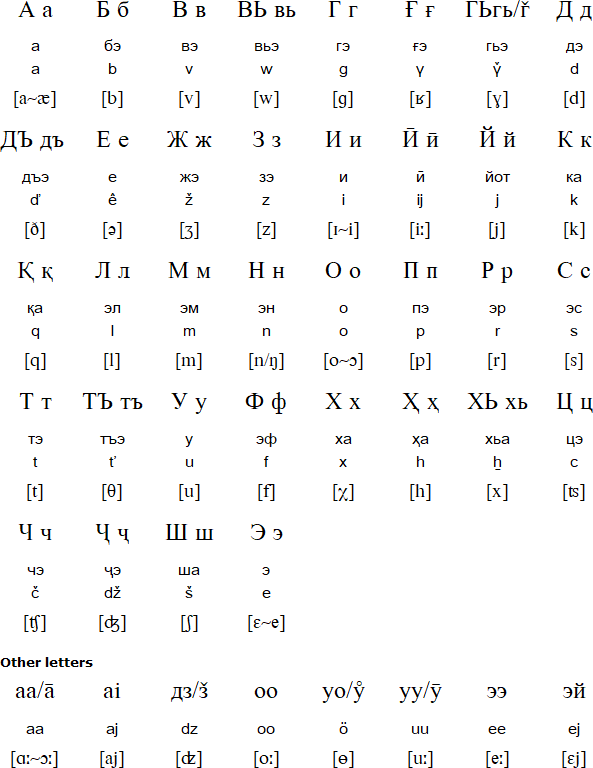 Download a chart of the Shughni alphabets (PDF, in German)
Information about Shughni alphabets and pronunciation provided by Wolfram Siegel
Sample text in Shughni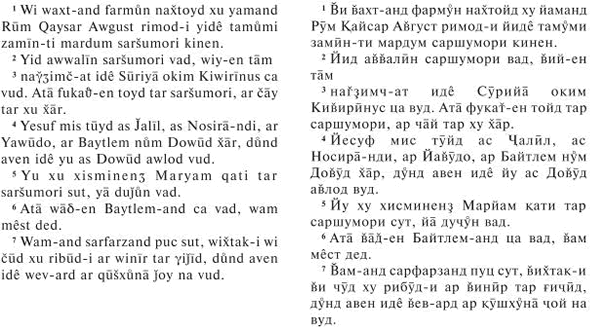 Source: Luqo Inǰīl. Луқо Инҷӣл. Gospel of Luke in Shugni language (Roman and Cyrillic scripts). Institute for Bible Translation, Moscow - 2001.
Contributed by Wolfgang Kuhl
Information about Shughi | Numbers in Shughi
Links
Information about Shughni
http://en.wikipedia.org/wiki/Shughni_language
https://ru.wikipedia.org/wiki/Шугнанский_язык
http://www.ethnologue.com/language/sgh
http://elalliance.org/projects/languages-of-central-asia/shughni/
Iranian languages
Avestan, Baluchi, Bartangi, Dari, Gilaki, Ishkashimi, Juhuri, Khufi, Kurdish, Luri, Mazandarani, Ossetian, Oroshor, Persian, Parthian, Pashto, Rushani, Sanglechi, Sarikoli, Shabaki, Shughni, Tajik, Talysh, Tat, Wakhi, Yaghnobi, Zazaki
Other languages written with the Latin, Cyrillic and Arabic alphabets.