Altay (Алтай тили / Altaj tili)
Altay is a member of the Kypchak branch of the Central Turkic language language family, and is spoken in the Altai republic and Altai Krai in the Russian Federation. These neighbouring regions in southern Siberia are home to about 67,900 Altay speakers, according to the 2002 census.
There are two main subdivisions of the language: Northern Altay in Altai Krai, and southern Altay in the Altai Republic, where it has official status along with Russian. Northern Altay dialects include Tuba, Kumandy, Turachak, Solton, Starobardinian and Chalkan; and Southern Altay dialects include Altay proper, Mayma, Telengit, Tölös, Chuy and Teleut.
Altay was written with the Latin alphabet between 1928 and 1938, and has written with the Cyrillic alphabet since 1938.
Altay alphabet and pronunciation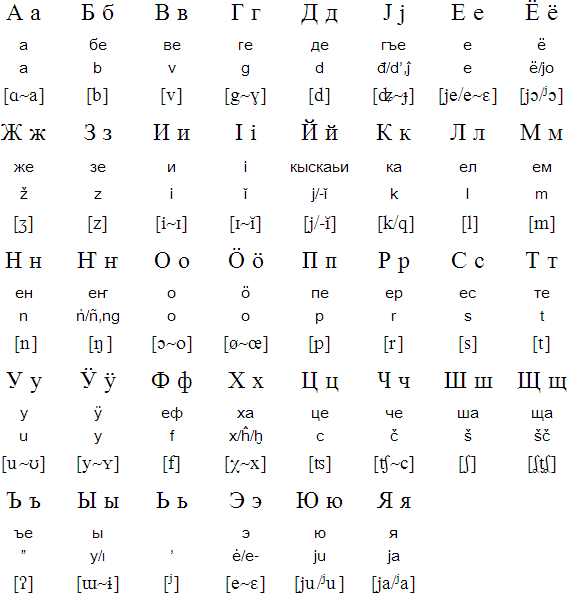 Download an Altay alphabet chart (Excel)
Information about Altay pronunciation compiled by Wolfram Siegel
Sample text in Southern Altay (Lord's prayer)
Source: http://www.christusrex.org/www1/pater/JPN-altai-south.html
Transliteration
Agaru adıñ alkalzın!
Kaandıgıñ Seniñ kelzin;
Kanajıp teñeride,
anajıp ĵerde de
tabıñ seniñ bolzın;
Ĵyrerge kerekty kalažıstı
bygyn biske bergin;
Biske tölyly ulustañ
kanajıp alımdabajdıs
bistiñ de tölyleristi
alımdabagın;
Ĵetkerge bisti kijdirbegin,
ĵe ĵamannañ bisti korulagın.
Transliteration by Julijan Jovanovic
Information about Altay | Phrases | Numbers | Tower of Babel
Links
Details of the Altay language
http://en.wikipedia.org/wiki/Altay_language
http://altaic-wiki.wikispaces.com/Altay+People
Turkic languages
Other languages written with the Cyrillic alphabet