Moksha (мокшень кяль)
Moksha is a Mordvinic language spoken by about half a milllion people in the Republic of Mordovia, and other parts of the Russia Federation. There are also Moksha speakers in Armenia and the USA.
Moksha and Erzya (Эрзянь кель), a closely related though mutually unintelligible language, are collectively known as Mordvin. These languages have co-official status with Russian in the Republic of Mordovia.
Moksha alphabet and pronunciation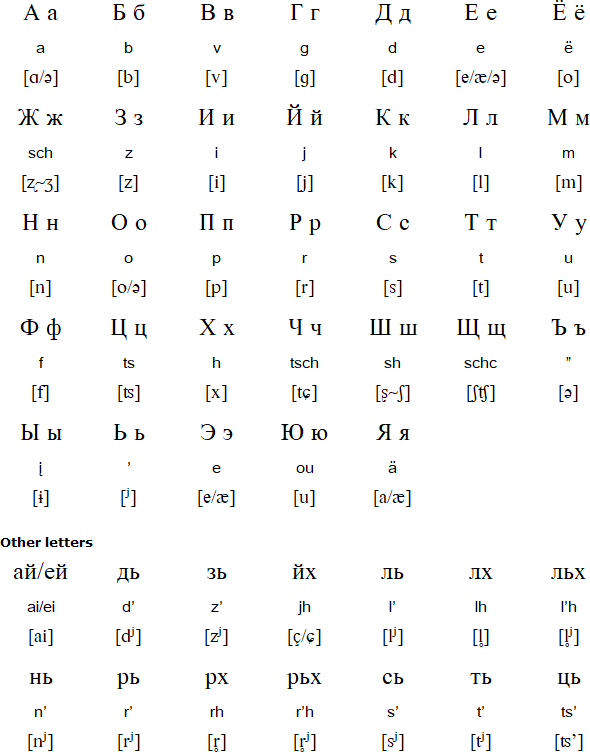 Information about Moksha pronunciation compiled by Wolfram Siegel
Sample text in Erzya
Шуваланяста Мордовиять столицаса етась "Финно-угрань нароттнень IV Всемирнай конгресснон решениянзон эряфс етафнемасна" международнай конференциять пленарнай заседанияц. Кода пачфнесы "Инфо-РМ" РИАть корреспондентоц, тяфтама конференция етафтови васенцеда. Эсонза примасть участия представительхть сембе финно-угрань нароттнень эзда, конат вятихть эрек работа эсь народонь кяльхнень и культуратнень эреклафтомаса.
Source: http://www.info-rm.com/mk/index.php
Information about Moksha (Mordvin) | Phrases | Numbers | Tower of Babel |
Links
Information about the Moksha language and people
http://en.wikipedia.org/wiki/Moksha_language
http://virtual.finland.fi/netcomm/news/showarticle.asp?intNWSAID=25827#mari
http://www.suri.ee/eup/mordvins.html
http://members.tripod.com/Daniel_Kravin/mordvinb.htm
Online news in Moksha
http://www.info-rm.com/mk/index.php
Online Moksha dictionary
http://www.torama.ru/index.php3?pg=voc
Mordvinic languages
Other languages written with the Latin alphabet