Tuvan (Тыва дыл / Tyva dyl)
Tuvan is a Turkic language with about 200,000 speakers in the Republic of Tuva (Tannu Tuva) in south-central Siberia in the far east of the Russian Federation. There are also small groups of Tuvan speakers in China and Mongolia.
Tuvan is classified as a Northeastern or Siberian Turkic language and is closely related to the Khakas and Altai languages. It has also been quite heavily influenced by Mongolian and Russian.
There are four main dialects of Tuvan: Western, Central, Northeastern and Southeastern. Written Tuvan is based on the Central dialect. It was first written in 1930 using the Latin alphabet with a spelling system invented by Mongush Lopsang-Chinmit, a Tuvan Buddhist monk. A few books and newspapers were printed using his system. Since September 1943, Tuvan has been written with the Cyrillic alphabet.
Latin alphabet for Tuvan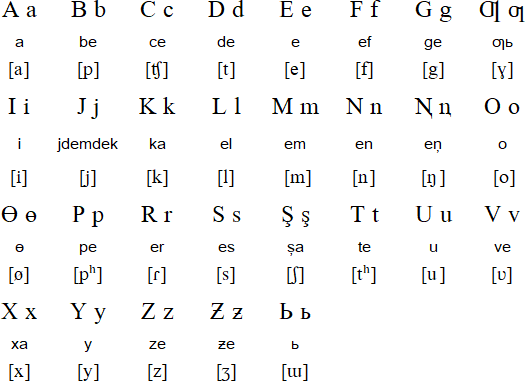 Cyrillic alphabet for Tuvan
Notes
г = /γ/ (Latin: Ƣ) between vowels and at the end of syllables or words, e.g. арыг /a'ɾɯγ/, бүгү /py'γy/
ъ marks a low tone or pharyngealized vowels, e.g. эът /èt/ (meat)
ч = /dʒ/ sometimes.
е = /je/ only word-initially in Russian loans.
Tuvan has vowel harmony: э (e), и, ө & ү are front vowels, and а, ы, о & у are back vowels.
Sample texts in Tuvan
Бүгү кижилер хостуг база мөзүзү болгаш эргелери дең кылдыр төрүттүнер. Оларга угаан- сарыыл болгаш арын-нүүр бердинген болур болгаш олар бот-боттарынга акы-дуңмалышкы хамаарылганы көргүзер ужурлуг.
Transliteration
Bygy kižiler xostyg baza mөzyzy bolgaš ergeleri deņ kƣldƣr tөryttyner. Olarga ygaan- sarƣƣl bolgaš arƣn-nyyr berdingen bolur bolgaš olar bot-bottarƣnga akƣ-duņmalƣškƣ xamaarƣlganƣ kөrgyzer užurlug.
Translation
All human beings are born free and equal in dignity and rights. They are endowed with reason and conscience and should act towards one another in a spirit of brotherhood.
(Article 1 of the Universal Declaration of Human Rights)
Тыва чоннуң эртинези – хөөмей
Делегейниң эң улуг күчулүг, чараш, арыг, байлак хемнерниң бирээзи – алдарлыг Енисейниң – Улуг Хемниң шуурап баткан ораны, делегейде чок дээн делгем чаагай Азия диптиң географтыг төвү, чүрээ, буурул баштыг Саян сыннары хаажылаан Тыва чурту бойдустуң эң ховар чурумалы, тураскаалы болуп турары дег, тываларны өске чоннардан ылгап, алдаржыдып, киискидип турар онзагай демдектер эвээш эвес.
Tƣva čonnuņ ertinezi - xөөmey
Delegejniņ eņ ulug kyčyten, čaraš, arƣg, baylak xemnerniņ bireezi - aldarlƣg Enisejniņ - Ulug Xemniņ šuurap batkan oranƣ, delegejde čok deen delgem čaagaj Azija diptiņ geograftƣg tөvy, čyree, buurul baštƣg Sayan sƣnnarƣ xaažƣlaan Tƣva čurtu bojdustuņ eņ xovar čurumalƣ, turaskaalƣ bolup turarƣ deg, tƣvalarnƣ өske čonnardan ƣlgap, aldaržƣdƣp, kiiskidip turar onzagaj demdekter eveeš eves.
Source: part of a text about Tuvan Throatsinging from http://tyvawiki.org/wiki/Throatsinging_-_Treasure_of_the_Tuvan_People
Information about Tuvan | Tower of Babel
Links
Information about the Tuvan language and people
http://en.wikipedia.org/wiki/Tuvan_language
http://tyvawiki.org/wiki/Category:Language
http://www.avantart.com/tuva/
Tuvan language and culture portal, including a Tuvan-English dictionary
http://www.swarthmore.edu/SocSci/tuvan/
Huun-Huur-Tu - a group of Tuvan throatsingers
http://www.huunhuurtu.com
Turkic languages
Other languages written with the Latin and Cyrillic alphabets