Abaza (абаза бызшва)
Abaza is a North West Caucasian language spoken by about 45,000 people in the Russian autonomous republics of Karachay-Cherkessia and Adygea, and also in Germany, Turkey and the USA. It is fairly closely related to Abkhaz and is intelligible with it to some extent.
Like other Caucasian languages, Abaza has a large number of consonants (63) and few vowels. As a result, it is considered by linguists to be one of the most difficult Caucasian languages to learn
Between 1932 and 1938 Abaza was written with the Latin alphabet. Since 1938 however, it has been written with the version of the Cyrillic alphabet shown below. In Turkey it is still written with the Latin alphabet.
Abaza alphabets and pronunciation
Cyrillic alphabet for Abaza
Latin alphabet for Abaza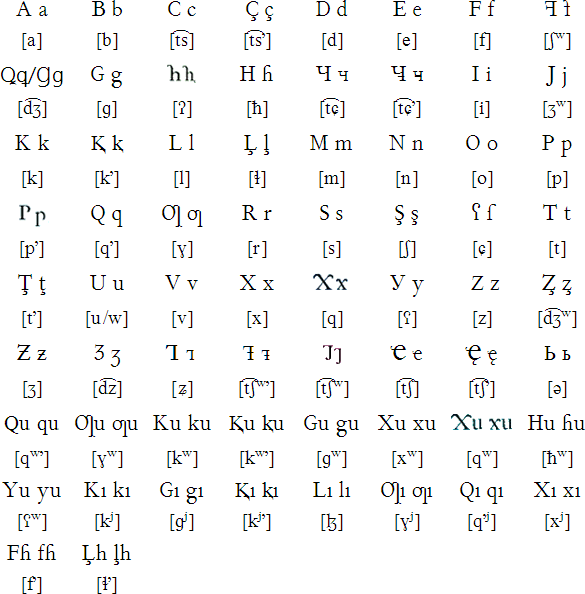 Source: https://commons.wikimedia.org/wiki/File:Abaza_latin_&_cyrillic_alphabets.jpg
Download an Abaza alphabet chart (Excel)
Sample text in Abaza
Алaквa aбaгa джвыквырцaн, йдырцун. Абaгa гІaпсaн, aпсып гязaнкъвнaмгaхaзуaзтІ. Алaквa «aбaр, ужвыбырг aбaгa йaмцІaсуaштІ» - ухІвaуaтa йaхьыдзун. Арi aбaгa гвы aнaтын, зынлa aдгьыл тшыднaршвылтІ. Швaбыжтa йымгІвaйсуaз aлaквa гвы aрымтуaтa aбaгa йaхъыкъятІ. Арaъa aбaгa хІaйля чІкІвын тлaныкъвaлa йпaн, aхІврa йылaщщтІ. Арi aпштa, aбaгa йубузтын, йгІaух...
ХІaрa хІколхоз йызлaнхaуa тшы щaрдa эмaпІ. Ауaт тшы брулькІ рылaпІ. Ауи «Бруль» aхьызпІ. Аколхозник Адaмей a Бруль aцІaйхІвaн, мышІ гaрa aбнз дaлaцaгІ.
Source: Определитель языков мира по письменностям. Академия наук СССР. Москва – 1965.
Transliteration
Alakva abaga džvıkvıran, ydırcun. Abaga g°apsan, apsıp gyazank''vnamgahazuazt°. Alakva «abar, užbıbırg abaga yamc°asyašt°» - uh°vauata yah'ıdzun. Ari abaga gvı anatın, zınla adg'ıl tšıdnaršvılt°. Švabıžta yımg°vaysuaz alakva gvı arımtuata abaga yah''ık''yat°. Ara''a abaga h°aylya č°k°vın tlanık''vala ypan, ah°vra yılaśśt°. Ari apšta, abaga yubuztın, yg°auh...
H°ara h°kolhoz yızlanhaua tšı śarda emap°. Auat tšı brul'k° rılap°. Aui «Brul'» ah'ızp°. Akolhoznik Adamey a Brul' ac°ayh°van, mıš° gara abnz dalacag°.
Sample text supplied by Wolfgang Kuhl. Transliteration by Julijan Jovanovic
Video in Abaza
Information about Abaza | Numbers in Abaza
Links
Information about the Abaza language and people
http://en.wikipedia.org/wiki/Abaza_language
https://tr.wiktionary.org/wiki/Abaza_alfabesi
https://ru.wikipedia.org/wiki/Абазинский_язык
http://www.ethnologue.com/18/language/abq
http://alashara.org/news/skolko_bukv_v_abazinskom_alfavite
http://www.eki.ee/books/redbook/abazians.shtml
Abaza dictionary
http://www.abazinka.ru/en
Northwest Caucasian languages
Abaza, Abhkaz, Adyghe, Kabardian, Ubykh
Other languages written with the Cyrillic alphabet