Lak (Лакку маз)
Lak belongs to the Nachsko-Daghestan branch of North Caucasian languages and is spoken by about 100,000 speakers mainly in the Russian republic of Dagestan. There are also speakers of Lak in Azerbaijan, Georgia, Kazakhstan, Kyrgyzstan, Tajikistan, Turkey, Turkmenistan, Ukraine and Uzbekistan. Lak is closely related to Dargwa.
Lak was written with the Arabic alphabet 1928, when the Latin alphabet was adopted. Since 1938 a version of the Cyrillic alphabet has been used to write Lak.
Lak Cyrillic alphabet and pronunciation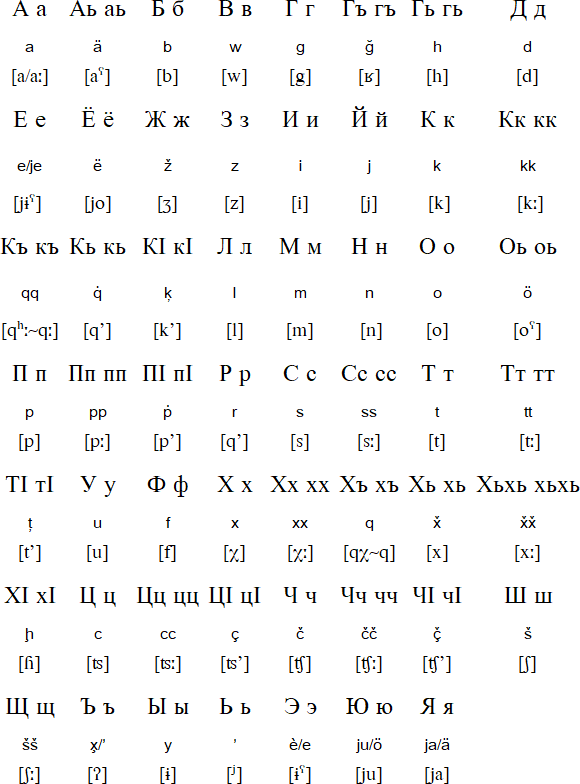 Notes
Georgian alphabet for Lak
Latin alphabet for Lak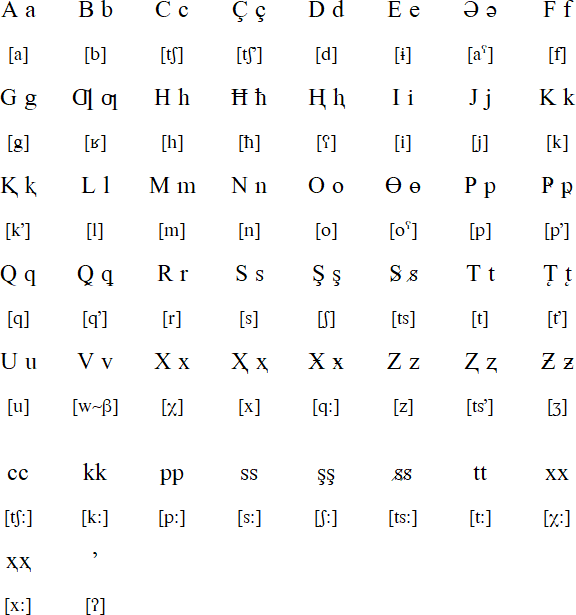 Download alphabet charts for Lak in Word format
Information about Lak alphabets compiled by Wolfram Siegel
Sample text in Lak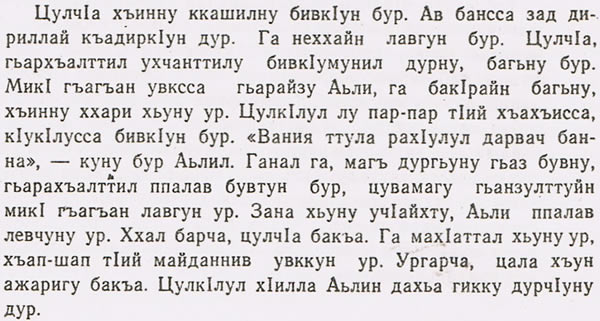 Source: Определитель языков мира по письменностям. Академия наук СССР. Москва – 1965.
Sample text supplied by Wolfgang Kuhl
Links
Information about the Lak language
http://en.wikipedia.org/wiki/Lak_language
http://www.ethnologue.com/show_language.asp?code=lbe
http://www.evertype.com/alphabets
http://geonames.de/index.html
http://de.wikipedia.org/wiki/Lasische_Sprache
http://armazi.uni-frankfurt.de/armaziII/zan/fr_zan/htm
http://www.eki.ee/knab/lat/kblkauk2
Лакский Дом/Lak House - information about the Lak people (in Russian and English)
http://www.lakia.net
Dagestanskaya pravda - Online newspaper in Lak
http://www.dagpravda.ru
Northeast Caucasian languages
Aghul, Akhvakh, Andi, Archi, Avar, Bagvalal, Bats, Botlikh, Budukh, Caucasian Albanian, Chamalal, Chechen, Dargwa, Godoberi, Hinukh, Hunzib, Ingush, Karata, Khinalug, Khwarshi, Kryts, Kubachi, Lak, Lezgian, Rutul, Tabassaran, Tindi, Tsakhur, Tsez, Udi
Other languages written with the Cyrillic alphabet