Montenegrin (Crnogorski jezik, Црногорски језик)
Montenegrin is a South Slavic language spoken mainly in Montenegro. It began to be considered a separate language after the break up of Yugoslavia in the 1990s, and particularly since Montenegro became independent in 2006. Montenegrin became the official language of Montenegro in 2007 and a Montenegrin orthography was established in 2009. Montenegrin uses both the Latin and the Cyrillic alphabets.
Not all Montenegrins agree that the language they speak is Montenegrin, and some still call in Serbian.
Latin and Cyrillic alphabets for Montenegrin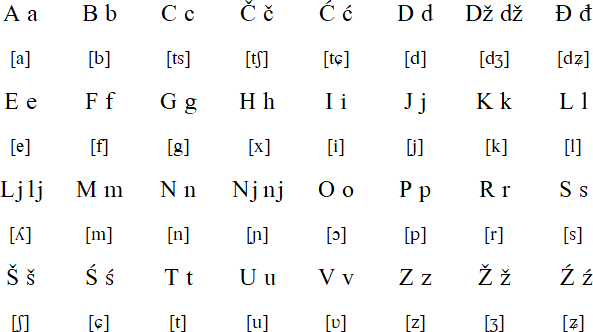 Source: http://mylanguages.org/montenegrin_alphabet.php
Links
Information about Montenegrin
http://en.wikipedia.org/wiki/Montenegrin_language
http://www.montenegro.org/language.html http://news.bbc.co.uk/1/hi/8520466.stm
Online Montenegrin lessons
http://mylanguages.org/learn_montenegrin.php
Slavic languages
Belarusian, Bosnian, Bulgarian, Croatian, Czech, Kashubian, Macedonian, Montenegrin, Old Church Slavonic, Polish, Russian, Rusyn, Serbian, Silesian, Slovak, Slovenian, Sorbian, Ukrainian, West Polesian