Polish (język polski)
Polish is a Western Slavonic language with about 40 million speakers in Poland, Lithuania and Belarus. There are also fairly large communities of Polish émigrés in the UK, USA, Canada, Ireland and Brazil. Polish is closely related to Kashubian, Lower Sorbian, Upper Sorbian, Czech and Slovak.
Polish first appeared in writing in 1136 in the "Gniezno papal bull" (Bulla gnieźnieńska), which included 410 Polish names. The first written Polish sentence was day ut ia pobrusa a ti poziwai (I'll grind [the corn] in the quern and you'll rest), which appeared in Ksiega henrykowska in 1270. In Modern Polish spelling that sentence is daj ać ja pobruszę, a ty poczywaj.
Great Polish poets include Jan Kochanowski (1530-84) and Adam Mickiewicz (1798-1855), the 'national bard' and author of an epic entitled "Pan Tadeusz". The most famous writer of Polish orgin is Joseph Conrad or Konrad Korzeniowski (1857-1924), who wrote in English and started out as a sailor.
Literary Polish is based on the dialects of Gniezno, Cracow and Warsaw, though there is some dispute about this.
The native name for Polish is polski (Polish), język polski (the Polish language), or more formally, polszczyzna (Polish).
Polish alphabet (alfabet polski) & pronunciation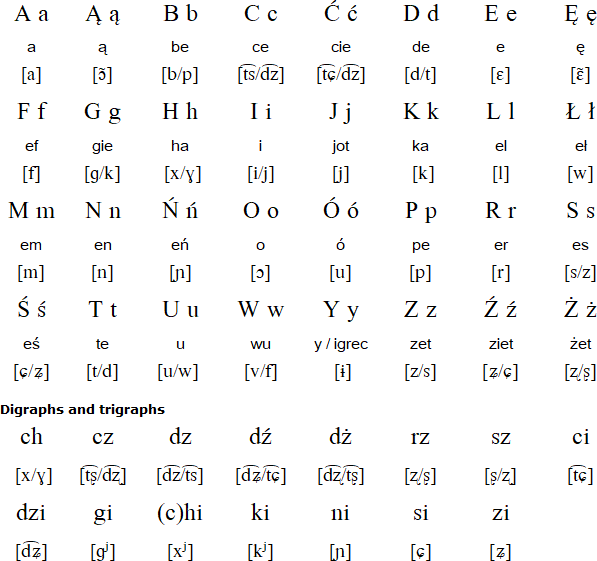 Notes
a is a low central vowel for which there is no symbol in the IPA
ą = [ o ] before l or ł
ę = [ e ] before l or ł or at the end of a word
The i in ci, dzi, ni, si and zi is not pronunced when they are followed by another vowel, e.g. dzień
u sometimes = [w] in loanwords like auto [awtɔ] 'car'
ó is called u kreskowane
The letters q (ku), v (fau) and x (iks) are also used, but only for foreign names or words.
Polish pronunciation is actually a lot more complicated than shown above.
Notes on pronunciation provided by Grzegorz Jagodziński
Sample text in Polish
Wszyscy ludzie rodzą się wolni i równi w swojej godności i prawach. Są obdarzeni rozumem i sumieniem i powinni postępować wobec siebie w duchu braterstwa.
A recording of this text by Marcin K.
Translation
All human beings are born free and equal in dignity and rights. They are endowed with reason and conscience and should act towards one another in a spirit of brotherhood.
(Article 1 of the Universal Declaration of Human Rights)
Information about Polish | Polish phrases | Polish tonguetwisters | Tower of Babel | Learning materials
Links
Information about the Polish language about links to online resources
http://www.polishlanguage.biz
http://www.skwierzyna.net/learn_polish.htm
http://polish-translations.info/about.html
http://en.wikipedia.org/wiki/Polish_language
Online Polish lessons
http://www.apronus.com/learnpolish/
http://grzegorj.w.interia.pl/kurs/
http://languagelearninglab.com
http://www.oneness.vu.lt/pl/
Polish phrases
http://www.polish-translator.net/polish_phrases.html
http://www.meetpoland.com/useful-polish-words-and-phrases.html
http://onestoppolish.com/useful_polish_phrases.htm
http://www.bbc.co.uk/dna/h2g2/A2982314
http://www.linguanaut.com/english_polish.htm
http://www.learnpolishfeelgood.com/travelpolish/index.html
Online Polish dictionaries
http://www.polish-dictionary.com
http://sjp.pwn.pl/
http://www.staropolska.gimnazjum.com.pl
http://www.leksyka.pl/translator
http://www.lexitools.com

Polish Electronic talking dictionaries
http://www.ectaco.com
Old Polish Literature - online texts in Polish
http://www.staropolska.gimnazjum.com.pl/
Online Polish Radio
http://www.radio.com.pl/
http://www.bbc.co.uk/polish/
http://www.abcradio.ca
Gazeta - online Polish language newspaper
http://www.gazeta.pl/
Polishbuzz - a site for the Polish community in Chicago and the USA
http://www.polishbuzz.com
Slavic languages
Belarusian, Bosnian, Bulgarian, Croatian, Czech, Kashubian, Macedonian, Montenegrin, Old Church Slavonic, Polish, Russian, Rusyn, Serbian, Silesian, Slovak, Slovenian, Sorbian, Ukrainian
Other languages written with the Latin alphabet