Laz (ლაზური ნენა / Lazuri nena)
Laz is a South Caucasian language with about 33,000 speakers around the Black Sea, mainly in the northeast of Turkey, but also in Georgia. Laz is closely related to Mingrelian, and though the two languages are not mutually intelligible, they are considered by some as dialects of a single language known as Zan.
In Turkey Laz is written with a version of the Latin alphabet, while in Georgia a version of the Georgian alphabet is used. Laz has no official status in either Turkey or Georgia and there is no standard written form.
Georgian alphabet for Laz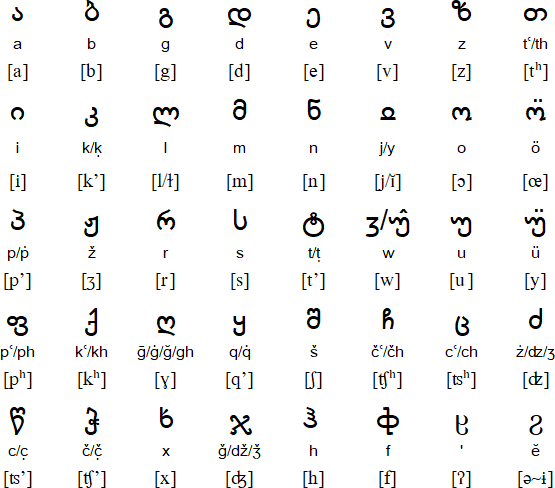 Information about the pronunciation of Laz compiled by Wolfram Siegel
Sample text in Laz (Georgian alphabet)
ანდღანი ფანდა ვარ ბზირათ
შკუ დო შკუ ბიჲათ.
არ ვროსი დოლობინბორათ.
ფეჲათეფე ჯებვროსათ.
ანდღანი ფ̌ანდა ვარ ბზირათ.
ათხე დო ანდღანი ბუნთალათ,
არ ვროსი ნდღა დოფჩადათ,
ჰაშოთე ჯენდღანი ბოვედათ,
ანდღანი ფ̌ანდა ვარ ბზირათ.
მითი გური მოჯებუთინათ.
ირი ოროფა მებუთიშათ.
ფეჲათობაშა ბიშლეთინათ.
ანდღანი ფ̌ანდა ვარ ბზირათ.
ვროსობა დადალა რენ!
ფეჲათობა დაჩხურინ!
ჯებონდზირათნა ფეჲათობა,
დიჟვალასენ ვროსობა...
Sample text in Laz (Latin alphabet)
Andğani Panda Var Bzirat
Şḱu do şḱu biyat.
Ar vrosi dolobinborat.
Peyatepe cebvrosat.
Andğani p̌anda var bzirat.
Atxe do andğani buntalat,
Ar vrosi ndğa dopçadat,
Haşote cendğani boვedat,
Andğani p̌anda var bzirat.
Miti guri mocebutinat.
İri oropa mebutişat.
Peyatobaşa bişletinat.
Andğani p̌anda var bzirat.
Vrosoba dadala ren!
Peyatoba daçxurin!
Cebondziratna peyatoba,
Dijvalasen vrosoba...
Source: Poem by Bahadir Keleş
Sample video in Laz
Information about Laz | Numbers in Laz
Links
Information about the Laz language and culture
http://en.wikipedia.org/wiki/Laz_language
http://www.lazebura.net (in Turkish and English)
http://www.kolkhoba.org (in Laz, Georgian and Turkish)
http://www.uni-koeln.de/phil-fak/ifl/asw/forschung/projekte/Lasisch/benningwd.pdf (PDF)
Laz Georgian (Mkhedruli) <> Latin converter
http://www.transliteration.kpr.eu/lzz/
Documentary about the Laz language in Turkey
http://vimeo.com/20574438
South Caucasian languages
Georgian, Laz, Mingrelian, Svan
Other languages written with the Cyrillic alphabet