Chuvash (Чӑваш чӗлхи)
Chuvash is a Turkic language with about 2 million speakers in Russia. It is the official language of the Chuvash Republic, Чăваш Республики, which is also known as the Chuvashia, Чува́шия, and is also spoken in Tatarstan and Bashkortostan.
The first Chuvash grammar was published in 1769. A number of dictionaries, translations of religious texts and folkloric texts were published during the 18th and early 19th centuries. Chuvash has been written with a Runic script, the Arabic alphabet, and the Cyrillic and Latin alphabets. The Cyrillic alphabet for Chuvash was first introduced in 1873 by Ivan Yakovlevich Yakovlev. Since then it has undergone a number of revisions, particularly in 1938. The Latin alphabet is sometimes used as well, though there is no standard, official version.
Chuvash alphabet (чӑваш алфавичӗ) - Cyrillic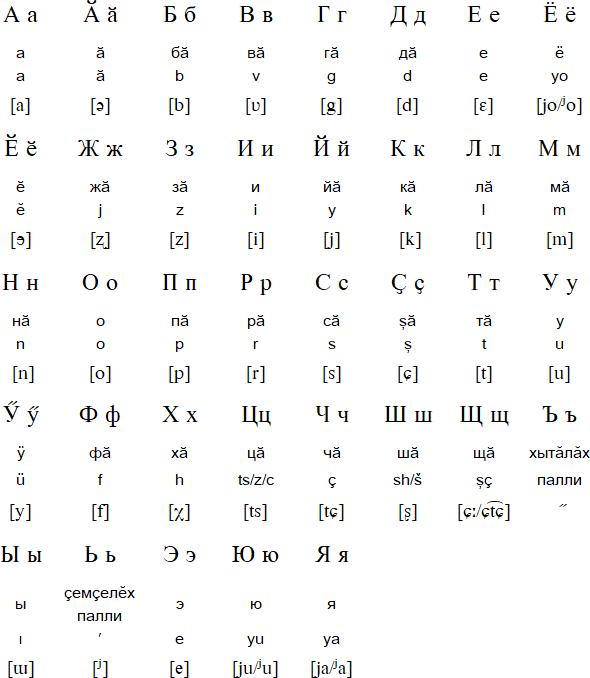 Chuvash alphabet (Latin)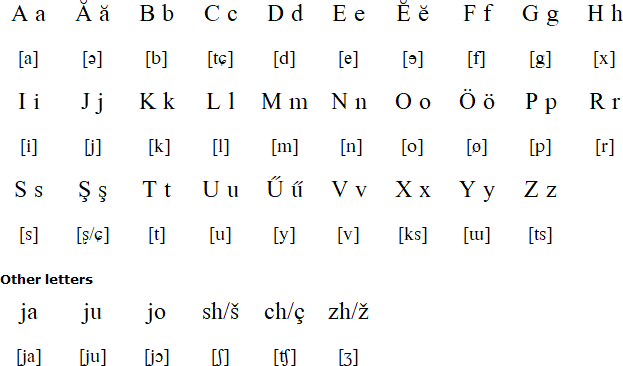 Download alphabet charts for Chuvash (Excel)
Sample text in Chuvash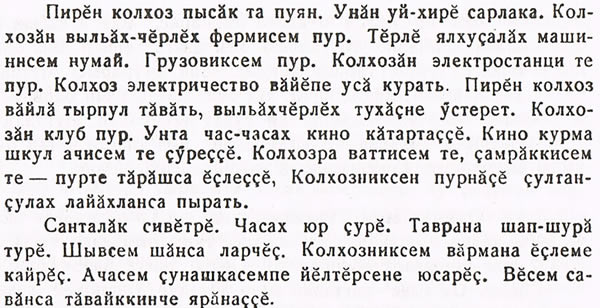 Source: Определитель языков мира по письменностям. Академия наук СССР. Москва – 1965.
Transliteration
Pirĕn kolhoz pysăk ta pujan. Unăn uj-hirĕ sarlaka. Kolhozăn vyl'ah-çĕrlĕh fermisem pur. Tĕrlĕ jalhuşalăh mašinisem numaj. Gruzoviksem pur. Kolhozăn elektrostanci te pur. Kohoz elektriçestvo văjĕpe usă kurat'. Pirĕn kolhoz văjlă tyrpul tăvăt', vyl'ăhçĕrlĕh tuhaşne űsteret. Kolhozăn klub pur. Unta ças-çasah kino kătartaşşĕ. Kino kurma škul açisem te sűreşşĕ. Kolhozra vattisem te, şamrăkkisem te ­­­– purte tărăšsa ĕşleşşĕ. Kolhozniksen purnăşĕ şulgan-şulgah dajăhlansa pyrat'. Santalăk sivĕtrĕ. asah jur şurĕ. Tavrana šap-šură turĕ. Šyvsem šănsa larçĕş. Kolhozniksem vărmana ĕşleme kajrĕş. Açasem şunaškasempe jĕltĕrsene jusarĕş. Vĕsem savănsa tăvajkkinçe jarănaşşĕ.
Sample text supplied by Wolfgang Kuhl. Transliteration by Julijan Jovanovic
Information about Chuvash | Phrases | Tower of Babel
Links
Information about the Chuvash language
http://en.wikipedia.org/wiki/Chuvash_language
http://www.peoples.org.ru/eng_chuvash.html
http://en.chuvash.org/e/43687576617368206c616e6775616765
Chuvash phrases
http://iub.edu/~celcar/pamphlets/chuvash.pdf
Chuvash dictionaries
http://samahsar.blogspot.co.uk/p/chuvash-english-dictionary_21.html
http://www.freelang.net/online/chuvash.php
http://en.chuvash.org/wiki/Chuvash-English Dictionary
http://www.classes.ru/all-chuvash/dictionary-russian-chuvash-term-1821.htm
Turkic languages
Other languages written with the Cyrillic alphabet