Assyrian Neo-Aramaic (Lišānā Āṯûrāya /
ܐܵܬ݂ܘܼܪܵܝܲܐ ܠܸܫܵܢܵܐ

)

Assyrian Neo-Aramaic is a Neo-Aramaic dialect spoken by some 220,000 people. It is a member of the Aramaic branch of the Semitic language family and is spoken in parts of Iran, Iraq, Turkey and Syria, and by among the the Assyrian-Chaldean-Syriac diaspora, mainly in the USA and Europe.

Assyrian Neo-Aramaic is usually written in the madnhāyā version of the Syriac alphabet. Ways of writing the language with the Latin and Cyrillic alphabets were developed in the Soviet Union during the 1930s.
Eastern Syriac script for Assyrian Neo-Aramaic (Ālafbēṯ Maḏĕnḥāyā /
ܡܲܕ݂ܢܚܵܝܵܐ ܐܵܠܲܦܒܹܝܬ݂

)

This chart shows the main letters used to write Assyrian Neo-Aramaic with their names and pronunciation in the IPA, and their Latin transliteration.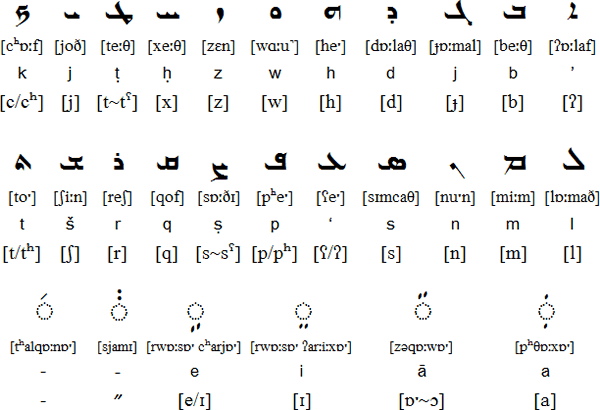 Esṭrangelā Syriac script for Assyrian Neo-Aramaic
(Ālafbêṯ Esṭrangelā /
ܐܣܛܪܢܓܠܐ ܐܠܦܒܝܬ

)
Cyrillic alphabet for Assyrian Neo-Aramaic (Лышана Атураја)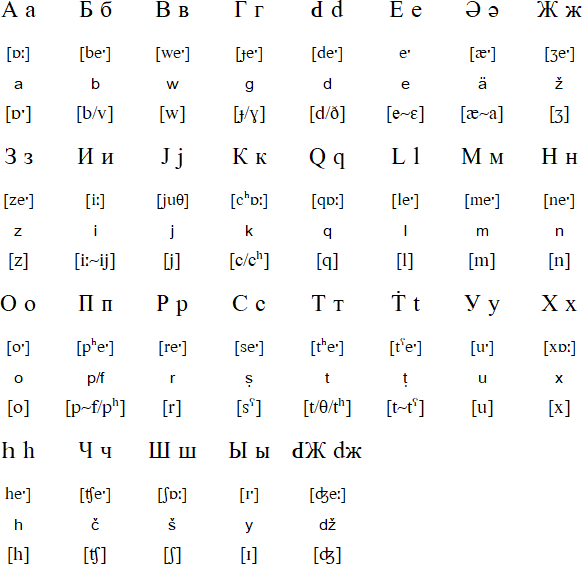 Download Assyrian Neo-Aramaic charts provided by Wolfram Siegel (Word doc, in German)
Links
Information about Assyrian Neo-Aramaic
http://en.wikipedia.org/wiki/Assyrian_Neo-Aramaic
http://www.ethnologue.com/language/aii/
Learn Assyrian (Syriac-Aramaic) online
http://www.learnassyrian.com/aramaic/
Languages written with the Syriac script
Aramaic, Assyrian Neo-Aramaic, Chaldean Neo-Aramaic, Neo-Mandaic, Turoyo, Western Neo-Aramaic
Other languages written with the Cyrillic alphabet
Semitic languages
Akkadian, Amharic, Arabic, Aramaic, Argobba, Assyrian Neo-Aramaic, Canaanite, Chaha, Chaldean Neo-Aramaic, Ge'ez, Hadhramautic, Hebrew, Himyaritic, Jewish Neo-Aramaic, Maltese, Mandaic, Nabataean, Neo-Mandaic, Phoenician, Punic, Qatabanic, Sabaean, Sabaic, Silt'e, Syriac, Tigre, Tigrinya, Turoyo, Ugaritic, Western Neo-Aramaic