Modi alphabet
The Modi alphabet was invented during the 17th century to write the Marathi language of Maharashtra. It is a variant of the Devanāgarī alphabet. The Modi alphabet was used until 1950 when it was replaced by the Devanāgarī alphabet.
Notable features
Type of writing system: abugida / syllabic alphabet - each letter has an inherent vowel (a). Other vowels are indicated using a variety of diacritics which appear above, below, in front of or after the main letter. Some vowels are indicated by modifying the consonant letter itself.
Direction of writing: left to right in horizontal lines
Used to write
Marathi, an Indo-Aryan language spoken by about 71 million people, mainly in the Indian state of Maharashtra.
Modi script
Download an alphabet chart for Modi (Excel)
Sample texts in Modi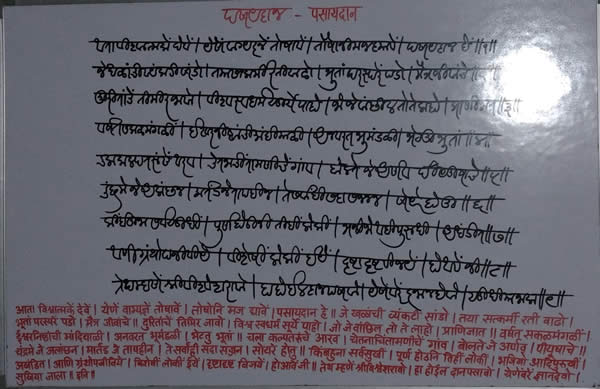 A sacred poem "Pasayadan (पसायदान)" written by popular sage, Dnyaneshwar Maharaj (ज्ञानेश्वर महाराज).
A poem written in honour of king Chhatrapati Shivaji Maharaj (छत्रपती शिवाजी महाराज)
Sample texts provided by Siddharth
Links
Information about the Modi script
http://en.wikipedia.org/wiki/Modi_script
https://learn-modi-script.blogspot.co.uk/2017/03/modi-in-todays-world-cover.html
Modi font by Somesh Bartakke (hemadree.zip)
http://guruvision.in/downloads/
Indo-Aryan languages
Awadhi, Assamese, Bengali, Bhojpuri, Chakma, Dhivehi, Fiji Hindi, Gujarati, Hajong, Hindi, Kashmiri, Konkani, Kotia, Kutchi, Magahi, Maithili, Marathi, Marwari, Modi, Nepali, Odia, Palula, Punjabi, Rajasthani, Rohingya, Romani, Saraiki, Sarnámi Hindustani, Sindhi, Sinhala, Shina, Sourashtra, Sugali, Sylheti, Urdu