Fox alphabet
The Fox alphabet was used to write Fox, an Algonquian language spoken in parts of Oklahoma, Iowa, Kansas and Nebraska in the USA. It is based on cursive French handwriting.
The Fox alphabet first appeared in 19th century near the Great Lakes. It is also known as Fox I, the Great Lakes (Algonquian) syllabics or Western Great Lakes Syllabary. Fox speakers call it pa·pe·pi·po· after the first few letters. Versions of the script were used to write Fox, Sauk, Kickapoo, Potawatomi and Ho-Chunk (Winnebago), and possibly Ottawa as well. Use of this script was first reported in 1880, when it was being widely used by speakers of Fox, Sauk and Potawatomi.
Notable features
Writing direction: left to right in horizontal lines
Used to write: Fox (Meshkwahkihaki)
Words can be divided with a dot, a small line or an X, although many writers did not use any word dividers.
Several variants of the Fox alphabet were used, originally as secret codes.
Fox alphabets
This version of the Fox alphabet uses cursive letter from the Latin alphabet to represent syllables made up of a consonant plus a vowel, or a vowel on its own.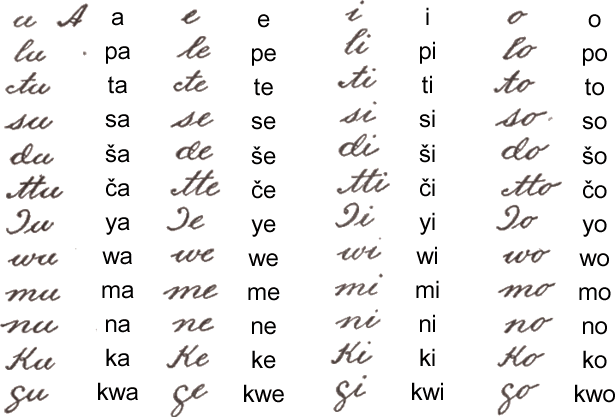 This variant of the Fox alphabet is in fact a syllabic alphabet or abugida in which the letters have an inherent vowel (a). Other vowels are indicated with dots.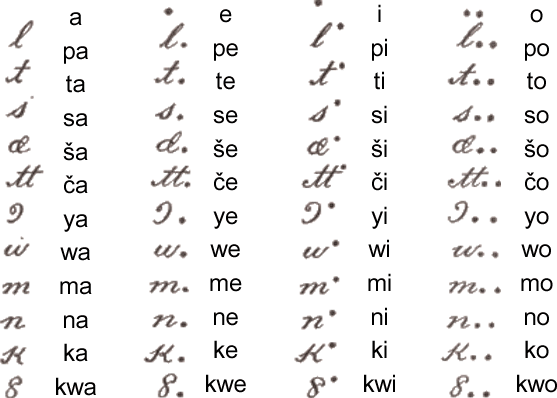 This is another variant of the Fox alphabet.
Sample text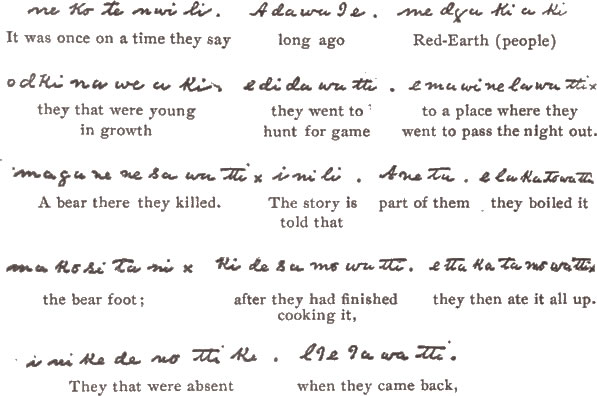 Source: An Algonquin syllabary by William Jones (1906)
Information about Fox | Fox alphabet | Numbers
Links
Information about the Fox alphabet
https://en.wikipedia.org/wiki/Fox_language#Writing_systems
https://en.wikipedia.org/wiki/Great_Lakes_Algonquian_syllabics
https://thelanguagecloset.com/2020/06/28/writing-in-north-america-great-lakes-algonquian-syllabics-glas/
https://archive.org/details/algonquinsyllaba00jone
A-chik Tokbirim, Adinkra, ADLaM, Armenian, Avestan, Avoiuli, Bassa (Vah), Beitha Kukju, Beria (Zaghawa), Borama / Gadabuursi, Carian, Carpathian Basin Rovas, Chinuk pipa, Chisoi, Coorgi-Cox, Coptic, Cyrillic, Dalecarlian runes, Elbasan, Etruscan, Faliscan, Fox, Galik, Georgian (Asomtavruli), Georgian (Nuskhuri), Georgian (Mkhedruli), Glagolitic, Global Alphabet, Gothic, Greek, Irish (Uncial), Kaddare, Kayah Li, Khatt-i-Badí', Khazarian Rovas, Koch, Korean, Latin, Lepontic, Luo Lakeside Script, Lycian, Lydian, Manchu, Mandaic, Mandombe, Marsiliana, Medefaidrin, Messapic, Mongolian, Mro, Mundari Bani, Naasioi Otomaung, N'Ko, North Picene, Nyiakeng Puachue Hmong, Odùduwà, Ogham, Old Church Slavonic, Oirat Clear Script, Ol Chiki (Ol Cemet' / Santali), Old Italic, Old Nubian, Old Permic, Ol Onal, Orkhon, Osage, Oscan, Osmanya (Somali), Pau Cin Hau, Phrygian, Pollard script, Runic, Székely-Hungarian Rovás (Hungarian Runes), South Picene, Sutton SignWriting, Sunuwar, Tai Viet, Tangsa, Todhri, Toto, Umbrian, (Old) Uyghur, Wancho, Yezidi, Zoulai
Ahom, Aima, Arleng, Badagu, Badlit, Basahan, Balinese, Balti-A, Balti-B, Batak, Baybayin, Bengali, Bhaiksuki, Bhujimol, Bilang-bilang, Bima, Blackfoot, Brahmi, Buhid, Burmese, Carrier, Chakma, Cham, Cree, Dehong Dai, Devanagari, Dham Lipi, Dhankari / Sirmauri, Ditema, Dives Akuru, Dogra, Ethiopic, Evēla Akuru, Fox, Fraser, Gond, Goykanadi, Grantha, Gujarati, Gunjala Gondi, Gupta, Gurmukhi, Halbi Lipi, Hanifi, Hanuno'o, Hočąk, Ibalnan, Incung, Inuktitut, Jaunsari Takri, Javanese, Kaithi, Kadamba, Kamarupi, Kannada, Kawi, Kharosthi, Khema, Khe Prih, Khmer, Khojki, Khudabadi, Kirat Rai, Kōchi, Komering, Kulitan, Kurukh Banna, Lampung, Lanna, Lao, Lepcha, Limbu, Lontara/Makasar, Lota Ende, Magar Akkha, Mahajani, Malayalam, Manpuri / Meitei (Modern), Manpuri (Old), Marchen, Meroïtic, Masarm Gondi, Modi, Mon, Mongolian Horizontal Square Script, Multani, Nandinagari, Newa, New Tai Lue, Ojibwe, Odia, Pahawh Hmong, Pallava, Phags-pa, Purva Licchavi, Qiang / Rma, Ranjana, Rejang (Kaganga), Sasak, Savara, Satera Jontal, Shan, Sharda, Siddham, Sinhala, Sorang Sompeng, Sourashtra, Soyombo, Sukhothai, Sundanese, Syloti Nagri, Tagbanwa, Takri, Tamil, Tanchangya (Ka-Pat), Tani, Thaana, Telugu, Thai, Tibetan, Tigalari, Tikamuli, Tocharian, Tolong Siki, Vatteluttu, Warang Citi
Page created: 17.07.23. Last modified: 17.07.23
[top]
---

Why not share this page:
If you like this site and find it useful, you can support it by making a donation via PayPal or Patreon, or by contributing in other ways. Omniglot is how I make my living.
Note: all links on this site to Amazon.com
, Amazon.co.uk
and Amazon.fr
are affiliate links. This means I earn a commission if you click on any of them and buy something. So by clicking on these links you can help to support this site.
Get a 30-day Free Trial of Amazon Prime (UK)
If you're looking for home or car insurance in the UK, why not try Policy Expert?
[top]