Podcast: Play in new window | Download
In this episode I bring you news from the 2019 Polyglot Gathering, an annual get-together of polyglots and language lovers from all over the world. This year the Polyglot Gathering took place in Bratislava, Slovakia for the third time – it started in 2015 in Berlin, and was there for three years, then moved to Bratislava. The next Gathering will be in Teresin, near Warsaw in Poland from 26-30 May 2020.
I was planning to interview people at the Gathering, and to keep an audio diary, but was enjoying myself too much and decided to give you a flavour of the event after I got home. So this is the story of my Adventures in Polyglotland.
My badge from the Polyglot Gathering showing the languages I speak fluently, or at least fairly well: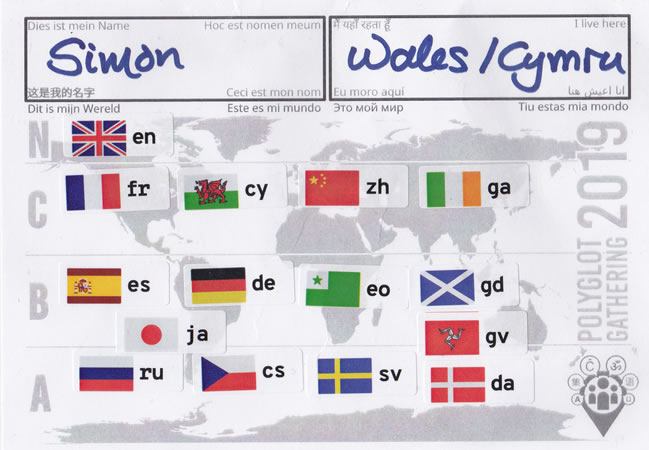 N = native language, C = advanced level, B = intermediate level, A = basic / elementary level, en = English, cy = Cymraeg (Welsh), zh = 中文 [zhōngwén] – (Mandarin Chinese), ga = Gaeilge (Irish), es = español (Spanish), de = Deutsch (German), eo = Esperanto, gd = Gàidhlig (Scottish Gaelic), ja = Japanese, gv = Gaelg Vanninagh (Manx Gaelic), ru = Русский [Russkij] (Russian), cs = český (Czech), sv = Svenska (Swedish), da = Dansk (Danish).
Information about polyglot events: http://www.omniglot.com/events/
Music featured in this episode
Bear With Me / Aros am yr Arth

Echoes on the Tongue / Atseiniau ar y Tafod