What do you call the symbol @?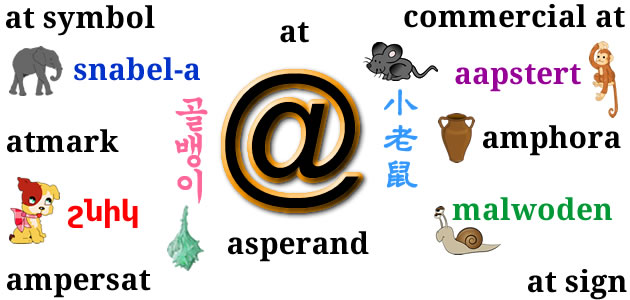 I would call it at or at sign. Other names are available, and it's used in various ways.
The oldest known appearence of @ in writing was in 1345 in a Bulgarian translation of a Greek chronicle by Constantinos Manasses. It was used as the first letter of the word Amen – @мин (@min) in the manuscript.
In Catalan, Spanish and Portuguese @ has long been used to refer to a unit of weight know as arroba, which is equal to 25 pounds. This name comes from the Arabic الربع (alrubue – quarter).
In Venitian @ was used to represent the word anfora (amphora), a unit of weight and volume equivalent to the standard amphora.
In accounting, @ means "at a rate of" or "at the price of", for example, 5 widgets @ £5 = £25.
These days it most commonly appears in email addresses, a usage that dates back to 1971, when it was introduced by Ray Tomlinson of BBN Technologies. Online it may be omitted or replaced when listing email addresses to trip up spam programs trawling for email adresses. That's why I give my email as feedback[at]omniglot[dot]com, or as an image. This practise is known as address munging. A better way to trip up the spam bots is apparently feedback@omniglot.com.
Some names for @ in English include: ampersat, asperand, at, atmark, at symbol, commercial at, amphora and strudel.
Ampersat comes from the phrase "and per se at", which means "and by itself @", and was how it was originally referred to in English.
Some interesting names for @ in other languages include:
Afrikaans: aapstert (monkey tail)
Armenian: շնիկ (shnik – puppy)
Belarusian: сьлімак (sʹlimak – helix, snail)
Chinese: 小老鼠 (xiǎo lǎoshǔ – little mouse)
Danish & Swedish: snabel-a (elephant's trunk A)
Finnish: kissanhäntä (cat's tail), miuku mauku (miaow-meow)
Greek: παπάκι (papáki – duckling)
Kazakh: айқұлақ (aıqulaq – moon's ear)
Korean: 골뱅이 (golbaeng-i – whelk)
Polish: małpa (monkey, ape)
Welsh: malwoden (snail)
Do you know any other interesting names for this symbol?
Sources and further information:
https://en.wikipedia.org/wiki/At_sign
https://en.wiktionary.org/wiki/at_sign
https://en.wikipedia.org/wiki/Address_munging