A way to say excuse me in Irish is gabh mo leithscéal, which is pronounced [ˌɡɔ mə ˈlʲɪʃceːl̪ˠ] or something like that. If you're talking to two or more people, you would say gabhaigí mo leithscéal. There are similar phrases in Scottish Gaelic – gabh mo leisgeul, and Manx – gow my leshtal. These mean literally "take my excuse".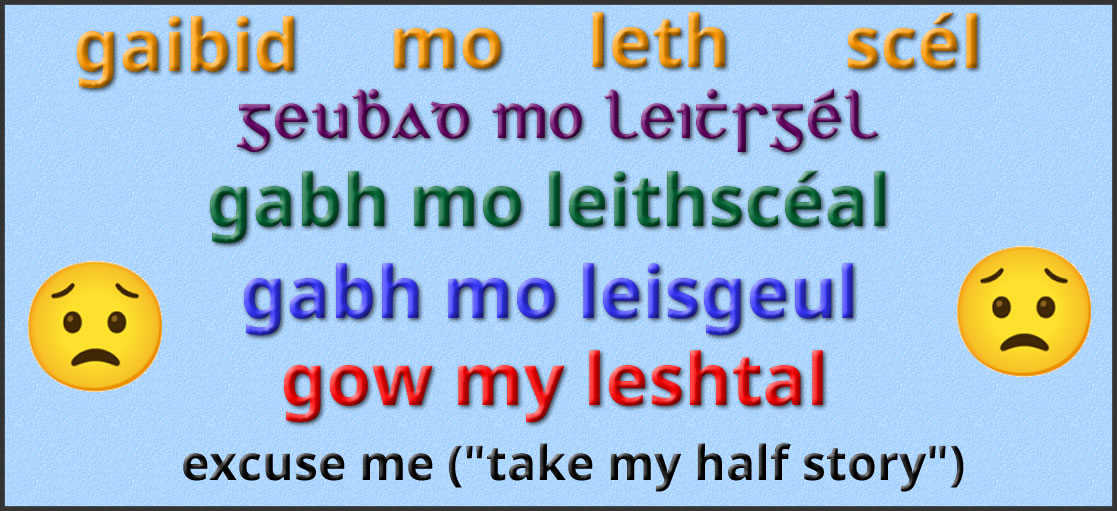 The first word in these phrases comes from the Old Irish gaibid [ˈɡavʲiðʲ] (to grasp or receive), from the Proto-Celtic *gabyeti (to grab, seize, take or hold), from Proto-Indo-European *gʰeh₁bʰ- (to grab or take) [source].
Related words in other languages include gafael (to hold, grasp, grip) in Welsh, gavel (capacity, grasp) in Cornish, gable in English, and words for to have in Romance languages, such as avere in Italian and avoir in French [source].
The second word in these phrases means my, and the third one means excuse. The words for excuse come from the Old Irish leithscél / leithsgéal / leithsgéul (excuse), from leth (half, side, direction) and scél (story), so an excuse is a "half story" [source].
A related word in Irish is leithscéalach (fond of excuses, apologetic). There's a similar word in Scottish Gaelic: leisgeulach (excusing, apologetic) and in Manx: leshtallagh (apologetic, apologist, excuser, extenuating).