This year the Polyglot Gathering was supposed to take place in Teresin near Warsaw in Poland, but it was cancelled and moved online.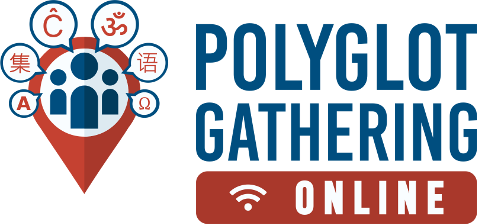 It's actually happening as I write this, and I'm currently listening to one of the online talks. There are two talks happening at the same time, as well as chat rooms to practise languages. There are also quizzes, a talent show and other activities. It will all be recorded and available online eventually.
The online gathering started today, and continues until Monday 1st June. I plan to dip in and out, listening to talks that interest me, and maybe taking part in some of the other activities.
At previous gatherings I tended to go to some of the talks and workshops, and spend the rest of the time talking to other participants, exploring the local area, or relaxing. It can be quite intense for an introvert like me speaking lots of languages and meeting so many people – there were about 600 at the last gathering I went to, so I need some quiet time as well.
This year there are over 1100 participants, so it's grown a bit since last time.