Useful Arabic phrases
A collection of useful phrases in Modern Standard Arabic, the lingua franca of the Arabic-speaking world.
Key to abbreviations: m = said by men, f = said by women, >m = said to men, >f = said to women.
Click on the English phrases to see them in many other languages.

Recordings by Amr Dawish via Apex Translations
Transliterations and corrections by Alex Karas
Download all the sound files (Zip format, 1.5MB)
If you would like to make any corrections or additions to this page, or if you can provide recordings, please contact me.
Information about Arabic | Phrases in Arabic | Tower of Babel in Arabic | Arabic links | Arabic learning materials | Books about the Arabic script | Arabic electronic dictionaries and translators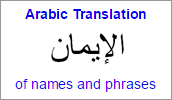 Links
Other collections of Arabic phrases (some with audio)
http://www.arabic2000.com/arabic/public/common.html
http://www.touregypt.net/translat.htm
http://www.learn-arabic-language-software.com/phrases/FSArabic.htm
http://www.linguanaut.com/english_arabic.htm
http://www.kwintessential.co.uk/resources/language/arabic-phrases.html
http://www.grapeshisha.com/common-Arabic-phrases.html
http://www.arabiccomplete.com/modules_useful_phrases/
Phrases in Afroasiatic languages
Amharic, Arabic (Egyptian), Arabic (Lebanese), Arabic (Modern Standard), Arabic (Moroccan), Assyrian, Hausa, Hebrew, Maltese, Somali